Shear brilliance . . . Cambria Dodd Russell '96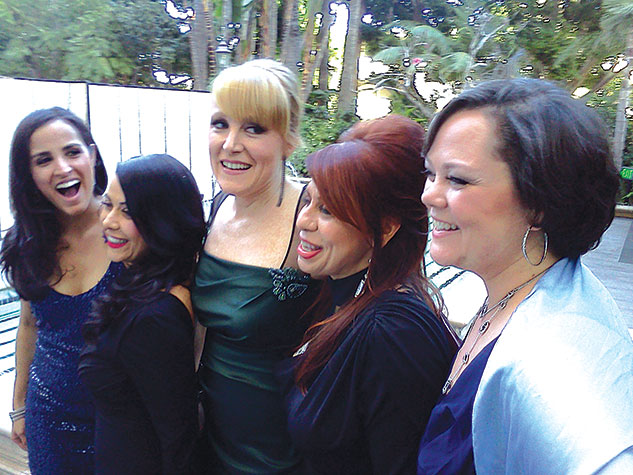 Shear brilliance . . . Cambria Dodd Russell '96
Paradoxically — and often when you least expect it — positive experiences can spring from negative ones. Cambria Dodd Russell '96 (on right in photo of her and friends on the way to the Academy Awards) is living proof of that. While undergoing cancer treatment, Russell signed on as the main subject in Mondays at Racine, a documentary film about a salon in Long Island, NY, that provides free services to cancer patients. The salon, named Racine and owned by two sisters, opens its doors every third Monday of the month to offer free services for women going through chemo.
"I was approached by Academy Award-winning filmmaker Cynthia Wade while I was in treatment for Stage 3 breast cancer," said Dodd Russell, who earned a bachelor's degree in education from TCU. "It was clear to me that Cynthia wanted the film to be a vehicle for helping individuals and families as they navigate the painful reality of a cancer diagnosis. I wanted to be a part of something that could have a positive impact."
The documentary delves into the acute heartache cancer patients face when shedding their locks. The film's tagline: When your life is at stake, why is losing your hair so hard?
"I feel like as soon as I shave my head, every time I look in the mirror, I'm just going to see cancer," laments Dodd Russell in a particularly heartrending scene. "I don't know that I'm ready to see that right now." The Oscar-nominated 39-minute production will air on HBO later this year.
"We were nominated for Best Documentary Short," Dodd Russell said. "While we did not take home the gold, we had an amazing experience and response to the film has been phenomenal." The 2012 film has already picked up several industry awards.
Although her film didn't get an Oscar nod, Dodd Russell was nothing short of ecstatic about her brush with fame last February in Los Angeles.
"This journey started with a cancer diagnosis," she said, "and I just walked the red carpet at the Oscars!"