City service . . . Keome Rowe '11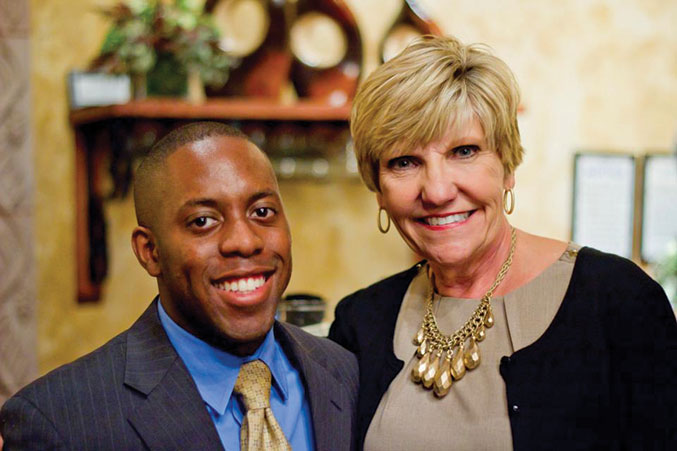 City service . . . Keome Rowe '11
In 2009, Keome Rowe '11 traveled to Washington, D.C., to intern with the White House and learn the ins and outs of government.
Almost immediately, he was hooked.
Rowe, a former TCU Chancellor Scholar, knew then that he would someday pursue a career in politics.
Just four years later, Rowe is assistant to Fort Worth Mayor Betsy Price, coordinating the mayor's various community initiatives and helping write speeches and talking points.
"I have gotten a crash course in all things Fort Worth," said Rowe, 25, a Plano native. "Having the opportunity to help shape a city has been incredible."
Among Rowe's biggest roles is coordinating the mayor's young leaders initiative, STEER FW. The new program has tapped roughly 400 Fort Worth leaders, ages 25 to 40, to engage them on issues such as public transit, urban development, education and arts and culture.
Rowe organizes monthly luncheons and social mixers and helps the leaders develop community projects.
For example, one group is working on a Better Block project at Bluebonnet Circle to revitalize the area and bring in stakeholders.
"This is a really great economic driver for Fort Worth," Rowe said. "We are tapping into the next generation of leaders to figure out what Fort Worth can and will be."
Rowe also manages the mayor's faith-based cabinet, a group of 15 religious leaders from across the city that meet bi-monthly to discuss issues important to Fort Worth. Last year, the cabinet raised $15,000 for school supplies and collected two truckloads of winter coats for needy Fort Worth children.
Rowe also is working with area schools and businesses to combat obesity. He recently helped launch a healthy challenge in the Fort Worth school district called FitWorthKids Challenge, with 27,000 children tracking their water intake, vegetable consumption and physical activity. Winning schools won physical education equipment.
Rowe said that TCU gave him the spark to be a community leader.
"I learned everything from how to write a budget to how to think outside the box and affect change," Rowe said. "TCU got me to think about how I can make an impact in the world."