Virus hunter: Dr. A. Bennett Jensen '61
Immunobiology researcher Dr. A. Bennett Jenson '61 spent his life helping develop a vaccine against cervical cancer. Now he's trying to make it cheaper.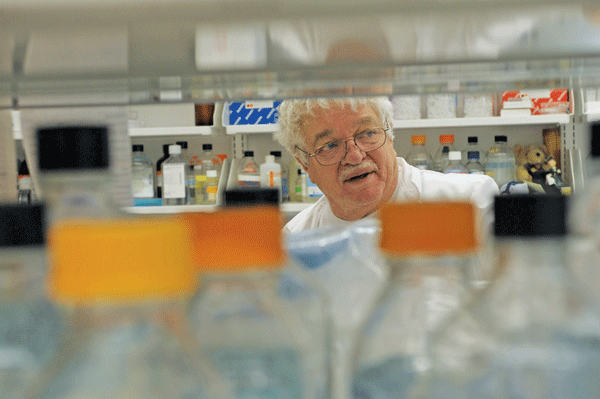 Virus hunter: Dr. A. Bennett Jensen '61
Immunobiology researcher Dr. A. Bennett Jenson '61 spent his life helping develop a vaccine against cervical cancer. Now he's trying to make it cheaper.
The irony is not lost on Dr. A. Bennett Jenson '61. He lives in the heart of tobacco country — Louisville, Ky. — where the plant many associate with lung cancer is still a pillar of the region's economy. Despite tobacco's reputation, Jenson sees something else in the plant, something potentially life-saving.
Inside his cramped, temperature-controlled research lab, Jenson and his partners are working to extract proteins from the plant to develop a drug that could be used to prevent cervical cancer in India, where four times as many women get the disease and eight times as many die of it as in the United States.
The vaccine Jenson hopes will come from the effort would be similar to Gardasil, approved by the U.S. government in 2006 to prevent strains of a sexually transmitted disease that cause most cervical cancers.
Jenson is perfect for this job. He and fellow University of Louisville immunobiology researcher Shin-je Ghim (in photo, page 61) invented the world's first cervical cancer vaccine two decades ago, and now, they are working on a new one.
The difference: cost.
The tobacco-based vaccine would cost an estimated $3 for three doses, compared with $360 for three doses of Gardasil. This would make it affordable for developing countries like India, where the disease is the most common malignancy among women.
Jenson has traveled to India a half-dozen times, which has inspired him to devise an alternative to his earlier invention. Fact is, it is too expensive, despite drug companies' assurances that prices will be lower in developing countries.
"The original vaccine is important to me because it turned out to be something special in medicine," said Jenson, who developed the it with Ghim and a third researcher when they worked together at Georgetown University. "But it's not going to reach the people who need it most."
The new, less expensive vaccine has a certain irony attached to it.
"It's an alternate use of tobacco plants," he said. "Instead of using them to make nicotine cigarettes that cause cancer, paradoxically, you use it for making a vaccine that protects women against cervical cancer."
Jenson and Ghim are also working with an Indian researcher, Dr. Partha Basu, to test an experimental treatment for late-stage cervical cancer.
Every year, 120,000 new cervical cancer cases are detected in India, 80 percent of which are at such an advanced stage it can't be treated.
"It's not just in America that we are dealing with cervical cancer," Jenson said. "It's around the world."
India's plight reflects problems throughout the developing world, where poverty, lack of screening and spotty access to health care lead to late diagnoses and early death, said Ghim.
"I have seen how ordinary people struggle so to remain healthy, and how there is just so little resource for them to get access to basic, primary health care, let alone treatment for cancer. We could make a big difference."
The researchers hope their efforts help all developing countries as well as the poor in the United States, and said they are not troubled that it may provide competition for Gardasil.
* * *
Jenson's motivation to search for solutions began closer to home. His three daughters were teenagers when he began looking into cervical cancer.
"They wanted me to focus on an area that would be helpful to women, and women bear the brunt of diseases to the reproductive system," he said. "This is one thing I wanted them to be protected from."
He and Ghim began their work in 1990 by identifying a vaccine target: A protein called "L-1" human papilloma virus (HPV), the most common sexually transmitted disease. By 2006, the duo's vaccine won a patent dispute and was approved by the FDA, and distributed by Merck as Gardasil. It targeted two cancer-causing strains — HPV-16 and 18 — that cause 75 percent of cervical cancer cases. It's paid for by all insurance companies and the vaccine protects against 90 percent of genital warts cases, 70 percent of cervical cancers, 60 percent of vaginal cancers and 80 percent of anal cancers.
The tobacco-based vaccine uses a different protein (L2). To make it, they created a synthetic gene that expresses the same protein in plants then inserted that gene into a tobacco virus, which is used to infect plants and "grow" the vaccine inexpensively. Six to 10 days later, the long process of separating out parts of the tobacco until they are left with pure protein begins. That protein is designed to induce antibodies that protect against at least 13 HPV strains known to cause cervical cancer.
But it's designed to be preventative. In order for the vaccine to be effective, it must be given before either virus infects a woman, and/or before sexual activity begins, which is why it was recommended for sixth-grade public school girls in 2007.
Naturally, that drew controversy. Despite the vaccine's potential benefits, some people suggest it might give girls implicit permission to have sex. They say parents should decide whether their children are vaccinated, and keep in mind the risks associated with having sex too early.
Last year, the Centers for Disease Control recommended that boys receive the vaccine too. Doctors still warn that these vaccines won't negate the need for Pap tests, which can catch pre-cancer and early cancer.
Is HPV also responsible for some types of head and neck cancers? That is the question that researchers are now trying to answer. Although head and neck cancers are still largely attributed to environmental exposures, such as tobacco and alcohol use, recent studies suggest that at least 25 percent of such cancers may also be linked to the virus.
Jenson and Ghim are working at the James Graham Brown Cancer Center at the University of Louisville and with  the with Fox Chase Cancer Center in Philadelphia to study how specific immunologic responses to viral infections are associated with the production of tumors.
Specifically, they are looking into a correlation between the Gardasil and Cervarix vaccines and a decrease in laryngeal papillomatosis (tumors occurring inside the voice-box, vocal cords, or respiratory tract) and other head and neck cancers that are caused by HPV-16 or HPV-18.
The hope is that this effort will lead to more resources and more attention to issues of head and neck cancer patients, which would give clinicians a stronger foundation of research on which to base patient care.
As for the tobacco-based vaccine, Jenson is working to use it in human clinical trials while drug companies are trying to find ways to give Indian women access to the more expensive vaccine, with the help of international organizations.
But Basu said he's not optimistic about Gardasil in his country because of its price. Clinical trials help perfect the vaccine but raise its cost.
"Theoretically speaking, HPV vaccine, with its 70-80 percent protection against cervical cancer, can be the greatest boon to our women," Basu said. "Unfortunately, the cost of the currently available vaccine is prohibitive and beyond the reach of even the well-to-do social class in India. The vaccine that (Jenson) is working on has the cutting edge in terms of price."
"Hopefully," Ghim said, "everybody will put their effort together to immunize the women who need it."
Jenson has never doubted the value of his work, even though initially, "none of the drug companies were interested in what we were doing," he said. "Some people use words like breakthrough. It's just validating to have your life's work contribute to the field and make a difference in real people's lives. Scientists work all their lives for that. When it really pays off like this, it's wonderful."
But there are still mysteries to be unraveled. Jenson, who is now 72, and Ghim continue to explore an animal model for the vaccine and unravel the right genetic sequence for the pesky virus.
"You think of retiring sometimes," he said. "Then you think of everything that's still left to do."
This report contains material from the University of Louisville James Graham Brown Cancer Center and the Louisville Courier-Journal.