Hiking for a cure: Tracy Lamb Brown '95
After her son was diagnosed with Langerhans cell histiocytosis, Tracy Lamb Brown '95 and her family have helped raise more than $250,000 for the Histiocytosis Association since 2007.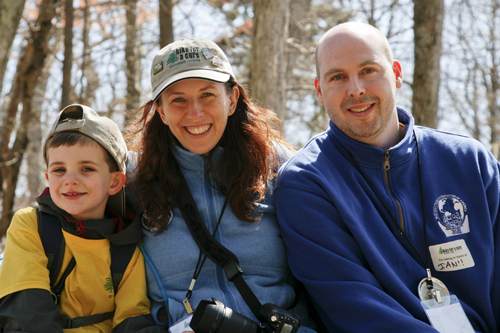 Hiking for a cure: Tracy Lamb Brown '95
After her son was diagnosed with Langerhans cell histiocytosis, Tracy Lamb Brown '95 and her family have helped raise more than $250,000 for the Histiocytosis Association since 2007.
When Tracy Lamb Brown '95 and husband Ryan found out their son Ian had Langerhans cell histiocytosis (LCH), they didn't just gear up to battle his disease — they took on the entire cause.
Since 2007, the Browns have helped raise $259,343 for the Histiocytosis Association (www.histio.org). Residents of Herndon, Va., they also worked to have Virginia formally recognize September as Histiocytosis Awareness month.
LCH occurs when the body accumulates too many immature Langerhans cells — a type of white blood cell that normally helps the body fight infection. In LCH, too many Langerhans cells are produced, and they build up in different parts of the body where they can form tumors or damage organs.
Though any age group can be affected, LCH is estimated to occur in 1 in 200,000 children, but experts believe it is under-diagnosed. It is not considered a true cancer, and the cause remains unknown.
Though Ian had unusual symptoms at 10 months, he wasn't diagnosed with LCH until October 2006 when he was 16 months old.
"He was diagnosed with LCH lesions in his bones, as well as his lymph nodes. The lesions are essentially holes in the bone, and in his case he had over 30 in his skull," said Tracy, a systems engineer at Noblis who works with the State Department on the U.S. President's Emergency Plan for AIDS Relief (PEPFAR) program.
Eventually lesions were also found in Ian's ribs, cheekbones, hipbones and vertebrae. His journey includes almost four years of chemo — and four recurrences. Ian's "stats":
• 1,252 doses of steroids
• 440 doses of oral chemo
• about 315 X-rays
• 129 IV chemotherapy treatments
• 20 ER visits
• 15 sedations
• 10 MRIs
• 7 bone scans
• 6 CT scans
• 5 PET scans
• 3 surgeries
• 3 hospital stays
• 2 bone marrow biopsies
• 2 fluoroscopies
• 1 spinal tap
Just four weeks after Ian finished his last treatment in June 2010, three new lesions appeared. The Browns opted to "watch and wait" and give his body a break from chemo.
"Since then he's had three clean sets of scans and appears to be doing well," Tracy said. "There is no cure for LCH, but his current state is considered 'No Active Disease.' With a case like his we are always wary of another recurrence."
So rare that it is considered an "orphan" disease, LCH affects too few people to generate significant government funding for research. Most comes from fundraising by family and friends of those affected.
"All of our fundraising efforts have benefited the Histiocytosis Association and its research and family programs," Tracy said. "It was the first organization we found when Ian was diagnosed, and they helped connect us not only with doctors familiar with the disease, but with other families impacted by the disease."
The Browns kicked off their first fundraising efforts in May 2007 — about seven months after Ian was diagnosed. A wine festival and silent auction in their backyard raised$28,200.
With Ian's continued recurrences, another fundraiser wasn't possible until fall 2009 when they attended a Hike for a Cure in Yosemite, Calif. "My husband, father and some dear friends hiked to the top of Half Dome in honor of Ian, and Team Ian raised another $14,000," she said.
Inspired by the Yosemite hike, the Browns decided they needed a hike to bring together the histio community on the East Coast. "So in the spring of 2010, we hosted our own hike in Shenandoah National Park in Virginia. We held another hike in 2011 and plan to do so every year until a cure is found," Tracy said.
Tracy's former TCU roomie Kristin Braaten McPeak '95 donates her time and talents to do graphic design for the events. To date, their Shenandoah Histio Hikes have raised $217,143, with 180 hikers and volunteers in 2010 and 215 in 2011.
"The Histio Hike-Shenandoah weekend has become a very special event that brings together families of those affected, gives them an opportunity to raise awareness, raise funds and, in many cases, meet another histio family for the first time," Tracy said. "When facing a disease that has no known cause or cure, that you fear may take your loved one, you feel completely helpless. Fundraising and awareness through organizing the hike help us feel empowered over this unpredictable disease. Bringing together fellow histio families has enriched our lives."
On the Web:
For more info on Ian's story, visit www.caringbridge.org/visit/ianbrown.