Good advice
AdviseTX College Admission Corps nudges more low-income, first-generation high school students into higher education.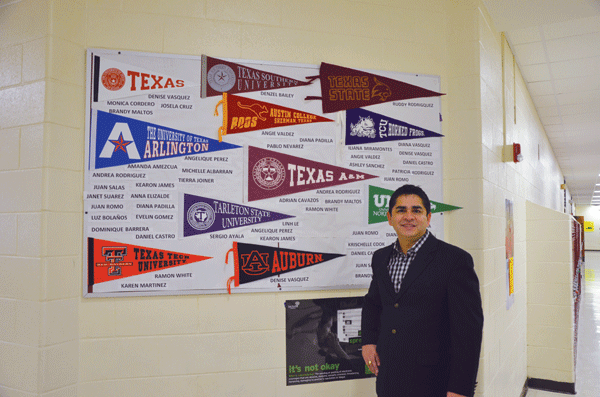 Good advice
AdviseTX College Admission Corps nudges more low-income, first-generation high school students into higher education.
Antonio Martinez Jr. '83 knows just how hard it is for kids living in Fort Worth's north side to make the leap from high school to college.
He almost didn't make it himself.
"Their parents tell them a high school diploma is good enough," says Martinez, now the principal at North Side High School in Fort Worth. "They say, 'That's all I have and that's all you need too.' "
That might have been good enough for Martinez, who grew up in the working-class neighborhood next to the Fort Worth Stockyards and graduated from Carter Riverside High School in 1977, but a close friend of his family suggested a different path. They promoted the benefits of higher education and urged Martinez to apply to college.
"I honestly had never thought about it because no one in my family had ever attended university," he says. "But because I started going to their house, and because they encouraged me, my life was changed."
Now he wants to change the lives of North Side's 1,550 students by giving them the support and encouragement to achieve their own dreams of higher education.
Last fall he got a new ally in the fight: Kanika Nevers '11, who came to the school as part of the Advise TX College Advising Corps, a statewide program designed to increase the number of low-income, first-generation and under-represented students entering and completing higher education.
Nevers is one of 16 recent TCU grads who spent six weeks in training at TCU's College of Education last summer before hitting high school campuses in north and east Texas. Now they're working full time with high school students, assisting them with college searches, admission and financial aid applications, and enrolling them at their best-fit school.
The program is funded by a five-year grant from the Texas Higher Education Coordinating Board's College Access Challenge, in partnership with the College of Education's Center for Urban Education and the Texas Education Agency. Advisers receive modest compensation, but get an educational award that can be used to offset college loans or to pursue graduate school.
Nationally, the program is affiliated with the National College Advising Corps housed at the University of North Carolina at Chapel Hill. That program has 18 university partners, including Brown University, New York University, the University of California at Berkeley and the University of Virginia. In Texas, TCU joins three other schools — the University of Texas at Austin, Texas A&M, and Trinity University — partnering with program, which has expanded over the last two years to include 120 advisers at 120 schools across the state.
In Texas, the typical high school guidance counselor serves 400 students, making it difficult to provide one-on-one support needed by students, particularly those who are the first in their family to apply to college. Also, since the Advise TX advisers are recent college graduates themselves, they can easily relate to students' fears and family pressures.
Paige Zinsou '11, Advise TX adviser at MacArthur High School in Irving, remembers how she felt her senior year at Dunbar High School in Fort Worth. She was about to give up on her application for TCU's Community Scholars program, which offers scholarships to students in economically-disadvantaged schools in the Dallas-Fort Worth area.
"I felt like I was applying too late, that I wouldn't have a chance," she says. "Then a lady came in the office and told me, 'No it isn't too late. Go for it.' Now I channel that memory and tell my students I thought it was too late for me, but it wasn't."
Many of the advisers can also relate to cultural pressures that cause students to put college on hold. Geovanny Bonilla '11, the adviser serving Polytechnic High School in Fort Worth, says his father attended college in his native Honduras, but his mother, who went to Poly as a teen, opted for cosmetology training instead of her college dreams.
"Some of it is just cultural," he says. "The vast majority, more than 95 percent, are going to be first-generation college students. They aren't aware of how college works. You have to show them the benefits, the potential lifestyle to really draw them in."

* * *
In Texas, 25.9 percent of state residents over age 25 hold a bachelor's degree, according to the U.S. Census Bureau, a little below the national average of 30 percent. Advise TX is part of a statewide effort to boost higher education enrollment to fill the growing number of jobs expected to require advanced expertise.
In 2000, the Texas Higher Education Coordinating Board adopted a plan called "Closing the Gaps" designed to boost enrollment at the state's public and private higher education institutions by 630,000 students by 2015.
One trouble spot has been getting more Hispanic students into higher education. A 2011 progress report found that the percentage of Hispanics who earn earned high school degrees and went directly to postsecondary schools increased from 42.6 percent to 52.2 percent, but still trailed the 58.3 percent college-going rate of white students.
At North Side, where the majority of the students are Hispanic, about one-third of graduates go on to higher education. Martinez wants to make that 90 percent, but know he's up against cultural values that can make it a hard sale.
"The obstacles are the feeling that school is not important to the parents," he says. "Here education is maybe number eight in importance behind family, faith and home."
Martinez, who earned a degree in education from TCU in 1983 and a master's degree in education administration from Texas Women's University in 1989, challenges his staff to spend at least five minutes of each class mentioning something that's college related, just to keep college in the minds of the students.
"These students are hungry for something and our job is to make them hungry for education, because in these neighborhoods there are gangs and drugs and if we don't get them, they will," he says.
Martinez has hung college pennants on the walls with the names of seniors who are planning to attend each school. His goal is to one day fill the walls with names of students going to college.
"I'm from this neighborhood, I grew up here, I was just like these kids," he says. "My parents didn't go to college but I was able to make it. That's what I wish for my students, for them to have what I experienced."
Meanwhile, he's grateful for Kanika Nevers and the AdviseTX program.
"Having her here is like the answer to my prayers," he says.
On the Web:
advisetx.org
Related content:
Powering Up – Geovanny Bonilla '11 gets help from fraternity brothers to provide computers to local high school
Photo gallery – The faces of AdviseTX Texas Christian University