History in the making
Class records insights of TCU's leaders past and present.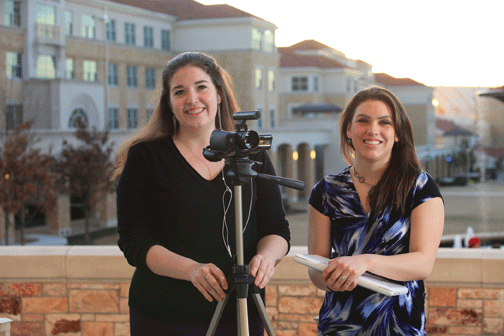 History in the making
Class records insights of TCU's leaders past and present.
It started over coffee, evolved into a class and will soon become a book.
Last spring when Leo Munson, associate provost for academic support, met Dan Williams, professor of English and director of the TCU Press, for a cup of java, Munson mentioned how he could like to capture the memories of the leaders who have transformed TCU over the last three decades.
"The more we talked, the more Dan got excited, and the idea how to do it was his," Munson says.
That idea is now an upper level class in the John V. Roach Honors College titled "Honors Special Project: Vision and Leadership." In the fall, 13 students signed up for the class, which featured speakers such as Rebecca Sharpless, associate professor of history, who discussed oral history interviewing techniques, and Jess Price '01 (MLA '07), creative director for The Center for Instructional Services at TCU, who gave tips on camera techniques.
Then came the hard part — actually doing the interviews.
"I think getting over their initial fears was the most challenging," Williams says. "It's a kind of strange thing to go talk to someone for an hour who you don't know. But once they got started, everyone said it was a lot easier than they anticipated."
The students divided into teams to begin tackling the list of leaders who have influenced university growth over the last 30 years.
Students in the first semester recorded interviews with TCU luminaries such as Emeritus Chancellor William E. Tucker '56 MDiv, trustee and former Chairman of the Board Luther King '62, Former Provost and Vice Chancellor for Academic Affairs William Koehler, former athletic director Frank Windegger '57, professor emeritus Manfred Reinecke, former physical plant director Will Stallworth, and Bob Bolen, former mayor of Fort Worth who is now Senior Advisor to the Chancellor.
This spring the interviews were with leaders like Chancellor Victor J. Boschini Jr., former Chancellor Michael Ferrari, and Chairman of the Board of Trustees Clarence Scharbauer III '73 .
For the students, the best part has been meeting those who played such a significant role in TCU's history. 'These are people buildings are named after and we're getting to meet them," says Kristi Dena, a junior biology and writing double major from Fort Worth.
Ashley Hart, a senior English major, said their interview subjects have all been welcoming and encouraging.  "I think they like talking to us because we're students," Hart says. "There's an instant connection and a trust that's inherent with the whole process."
Williams and Munson plan to offer the class again next year as it evolves into a book chronicling TCU's history and lessons in leadership from those at the helm. Already, the class is working with library Dean June Koelker to set up an archive of their videos, recordings and text of the interviews.
Munson says he hopes the project will continue to evolve into a larger TCU oral history project, a place where all those affiliated with the institution can share their memories.
"Our project is dealing with a very targeted population who were part of the decision-making process that is bringing us forward," Munson says. "But a lot of people are interested in sharing their memories. Somehow as an outgrowth of this we need to put together a process for people to share and be part of an overall project."