Post-production pro: Jonathon Ragsdale '99
Jonathon Ragsdale '99 is the online editor for many of your favorite television shows, like "So You Think You Can Dance."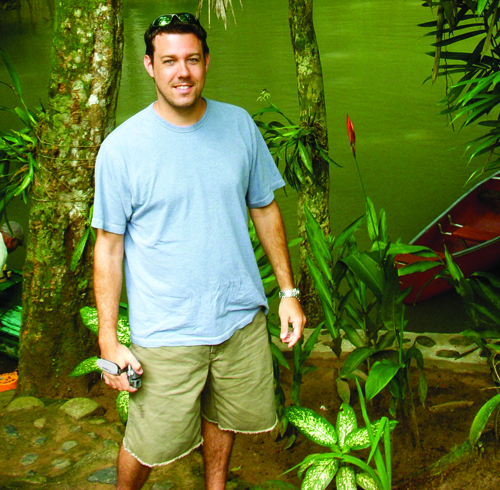 Post-production pro: Jonathon Ragsdale '99
Jonathon Ragsdale '99 is the online editor for many of your favorite television shows, like "So You Think You Can Dance."
Piece of cake. That's how Jonathon Ragsdale '99 describes his output on Fox's popular competitive dancing show, "So You Think You Can Dance." Granted, Ragsdale's moves are all digital.
As an online editor for the series, he puts the finishing visual touches on each episode before it airs, "sort of the way a pastry chef puts the final decorations on a finished cake."
After earning his RTVF degree, the Dallas native headed straight for Hollywood. His goal was to work in post production, where footage is edited after it's shot. Instead, he took what he could find: a job requiring him to work on the set. After two years as a production assistant on film commercials and music videos, he decided to call and ask his TCU professors for advice on how to break into the cutting room.
It was a scene straight out of the movies: Earlier that day, professor Richard Allen had heard from another RTVF alum in Hollywood who needed a post production assistant pronto. Three days later, Ragsdale was happily employed as a post PA on Comedy Central's "Beat the Geeks." He worked extra hours to get experience on the Avid suite of digital editing software. Not long after, he moved up to assistant editor, a freelance position that began at 7 p.m. and lasted all night. That worked until he fell in love. "When I met my wife, I decided to find a normal shift to work."
At a new company, and finally able to sleep through the night, Ragsdale learned color correction and how to blur out anything that can't be shown on TV, such as company logos and nudity. When all graphics are correct and everything is perfect, he lays off tape for airing.
Ragsdale's credits include "CNN Heroes," "America's Best Dance Crew," "Chocolate News," "The Sing Off" and most recently "Sarah Palin's Alaska." Since 2008, he has worked as online editor of "American Idol" and "So You Think You Can Dance." He also edited "The Apprentice," "Survivor" and "The Contender," titles that sound a lot like Ragsdale's career.
There won't be, but if there were ever a reality show on making it in post production, Ragsdale would be a shoo-in. From racing off to Hollywood with a dream, to the lucky break to working hellish hours, Ragsdale's life in LA sounds like the story of a star. The kind we never see, who is much happier behind rather than in front of the camera.