Schieffer: JFK assassination "changed America"
Panel agrees that "America lost its innocence" and began to view the presidency and the media in a new light after the tragic events of Nov. 22, 1963.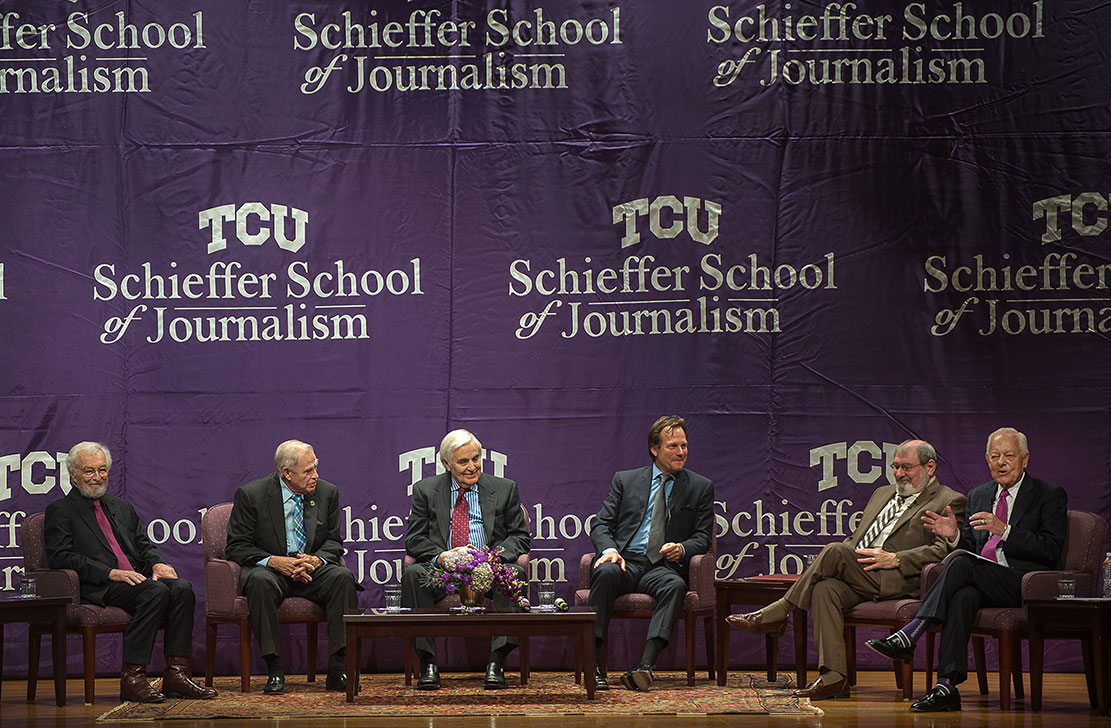 Schieffer: JFK assassination "changed America"
Panel agrees that "America lost its innocence" and began to view the presidency and the media in a new light after the tragic events of Nov. 22, 1963.
For Bob Schieffer '59 and much of the country, the assassination of President John Fitzgerald Kennedy was such a defining moment in history that "people remember because [it was] so overpowering."
"As we pull back 50 years, I think it was the weekend that changed America," Schieffer said. "I think we came to look upon the presidency in an entirely different way. Up until that point, we thought our president was somehow this superhuman individual. … We were reminded the vulnerability not only of our president but for everyone. We were reminded of the preciousness of life."
In those days, Schieffer was a young reporter at the Fort Worth Star-Telegram just a few years out of school, often working the police beat and answering phones on the city desk.
Schieffer recalled a chaotic weekend, from the jubilation in Fort Worth when the president arrived late Friday night at Carswell Air Force Base to massive crowds greeting him at the Texas Hotel to the time he almost got an exclusive interview with Lee Harvey Oswald after driving the suspect's mother to police headquarters in Dallas.
A riveted nation followed the dramatic events unfold, even viewing the press in a new light, Schieffer said.
"We came to have a new understanding of the media," he said. "Up until that weekend, most people all they knew about news was the news product – a story written and edited in a newspaper. They saw a story edited on television. That weekend, [they] saw the news process, and people discovered it's not always orderly. It doesn't always make sense."
It also changed how news is consumed, he said.
"Most people in America depended on the printed word for their news. From that weekend on, with the country — for the first time in its history — all focused on one news story at the same time … television would be the place most people would get their news."
Those implications and Schieffer's memories were among the highlights of a discussion Wednesday night called "Fort Worth Remembers JFK," a program jointly hosted by TCU's Schieffer School of Journalism and the Star-Telegram.
Joining Schieffer were fellow journalists Mike Cochran, then of the Associated Press; Gary DeLaune, former KLIF radio anchor; Bob Huffaker, former KRLD radio announcer; and Hugh Aynesworth, then of The Dallas Morning News; and actor/director Bill Paxton, a Fort Worth native, who as an 8-year-old was in the crowd in downtown Fort Worth to catch a glimpse of the president before his fateful trip to Dallas.
Fort Worth was aflutter when President Kennedy and first lady Jacqueline Kennedy arrived at Carswell about 10 p.m. to a frenzied crowd of thousands.
"Fort Worth opened up its heart to the Kennedys," Cochran recalled. "It was something to behold, the affection Fort Worth had for the Kennedys."
The city had turned on the lights outlining its skyline, a practice reserved only for the stock show in those days, he remembered.
The next morning, the president addressed another large throng outside the Hotel Texas, now the Fort Worth Hilton. He also chatted and shook hands with many gathered for a breakfast of the city's chamber of commerce, including then-Speaker of the House Jim Wright.
In that mass of people was Paxton, who joined his older brother and father for a chance to see Kennedy.
"There was a real electricity in the crowd," said Paxton, who started out watching from his father's shoulders but ended up watching from those of a stranger. "Everybody was so excited."
Paxton is fuzzy on the details of Kennedy's speech, but he did remember that the president said he was sorry his wife was not present. "He said, "She takes longer to get ready than I do'"
Eventually, thousands more in town saw the president's motorcade zoom off to Carswell again. About an hour later, Kennedy was in another motorcade in Dallas and was assassinated.
Aynesworth, a Morning News reporter who didn't have a set assignment that day, recalled witnessing the shooting, following police radio chatter that led him to the Texas Theatre and eventually the arrest of Oswald. Later, he was present for the shooting of Oswald by Dallas nightclub owner Jack Ruby.
"I stood near the depository and heard shots shortly after the president's car passed. There was pure chaos — people screaming, crying, running around in the street," said Aynesworth, who has published November 22,1963: Witness to History and is widely considered one of the most respected authorities on JFK's assassination.
Trying to determine the best place to be, Aynesworth smartly connected the shooting of a police officer in Oak Cliff to the Kennedy assassination and made his way to the theatre to see police close in on Oswald.
DeLaune was the first person to tell the world that Kennedy had been shot, "perhaps tragically." He also was standing just feet from Oswald when he was shot by Ruby.