Neeley School of Business study abroad in Peru
Neeley students learn the art of haggling in Peru.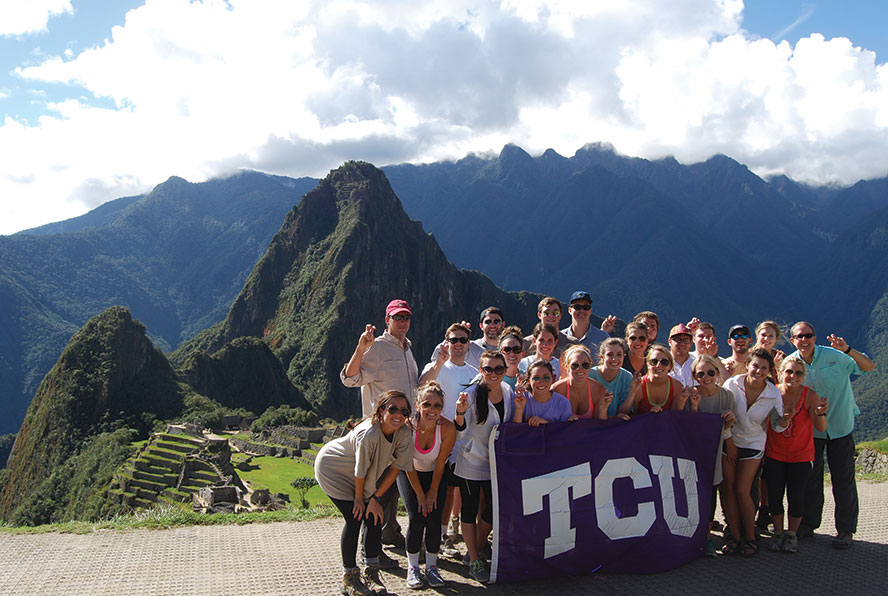 Neeley School of Business study abroad in Peru
Neeley students learn the art of haggling in Peru.
This summer, 22 students minoring in business traveled to Peru to explore its ancient ruins and its modern marketplaces.
They were part of a Neeley School of Business summer study abroad program titled Consumption and Culture, a 12-day trip that took them to Lima, Cuzco, Aguas Calientes, Machu Picchu and Puerto Maldonado. Throughout Peru they saw the attraction strong brands have for even the poorest consumers and how multinationals' strategic decisions, such as brand licensing, impact what is stocked.
They learned from local business as well. Instead of checking prices on tags, most buyers in Peru negotiate with sellers. This haggling illuminates the "invisible hand" of the market, revealing how price is subject to bargaining strategies and supply and demand.
At a local market near the Incan ruins of Machu Picchu, Paige Glosser, a senior communication studies major from Dallas, haggled for a duffel bag and an alpaca sweater. At one point, she walked away from a seller so she would drop her price.
"It makes me wish that in American markets, prices could always be negotiated," she says.
Students also visited the Gamarra textile district, 24 square blocks where 150 galleries house over 14,000 textile companies and 90,000 employees and ring up more than a billion dollars in annual sales. At the other end of the spectrum, they visited a small, sustainability-focused, ecotourism-supported textile cooperative in an Andean village. Participants also enjoyed a boat trip on the Amazon and stayed in an eco-friendly rainforest lodge.
"We had not only our substantive expertise in marketing but also in-country guides who knew the history, the biodiversity, the culture, everything," says Eric Yorkston, associate professor of marketing, who led the trip with Chris White, also an associate professor of marketing.
The professors put the trip together so business minors would have the same study abroad opportunities as business majors.
"They really saw how cultural and economic factors change the marketplace," Yorkston adds.
On the Web:
TCU Study Abroad – studyabroad.tcu.edu
Related stories:
French connection – New programs explores national identity among immigrants
Up for debate – Communication students study parlimentary debate in the United Kingdom
Exploring Asia – MBA students make connections in China
Market driven – Neeley students learn the art of haggling in Peru