Communications students study debate in the UK
United Kingdom program packs iPads for a mobile classroom.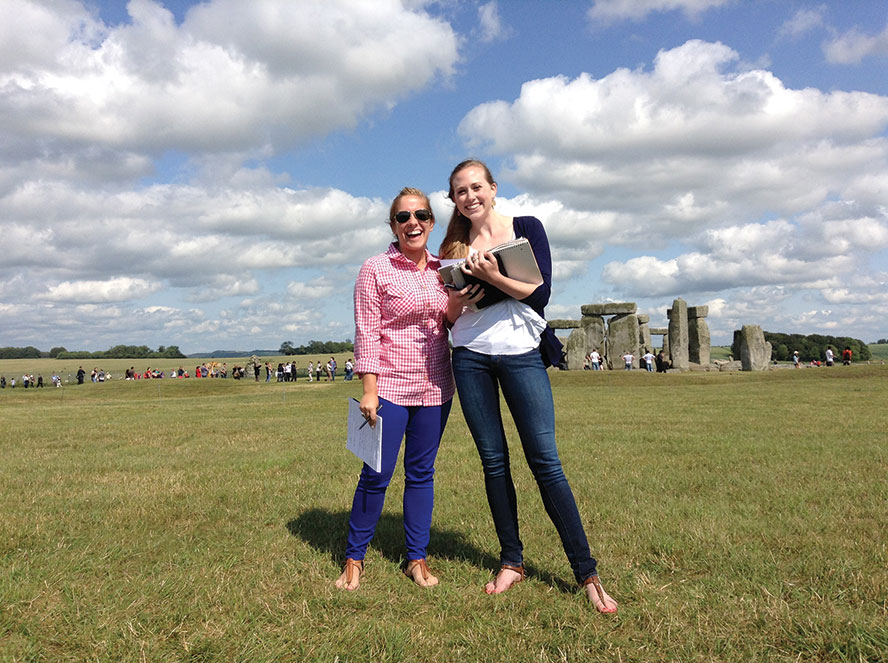 Communications students study debate in the UK
United Kingdom program packs iPads for a mobile classroom.
The prehistoric monument Stonehenge proved to be a perfect setting for TCU students to stage a debate on the pros and cons of a parliamentary government.
"It was a gorgeous day, and it happened to be July 4," says Carrie Moore, an instructor of communication studies, who was one of the faculty leaders for the summer study abroad program Communication and Debate in the United Kingdom. "Seeing all their hard work come to a head that day was a real highlight for me."
Nine students went on the program, which covered two classes. Moore taught a class that looked at the British origins of contemporary parliamentary debate and Debi Iba, also an instructor in communication studies, led a class investigating great British orators and their persuasive techniques.
The Stonehenge stop was near the end of the three-week program, which also included high tea at The Savoy in London, a behind-the-scenes tour of British Parliament and the chance to see a live debate in the Scottish Parliament.
It was the first time the program has been offered, and next summer Moore and Iba plan to offer a program in Italy focusing on the roots of rhetoric and nonverbal communication in another culture. In coming years, the study abroad program will alternate between the United Kingdom and Italy.
Because of the mobile nature of the class, the instructors opted to put everything – the reading materials, maps and assignments  – on iPads. Students were assigned a designated iPad Mini and had to use it to turn in assignments and participate in class discussions via Wi-Fi.
Iba says that in addition to lightening their loads, using iPads made it possible to have class in a wide variety of locales, from onboard a train to the gardens of Kensington Palace.
"We communicated via Wi-Fi so anywhere we had Wi-Fi we could have class," she says. "We had everything available in this little-bitty package."
Using a variety of apps, students could easily share notes and exchange multimedia projects, Iba says.
"It really changed the way we structured the class," Iba adds. "It really frees you up from being inside four walls. It's really liberating."
On the Web:
TCU Study Abroad – studyabroad.tcu.edu
Related stories:
French connection – New programs explores national identity among immigrants
Up for debate – Communication students study parlimentary debate in the United Kingdom
Exploring Asia – MBA students make connections in China
Market driven – Neeley students learn the art of haggling in Peru