Chancellor Boschini's 10 years at TCU
Alumni and readers recall the moments that made them appreciate the top Horned Frog.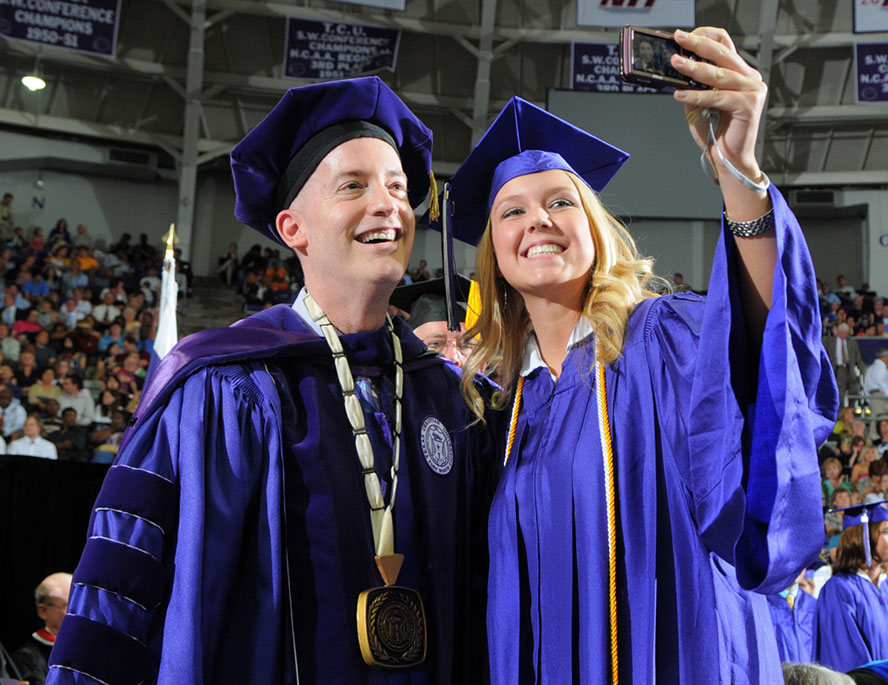 Chancellor Boschini's 10 years at TCU
Alumni and readers recall the moments that made them appreciate the top Horned Frog.
I graduated from TCU with my Ph.D. in Psychology in December 2005. I had dreamed of receiving my doctoral hood since the first time I attended a college graduation. It was a moment that had motivated me when I was in the depths of all the stress and panic that comes with working on a doctorate. I was so excited as our group was called up to the stage, and I waited in line for my turn to receive my diploma and get hooded. When it was my turn, I excitedly stepped up to the front of the stage and was informed that there had been a mix-up and they did not have a hood for me. Dr. McCracken, the dean of the College of Science and Engineering, and Dr. Czuchry, the person who I had chosen to hood me, pretended to hood me anyway and tried to make the best of the situation. I was devastated. I burst into tears as soon as I got back to my seat. Dr. Czuchry declared that he was going to get us back on the stage so he could give me his hood, and he was off. At the end of the ceremony, Dr. Czuchry and I were called back to the stage. When we got there, Chancellor Boschini asked which hood we were going to use. Dr. Czuchry began to say we would use his, and before he had completed his sentence Chancellor Boschini said, "I have a better idea," and without hesitation, ripped off his Chancellor's hood and placed it on my shoulders. It is a moment that encapsulates everything that it means to be a Horned Frog, and why TCU has flourished under Chancellor Boschini's leadership. It was such an instinctive gesture to him. It was amazing. I will always be grateful to him, and to TCU for so clearly demonstrating that TCU truly values its students and their academic achievements.
Katherine Ortega Courtney '05 Ph.D.
Chancellor Boschini had just moved to town and we were having a birthday celebration for my second oldest son, Thomas Marlow, on Halloween night. We invited the chancellor and his family to attend and — surprise surprise — he came to help the Marlow family celebrate Thomas' 5th birthday! It was a fun-filled night and "Our Chancellor," as we call him, has been like part of our family ever since! My second favorite story was when my oldest son, George, was accepted to kindergarten at Fort Worth Country Day School. "Our Chancellor" sent over a beautifully wrapped package. On top was a FWCD sweatshirt with a TCU shirt underneath. On the note was written, "Congratulations on acceptance to FWCD, and I hope to see you trade the FWCD one in for this TCU one someday." This meant so much to our family. How and when does he find the time to do all the thoughtful things he does — it truly amazes me!
Michelle McKee Marlow '92
My son Neil Henges '12 and I were walking around campus a couple of years ago when a large SUV pulled up close to us. The driver was Chancellor Boschini. We promptly reminded him that he parked in a no parking zone. He laughed and said he was merely dropping off a professor. We both laughed about the TCU police being relentless about writing parking tickets. At the same time, Dr. Boschini took time to introduce us to the professor he was dropping off and referred to the professor as one of the great ones at TCU. We all chatted for a few moments and Dr. Boschini made sure to ask our names again and where we are from. I have been associated with TCU since my freshman year in 1977. I think it is remarkable that TCU has only had four chancellors since that time. In the days of the revolving door at the CEO level, it seems TCU chooses CEOs wisely and the continued growth in the student body, endowment and national reputation attest to the value of great senior executives who stay at TCU.
Larry Henges, BBA '81, MBA '85

When Chancellor Boschini began his career at TCU, I was only a year and a half away from graduation. Classes came and went, and other than shaking his hand as I crossed the stage to receive my diploma, I really never had the chance to get to know him. Fast forward seven and a half years, as I was having my bridal portraits shot on campus. We had just a few shots left and decided to take them under the arbors surrounding the patio of the Dee J. Kelly Alumni Center. As we were walking through the building, Chancellor Boschini stopped me to ask questions about my photo shoot. He was running a little late for a luncheon, but took the time to sincerely chat with me about my wedding. We took a photo together and then he asked for my email address, adding it to the contacts in his phone. I didn't think anything about it, but before I was even home, I had an incredibly sweet email from him thanking me for the chat. I've since forwarded him the photo of us together and will remember that day for a very long time. He is such a generous and thoughtful person and the TCU community as a whole is extremely lucky to have him!
Jessica Reddick Gatlin '05
I was a junior advertising & public relations major when Chancellor Boschini arrived at TCU in 2003. He was introduced to the student body as being very personable,  interested in connecting with students and receiving feedback about the challenges and successes of being a student at TCU. It was rumored that he went bowling with a group of students, so my roommates and I decided to email him and invite him and Mrs. Boschini to dinner at our apartment in the Tom Brown/Pete Wright Complex. After hitting send, I don't think we expected to actually receive a response. But we did, and they were knocking on our door a few weeks later to share a meal together. It was immediately apparent that Chancellor Boschini and his wife cared deeply for people and were committed to embracing their new TCU and Fort Worth community. It is fun to reflect on that experience and it makes me a proud alumna to see the many ways that Chancellor Boschini has improved and revolutionized an already great TCU during the last decade.
Kimberly Hopper Eloe '05
TCU has been blessed with having outstanding chancellors ever since I can remember. Chancellor Boschini has a smile on his face and always takes the time to speak to a family of Longhorns, except for my wife, Carol, who graduated TCU in the 1965 class. The decade of accomplishments are very impressive and illustrates what a true leader he is.  Even Longhorns can love this man!
Ronnie Goldman
University of Texas '64