Striking a chord . . . piano technician James Williams
TCU School of Music's Chief Piano Technician James Williams keeps the school's fleet of 115 Steinways pitch perfect.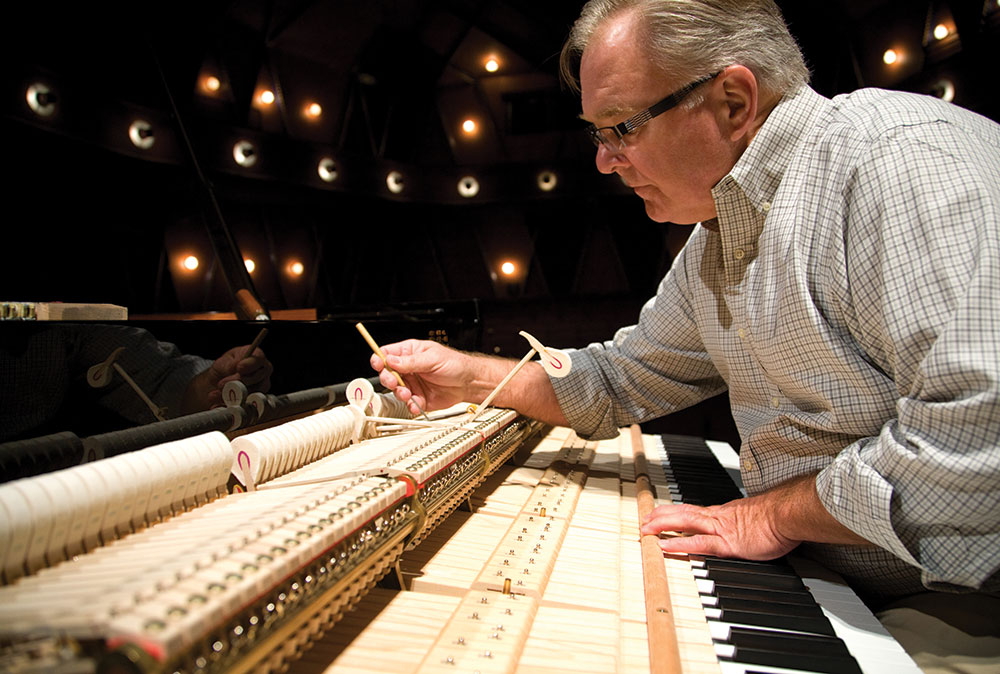 Striking a chord . . . piano technician James Williams
TCU School of Music's Chief Piano Technician James Williams keeps the school's fleet of 115 Steinways pitch perfect.
When James Williams listens to a piano, he doesn't hear the prowess of the performer pounding the keys.
His ears tell him about the quality of the instrument — the keys, the hammers, the strings. "I find myself critiquing the piano as much as the performer," says Williams, who has been the TCU School of Music's chief piano technician for nearly 15 years.
TCU needs his finely tuned ears. Williams keeps track of the school's fleet of 115 Steinways. There's practice pianos suffering the strain of almost-constant student use. There's faculty instruments that must meet professors' exacting standards. Then there's the campus's four concert grands — two New York and two Hamburg Steinways — in Pepsico Recital Hall and Ed Landreth Hall, all of which must produce flawless sound.
It's a pressure-packed job that requires odd hours.
On a typical day, Williams tunes instruments early in the morning before first classes begin at 8. And on days when a faculty recital, guest artist performance or other high-profile event is scheduled, Williams, who until recently also served as the piano technician for the Dallas Symphony Orchestra, performs last-minute, pre-performance checkups, usually on hour 13 or 14 of his workday.
Even after the academic calendar ends, Williams faces a busy summer, which brings the month-long PianoTexas International Academy & Festival in June. After that, it's the Mimir Chamber Music Festival in July.
"My schedule is the epitome of flex hours. … My contract is Monday through Friday, 8 to 5," Williams says. "It has been anything but that. But it's what you have to do if you want to get it done. I love it."
The 60-year-old says he feels a certain sense of ownership over the School of Music's $4.5 million worth of piano inventory.
"If you use one of TCU's instruments, I come with the piano," he says. "Not just anyone can work with that piano. I'm very, very particular about that."
* * *
Williams didn't have those exacting standards when he began servicing pianos in 1972 while working as a performing pianist at area dive bars. Piano maintenance was self-taught — sort of a necessity — as many of those instruments were not in good working order.
"I used to play in, well, let's say, some not well-recognized establishments," says Williams, a Dallas native. "So I kind of learned how to make basic repairs on the fly to be able to play."
His career as a semi-pro performer and amateur technician didn't please his parents, who convinced him to pursue work as a petroleum technologist. He capitulated, working on domestic and international oil and gas operations. It was lucrative, but after 15 years, he was ready for a change.
He still had a passion for fixing pianos and trained under Franz Mohr, Steinway & Sons' chief concert technician emeritus, and Ron Croners, Steinway & Sons' chief concert technician, among others.
After becoming a registered technician, he hired on with Tyson Piano & Organ Company in 1989. His duties included complete rebuilds, concert tuning, new piano preparation and handling customer service warranty claims. Eventually, he became an independent sub-contractor in 1993 for Steinway Hall-Dallas.
Williams isn't trying to brag when he concedes that his learning curve as a piano technician was far shorter than most who enter the highly specialized field.
"You can go and take a crash course in computers and learn it. You have to study this for years," Williams says. "I'm sort of an anomaly in that I learned well enough to tune in order to start concert tuning after about a year and a half. I was able to rebuild pianos on my own without a lot of guidance after two to three years. But I've been told and I think I am sort of an exception to that."
Williams continues to be exceptional at TCU. He came to the university in 1999 and has been busy since shuffling from his workshop in the bowels of Landreth to the seven buildings that house School of Music pianos. The care and skill he's shown while caring for TCU's musical assets earned him the 2008 and 2010 Provost's Academic Affairs Outstanding Staff Award. In 2010, he was named a finalist for the Chancellor's Staff Award for Outstanding Service.
In nominating Williams for the chancellor's award, Richard Gipson, director of the School of Music, lamented how seldom a good piano technician gets noticed.
"It is important to understand that if a piano tuner does his job well, no one thinks about him," Gipson wrote. "When the piano is in tune, the music and the performers shoulder the task of making great music on their instruments, giving little or no thought (or credit) to the one who tuned, regulated and prepared the piano for the performance."
But a poorly tuned piano can cast an entire performance in a negative light.
"No one can listen and enjoy the performance because all one can think of is the intonation problems," Gipson wrote.
With more than 200 concerts at TCU each year, "the possibility of a performance being negatively impacted by a poorly prepared piano is huge," Gipson believes.
* * *
Williams' contract doesn't call for pest control, but he's had to run off at least one furry rodent. Once, Williams was frantically summoned by the boyfriend of a piano student playing at a $60,000 grand with a critter trapped inside. The students had created little ramps for it to crawl and had tried to lure it out with food.
Williams' first thought: Get Piano Division Chairman John Owings to observe the infestation problem.
"I interrupted his lesson, which is a no-no," Williams recalls. "I said, 'John, you need to come look at what I'm about to find.' And so he walked over there with me and I pulled the fall board out … and John Owings jumped back about two feet and said, 'My God, there's a rat in there.'"
Turns out it was a gerbil that belonged to one of the students. The rodent had chewed and clawed on the keys and action parts trying to escape its accidental prison.
"I didn't even flinch at this thing," Williams says. "I said, 'You [students] get this out of the piano or I will.' … The problem is [young people] just think there are no consequences. I mean, it's highly specialized equipment."
Williams' wife Sharon reminds him that the piano sounded fine after the furry visitor fiasco.
"You could still play it, just minor, minor damage," she says. "They are kids here. They're very young adults."
The Williamses have three daughters of their own attending TCU, and a 12-year-old son may someday be a fourth Frog.
Williams imagines he'll still be here, tuning, rebuilding and servicing pianos.
"I plan to stay here until I'm 90 or they make me leave."