Taking sides
Art critic Dave Hickey '61 may be hated, loved, reviled and lauded, but he's never ignored.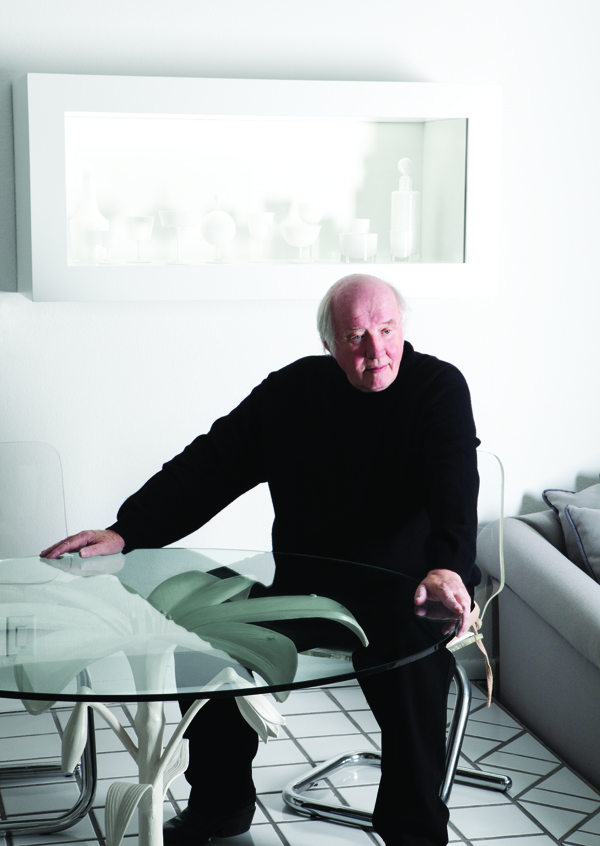 Taking sides
Art critic Dave Hickey '61 may be hated, loved, reviled and lauded, but he's never ignored.
In one of his regular columns for Art in America, the glossy international review that bills itself as "the world's premier art magazine," Dave Hickey '61 crams Joe Cocker, a waspish art critic from a 1940s noir film, Andy Warhol, a new theory about the unconscious, Wilson Pickett singing "In The Midnight Hour" and his own bifurcated psyche into a Stax recording studio, circa 1965.
And "Lawd have mercy!" as Pickett would shout, by the time you meet up with all the cool characters, rocking tunes and renegade ideas that Hickey whips into that box, you forget you're reading a sniffy art mag — and maybe even that he's just told you he's the most famous art critic in the world — and start having fun.
To be fair, Hickey probably is the most famous art critic in the world. His high-flown, down-to-earth, scurrilous, gorgeous, heart-breakingly serious, hilarious prose has appeared in the best-known art and culture journals in America. He has written over 300 exhibition catalog monographs for some of the most famous artists of our time — Warhol, Ed Ruscha, Gerhard Richter, Ellsworth Kelly, just to name a few — and offered up his unique perspective on art at universities, museums and art fairs worldwide.
At the heart of his appeal is his willingness to take a sledgehammer to the art world's ivory towers, as he did in 1993 with The Invisible Dragon: Four Essays on Beauty. Hickey wrote the book, he says in a foreword to its 2004 reissue, "In response to great provocation" — the controversy surrounding the public exhibition of Robert Mapplethorpe's "beautiful, pornographic photographs."
His comparison of Mapplethorpe's X Portfolio to paintings by Caravaggio, however, seemed less offensive to many than his critique of museum directors and scholars who keep beauty locked up like Rapunzel, wheeling her out to the balcony now and then for the public good. Hickey's idea is that beauty belongs to everyone, needs no translator or chaperone, and should be free to ravish us whenever she likes.
He's been hated and reviled, loved and lauded ever since. Walk-outs during university lectures only fueled more invitations to speak in public, to write for more magazines and to be the subject of profiles in Time, The New York Times, Los Angeles Times, The Wall Street Journal, Newsweek, Texas Monthly, New Art Examiner and The Art Newspaper, among others.
In 2002 he was awarded a MacArthur Fellowship, also known as the "genius prize," an honor that made him "more acceptable to speak at universities," he says. That led to visiting professorships at Harvard, Rice and Yale, prestigious writing prizes, and invitations to curate shows for galleries, museums, and foundations from New York to Mexico City.
When The University of Chicago Press published the "smoother, longer" version of The Invisible Dragon in 2009, a flurry of articles and interviews introduced Hickey to a whole new crop of readers. Newsweek called him "the bad boy of art criticism," and an "art-world flame-thrower."
Hickey's not sure what all the fuss is about.
"I'm a pretty straight arrow. If I don't like something, I'm not going to say that I do." So when he volunteers that Fort Worth, "was a pretty good place to grow up," you can believe he means it. Still, he got out as fast as he could, taking his cue from TCU adjunct English professor, Fort Worth native and author John Graves (who was awarded an honorary Doctor of Letters from TCU in 1983).
Hickey has said that he probably owes his career as a writer to Graves, who had already served as a marine, been married and divorced and lived in France, Spain and Mexico by the time he returned to Fort Worth in 1958 and began teaching at TCU.
Graves' comments in the margins of Hickey's assignments were welcome, but what really impressed Hickey was the weight of his past.
"John wasn't somebody who was making a living his whole life teaching people how to write. He had been out there in the world, and that's where I wanted to be."
After graduating from TCU, Hickey moved to Austin, studied linguistics and literature at the University of Texas, and in the middle of his dissertation opened an art gallery.
Later, he directed the Reese Palley Gallery in New York City then headed to Nashville to write songs and music reviews. Former Rolling Stone editor Robert Christgau recalled the "audacious smarts" in those early reviews and praised Hickey's subsequent work for leaving his own writing, "flopping on the deck."
In the 1970s, Hickey's freelance work took off. "I realized that if you can write clear and funny and on time, you can go anywhere you want to — any rock tour, any museum exhibition. So I set out to have adventures and not to be a famous writer."
He adventured for a good long time, writing art reviews for Art in America and music reviews for The Village Voice, and touring with bands, where he "did things that I'm still ashamed of."
In 1990, he moved to Sin City to teach at the University of Nevada, Las Vegas because he "needed a good health plan." At UNLV, where he taught for 20 years, he advised students to skip university and use their tuition money to buy a De Kooning.
Teaching now at the University of New Mexico in Albuquerque, you get the feeling Hickey is in too quiet a place. But what place wouldn't be? At a recent art conference, he managed in a few short minutes to "insult all the academics in the room," according to one viewer, proof that his gift for creating lyrical sentences still vies with his talent for ticking people off.
Now age 72, he's writing a monograph on Frank Gehry for the Guggenheim-Bilbao, serving as adviser on a PBS film about the artist Michael Heizer, and looking forward to seeing two new books, Hot Stuff: Essays on Writing on Women Artists and Connoisseur of Waves, and a sequel to his first memoir, Air Guitar: Essays on Art and Democracy, out in print later this year.
In 2009, Newsweek named Air Guitar one of the 50 essential books of our time, and it's probably the most interesting of Hickey's books for TCU readers. He calls it a "memoir without tears," but at times Hickey's writing about his childhood and subsequent obsessions is sweet enough to bring them.
If he's sometimes daunting in person, in these essays Hickey is at his most human, charmed as he is by, "the tininess of everyday life" and those who make it worth living; artists like, he says, "The Bird with his horn and Velásquez with his tiny brush."
In Air Guitar, Hickey shows us "the heart of the heart" that he's tried all his writing life to capture: "The way people talk about loving things, which things and why."
Only this time, we get the heart of his own heart, from the music of Chet Baker that made him feel that, "for once, finally, I had found my own place," to the "little church" of Perry Mason, to "the greatest of many gifts the Third Reich bestowed upon my youth," TCU theater teacher Walther Volbach.
A renowned theater director in pre-war Germany, at TCU Volbach treated his students like they were, "supposed to get out there and do something," writes Hickey. Pacing like "a lion-tamer banished to a petting zoo," he entreated his students on stage to show some passion, "berating us for our lack of energy and verve."
It's a description that comes to mind when watching Hickey himself. Easily bored, and seemingly running rings around his audience in his head, he speaks in a world-weary Texas whine that belies his burning energy.
He often ends his pronouncements with, "do you understand?" the implication being that if you do understand, you'll agree, and if you don't, you'll holler. Hickey's got no time for "looky-loos," his jazz-musician father's term for disinterested spectating types "with no real passion" for what's going on.
"They paid their dollar at the door, but they contributed nothing to the occasion — afforded no confirmation or denial that you could work with or around or against."
One of his primary rules is to contribute, to take sides. That's what critics do. "Some things are better than others, and criticism means talking about why."
Hickey is never dispassionate, not even when explaining why we hate him. "People despise critics because people despise weakness, and criticism is the weakest thing you can do in writing. It is the written equivalent of air guitar — flurries of silent, sympathetic gestures with nothing at their heart but the memory of the music."
But don't let him fool you. He's just propping up a straw man so that his dancing prose can knock it down and out. We play air guitar because we love the music so much that we want to play it ourselves — it's pretty much a solo love-fest, and then it's over.
But if you're Dave Hickey, you can get the music down on paper. You can spread the love, and make it last.