Land of Oz
Students go Down Under for speech therapy insights.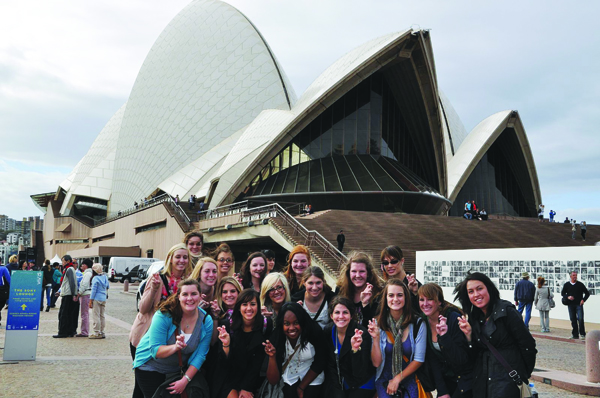 Land of Oz
Students go Down Under for speech therapy insights.
In the movie The King's Speech, it takes an audacious Aussie to help King George VI finally find his voice.
The Oscar-winning film is based on the real-life story of Australian-born speech therapist Lionel Logue and how he helped the king overcome stammering using treatments that were unconventional at the time, such as singing sentences.
"He used his outcomes to support his treatments," says Jennifer Watson, a professor of communications sciences and disorders. "If something worked for his client, he'd keep doing it."
Decades later, Logue's Australian colleagues are world leaders in evidence-based practices in speech-language pathologies, which means using techniques and therapies that are backed by scientific studies.
Over the summer, Watson and Lynn Flahive, assistant professor and director of TCU's Miller Speech and Hearing Clinic, took 18 students to meet with some of Australia's top researchers at its leading institutions. They learned how the nation's researchers and therapists work closely together to shape treatment and use unconventional ways to deliver it.
For example, Watson says the country's speech therapists are concentrated along its populated coastal areas, leaving much of the interior with few or no treatment providers.
"They are turning to Web-based therapies, which is unconventional for us," Watson says. "It was fascinating for our students to see how they are doing it. They're studying how well it works."
The Australian program was part of a new push to expand study abroad opportunities in the Harris College of Nursing & Health Sciences.
Thanks to a grant spearheaded by Paulette Burns, dean of the college, Watson and Flahive were able to travel to Australia in the summer of 2010 and map out an itinerary and curriculum for the course.
Students spent five days in Melbourne, where they enjoyed high tea and heard lectures on stuttering treatment options and the use of music and movement in therapy. They also spent a week in Sydney, meeting with professors and staff at the University of Sydney, visiting the Sydney Children's Hospital and attending lectures on fluency and speech sounds at Macquarie University.
"It was a unique opportunity because we went to both academic and clinical sites," Watson says.
It wasn't all work though. Side trips included a night at the famous Sydney Opera House, hanging 10 at the Manly Surf School on Sydney's Manly Beach and a walk through Featherdale Wildlife Park where they were able to cuddle koalas and commune with kookaburras.
The group included six graduate and 12 undergraduate students and kicked off with three days of classes on the TCU campus before boarding planes.
Flahive said the program's exposure to evidence-based research gave students a head start on coursework this fall, when students enrolled in clinics must begin to provide the evidence-based research that backs up the therapeutic technique or goals set for their clients.
"The 18 students who were with us in Australia are going to be leaders here in the clinic this fall as we implement it because they really understand the evidence," Flahive says.
On the Web:
Communication Sciences & Disorders