Stage coaches
Trinity Shakespeare Festival expands to include Camp Willy for youth by blending swordplay and the bard.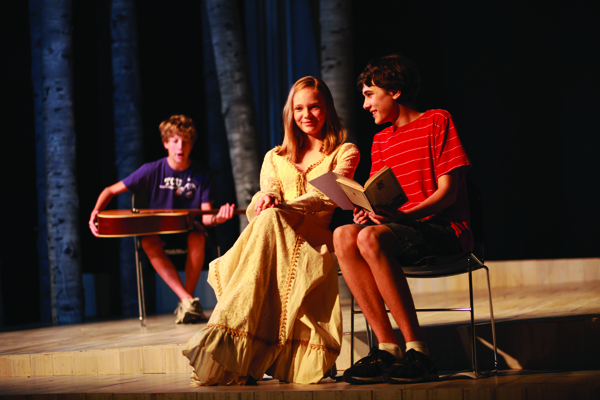 Stage coaches
Trinity Shakespeare Festival expands to include Camp Willy for youth by blending swordplay and the bard.
It wasn't the typical summer camp. Instead of roasting marshmallows and making macramé, participants learned how to convincingly pull hair, land punches and use fake blood.
The 21 campers who came to Camp Willy, a Shakespearian theater camp for kids, spent two weeks being schooled in the basics of the Bard as well as acting, stage movement and combat.
Campers were divided into two groups — ages 8 to 12 attended Camp Avon and those ages 13 to 18, Camp Bard. The two groups joined to put on an end-of-camp performance that included classic scenes from Hamlet, Much Ado About Nothing, Othello and The Taming of the Shrew.
"It was designed to give a basic introduction to Shakespeare," says camp director Claire Parker '11. "We had classes in the morning and rehearsals in the afternoon."
Parker got the idea for the camp after working as an intern at a similar camp staged by the California Shakespeare Festival. She approached Harry Parker '80, chair of TCU's theatre department and managing director of its Trinity Shakespeare Festival, who also happens to be her dad, with the idea. The camp ran in conjunction with the Trinity Shakespeare Festival's season in June.
The camp was led by TCU students, including Kelsey Milbourn, who gave lessons on movement and stage combat; Matt Morris, who taught acting and Shakespeare history; and Gabe Whitehurst, who coached campers in improvisation and voice.
Not surprisingly, the students thought fighting was the most fun.
"In general, who doesn't think stage combat is awesome?" Parker said. "It's usually a crowd-pleaser and never feels like work."
For the final performance, students in Camp Avon performed a monologue from Hamlet and did a series of improvised skits that showcased their newfound skills.
"They wanted to coordinate their own scenarios," Milbourn said. "We taught them slaps, hair-pulling, punches and falls, but it was about how you could do it safely on stage and still be convincing."
Older campers performed scenes from Shakespeare, including a scene when Petruchio spars with Kate in The Taming of the Shrew. Campers were also challenged to act out a scene as it would appear in widely different types of genres — from a Western, to a talk show to a situation comedy.
Based on the success of this year's camp, Parker is hoping for a return engagement next summer.
"Right now, we're still chatting about it, but that's the goal," she said.
On the Web:
Trinity Shakespeare Festival