Joining forces: Volleyball competitors become teammates
Ex-high school rivals Megan Munce and Christy Hudson are now TCU teammates and All-Americans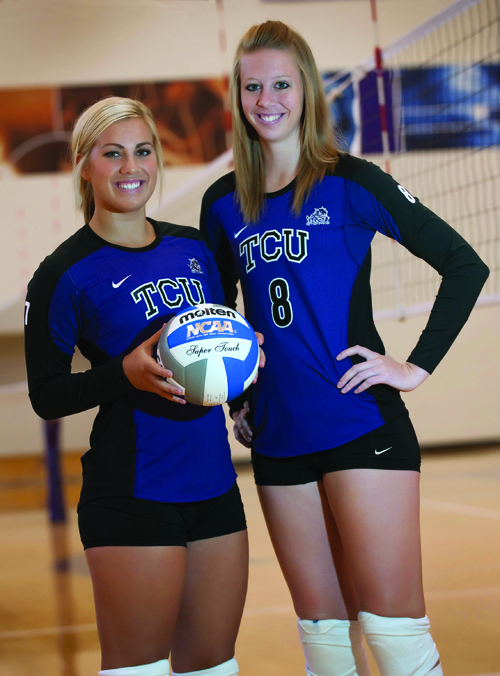 Joining forces: Volleyball competitors become teammates
Ex-high school rivals Megan Munce and Christy Hudson are now TCU teammates and All-Americans
As a high school volleyball player in Southern California, Christy Hudson remembers putting in extra work in practice to prepare for talented rival Megan Munce.
"We literally did drills just to practice facing her," says Hudson, who hails from Yorba Linda.
The senior right-side hitter doesn't worry about stopping Munce these days. The former opponents have joined forces and together are taking TCU volleyball to unprecedented levels. Last season, the pair helped the Horned Frogs win a school-record 27 games and earn the program's first-ever berth in the NCAA tournament.
For their efforts, Munce, Hudson, and then-senior Kourtney Edwards were named honorable mention All-Americans — the first volleyball players to receive that honor at TCU.
"It was good seeing Christy was recruited at TCU," says Munce, a junior setter from Newport Beach.
Likewise, Hudson was excited that the coaching staff had its eye on her former rival. "I said we have to get her. Do whatever it takes. It's just funny that we have that history, that rivalry."
It should come as no surprise that Coach Prentice Lewis places a premium on recruiting top players from California. Lewis and associate head coach Jason Tanaka both hail from So Cal.
"Their coaching style is very similar to what I trained with ever since I started playing," Hudson says. "It was a really easy transition and it was just a perfect fit."
Lewis, who won a national championship as a player at Long Beach State, finds that her home state develops volleyball players with sound fundamentals who benefit from playing year round.  Combine those California players with some tall, athletic players from Texas, and Lewis has the makings of a perennial power.
"It's fantastic to mix these athletic Texas kids with sound volleyball players," Lewis says. "And it just makes a great combination."
Lewis, who's in her ninth season at TCU, led the 2009 Frogs to second-place in the Mountain West and to the second round of the NCAA tournament. Yet Mountain West coaches picked TCU to finish third in the conference this year. Neither Munce, who was last season's MWC Setter of the Year, nor Hudson, who was all-conference each of the last two seasons, received pre-season all-conference honors.
"If anything, it was a good thing because it's going to make us go out there and play even harder," Munce says.
MWC beware.
"People say, 'Oh it's just one season. It's just a fluke,'" Munce says. "We want to go out there and prove, 'No, it's not just a fluke. We're that good.' "