Building Connections on Campus
President Daniel Pullin talks about his focus on students, faculty and staff — and why he wears purple sneakers.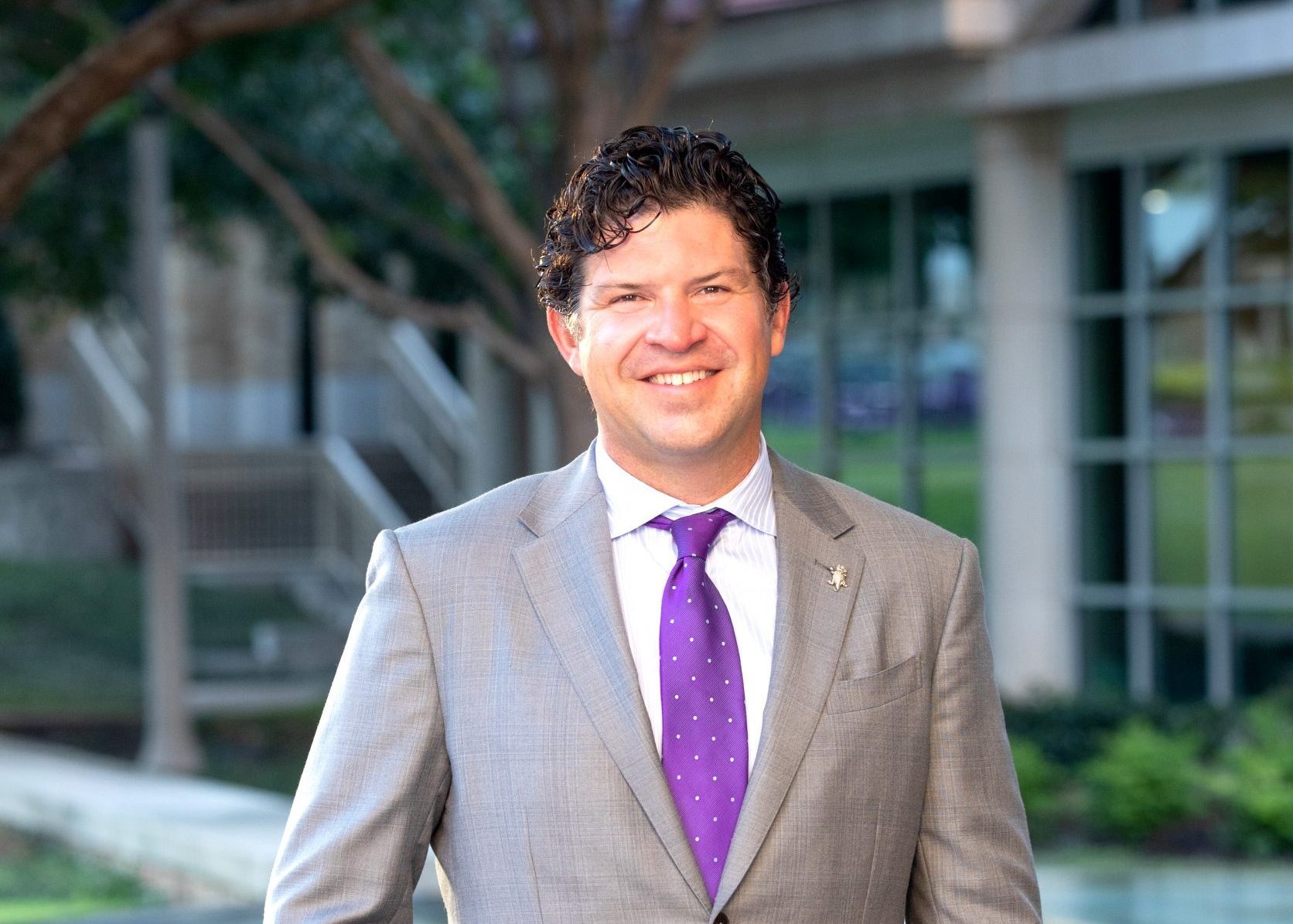 Building Connections on Campus
President Daniel Pullin talks about his focus on students, faculty and staff — and why he wears purple sneakers.
On Feb. 1, 2023, Daniel Pullin became TCU's president following a nationwide search. He arrived at TCU in May 2019 as the John V. Roach Dean of the Neeley School of Business.
Pullin grew up in Plano, Texas, the son of an attorney father and a mother who sold medical software. The oldest of three, he gravitated to American history and anything to do with business and French culture. A high school tennis player, he continues to hit the courts with his two sons, Parker, 14, and Halsey, 10.
His first job was as a cappuccino maker at Romano's Macaroni Grill as a teenager.
"That job was really impactful for me," he said, "because it gave me the opportunity to connect with people, particularly people that I didn't know. There, I began to understand the power of relationships."
He attended the University of Oklahoma, where he earned a bachelor's degree in finance and accounting in 1998. Upon graduating, he went to work for McKinsey & Co. as a business analyst. In 2003, he completed an MBA at Harvard University.
His undergraduate alma mater lured him away from the private sector in 2006 to run its Center for the Creation of Economic Wealth. He stayed at Oklahoma for 13 years, first as vice president for strategic planning and economic development and then as dean of the Michael F. Price College of Business and the Fred E. Brown Chair in Business in 2014. He also earned a JD from the OU College of Law in 2010.
At TCU, Pullin shaped the Neeley curriculum while expanding the business school's enrollment and increasing its prestige. In 2023, Poets&Quants for Undergrads, an influential website covering business schools, ranked Neeley No. 7 for career outcomes and No. 21 overall, making it the highest-rated undergraduate business school in Texas.
"He's very bright, has a lot of energy and has great leadership characteristics," said Luther King '62 (MBA '66), who joined the TCU Board of Trustees in 1992 and has served as its chair.
Soon after Pullin started his job as the university's president, TCU Magazine sat down with him for a wide-ranging discussion. The following are excerpts from the conversation.
You've had a lot of varied educational experiences. Does anything stand out from your time as a student that influences your work at TCU?
Harvard really understood the power of world-class faculty, not only to inform and educate but also to shape the lives and the career trajectories of students. I've tried to instill that here at TCU as we aspire to attract and retain and propel the most thoughtful faculty, who are really on the cutting edge of their fields. World-class faculty want to have the opportunity to teach world-class students and push them in the classroom.
Harvard is also known for its alumni network. What role does that play at TCU?
We've seen TCU's incredible Horned Frog network on full display, certainly during the global pandemic, when alumni stepped up and continued to hire interns and [offer] full-time placements during a lot of economic uncertainty. Strong alumni engagement has allowed our university to continue to build momentum when a lot of entities had to pause.
When Oklahoma asked you to launch its Center for the Creation of Economic Wealth, you left private industry and never looked back.
I'd had such great experiences in industry, yet here was a chance to be entrepreneurial, but in a different way, in a scaled way, to where it wasn't just about creating wealth for the shareholders. It was about enabling talented students to be the next generation of innovators and entrepreneurs. I initially just dabbled in higher education and thought I would start the center, run it for a couple of years, get it up and going, find my successor and then return back to the private sector. But I fell in love with the classroom. I could see direct impact every day in how I was investing my time and energy.
What attracted you to TCU?
There was and is so much momentum around Neeley, which was in the middle of building one of the finest business facilities anywhere in the country. And obviously, the economic miracle that is the Fort Worth-Dallas metro was a very attractive backdrop against which to run a business school. I saw that TCU has the right momentum institutionally, and there's great alignment with the business school and its role at TCU. I felt like it was a winning opportunity.
How did you set about raising Neeley's profile?
The strategy was to align our external relations, to make sure that we were projecting with one voice locally and internationally to the stakeholders that influence the broader reputation of the school. We worked to connect with the most aspirational employers in the world, to make sure that they knew the opportunity to come and recruit. [We also] communicated with our alumni and friends of the university, who became our evangelists.
What about the staff?
I'm a big believer in ongoing professional development. For our faculty and staff, I value lifelong learning and know that we all have the capacity to innovate and reinvent ourselves as circumstances change and society evolves.
What does the future hold for TCU?
We will continue to focus on sustainability, both financial and operational, and how we sustain our highly connected community. We launched this year an effort to update the campus master plan, which will look comprehensively 10, 20 years into the future. As we move ahead, we'll continue to invest in student success. I would argue that the TCU undergraduate experience is among the top in the country, if not the finest overall. It always starts and ends with people.
And the TCU brand?
We have an opportunity to continue to tell the TCU story both locally and globally. As we continue to enhance our brand, I think we'll embrace new technologies to reach a broader set of stakeholders and deepen our relationship with them. Students are the alpha and omega of what we do — the ultimate instrument of our impact. We'll continue to pour into our students and their successes, and that will continue to enhance our reputation.
What are the hallmarks of an academic experience in the 21st century?
The curriculum must evolve at a pace like never before. The skill sets and the mindsets and the tools and technologies needed are changing dramatically. We have to do all we can from a curricular perspective, and that includes providing professional development support to our faculty as they seek to innovate. How we educate our students is also changing. You're seeing a lot of adoption of technology, using it to bring into the classroom other voices or thought leaders that might otherwise not be able to enrich the discussion. One thing that will not change is the importance of human connections, mentoring and relationships.
What inspires you?
I've been so inspired by our faculty's ability and willingness to continue to innovate, to continue to learn and then to share what they're learning. Whether through research and creative activity or their own lived experiences, they're sharing that with our students openly to give them the skills to be successful in their careers and lives. I'm also daily inspired by our students — their optimism and impact.
OK, we have to ask about your purple Converse sneakers, which you're seen wearing all over campus, including the May 2023 commencement. I want to meet people, I want to listen to them, and I want to validate their voices. And if a simple device like a pair of purple Chuck Taylor All Stars can motivate a student to start a conversation with, "Hey, nice shoes," then I can ask them about themselves and their experiences: "What are you enjoying? What are your challenges? How can I be helpful, and what more can we do?"