Kinesiology option improves degree opportunities
Kinesiology changes degree options to improve opportunities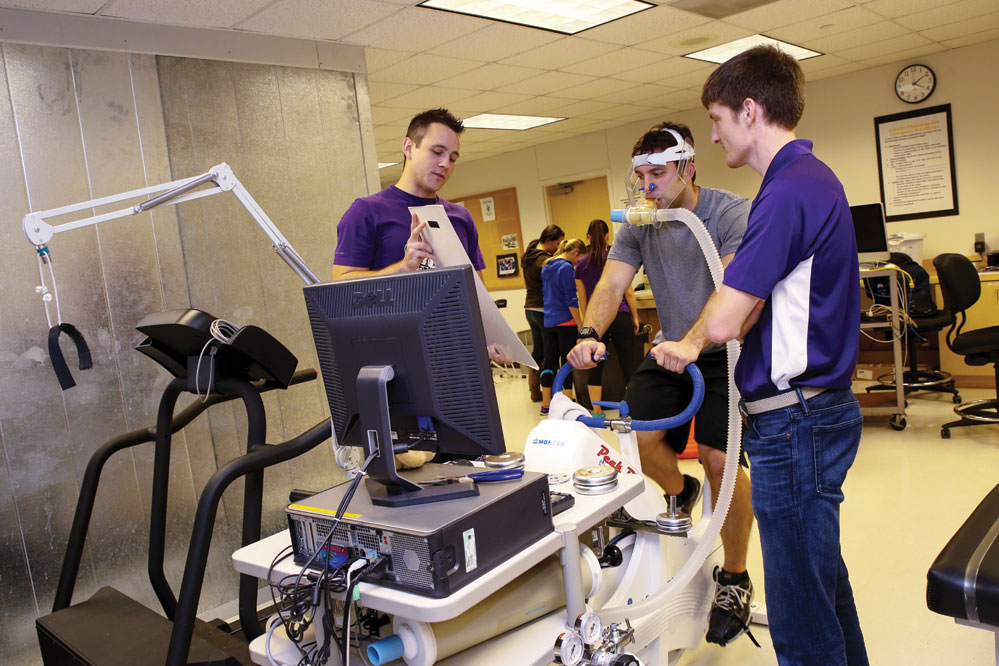 Kinesiology option improves degree opportunities
Kinesiology changes degree options to improve opportunities
TCU's Department of Kinesiology is adding more muscle to its health and fitness regime. Starting this fall, students will be able to pair certification in physical education with strength and conditioning — creating a teaching/coaching route that allows coaching at all levels of performance.
In addition, students opting for a degree in health and fitness will gain specialized training that mirrors real-world practice.
The changes give students a more clear-cut career path and, ultimately, make them more marketable when they graduate. Freshmen and sophomores can opt for the new degree paths, with the first graduates likely in 2016.
Previously, the health and fitness major was more focused on personal training and strength and conditioning, but if graduates couldn't find a job in a college or professional setting, they had no place to go, noted Debbie Rhea, professor and associate dean for health sciences and research.
"We found that if you do strength and conditioning, you really need the teacher prep side of it in order to make yourself more marketable in case the degree takes you to a high school setting," she said. "In Texas and many other states, if you don't have a teaching degree, you cannot coach in those areas."
With the new devoted degree — physical education strength and conditioning (PESC), which is a collaboration between the physical education and health and fitness programs — students graduate with a teaching certification in physical education in all levels and can get certified as a strength and conditioning coach after they graduate.
"The hours and money are better for our kids getting jobs in high school areas than it is in the college area," said Jonathan Oliver, assistant professor of kinesiology, noting the increase in large public high schools hiring strength and conditioning coaches.
For health and fitness majors, the program now offers more specialized training through the required nine hours of "emphasis" courses, which go much more in depth on the clinical and strength and conditioning issues associated with health and fitness. The emphasis courses borderline on graduate level courses and include Theory of Coaching, Advanced Strength and Conditioning, Health and Stress Management, and Neuromuscular Pathophysiology.
"Students are exposed to both clinical and strength and conditioning throughout the program, but their emphasis helps them to really know for sure that this is the area they want to be in," Oliver said. "It's giving them greater options when they graduate and greater exposure while they are here."
As they get close to graduation, health and fitness majors are well prepared to test for their American College of Sports Medicine health and fitness specialist certification, which requires a bachelor's degree.
"If you're going to spend this kind of money to go to TCU, you really want a route to go after you graduate, and this is allowing two or three different routes that are very manageable after you graduate," Rhea said.
The aging population, obesity pandemic, fitness boom and increasing need for high school strength and conditioning coaches are increasing employment options for graduates. The Bureau of Labor Statistics projects a 24 percent increase in fitness trainer and instructor job growth through 2020, which is faster than the average for all occupations.
"Our obesity rates are so high right now," Rhea noted. "If we are going to make a change in the culture, it's not going to be through how we deal with insurance, but it's going to be through the health of our people. And the only way we are going to get to a place where insurance doesn't impact us so much is to make sure that we are healthy as we age. There's a lot of room for students who graduate from our program to go work in different capacities in the obesity setting."