Feature obit: Sculptor Carol Thornton '48
After a career of teaching, sculptor of Clark Brothers statue produced one of TCU's best-loved landmarks.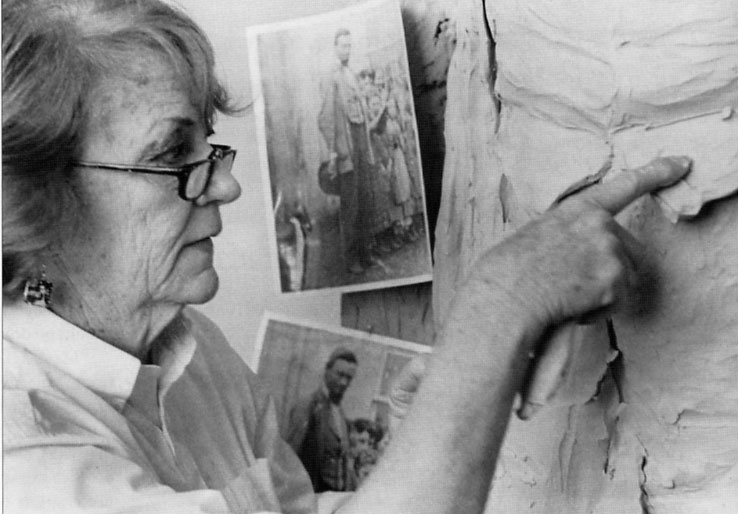 Feature obit: Sculptor Carol Thornton '48
After a career of teaching, sculptor of Clark Brothers statue produced one of TCU's best-loved landmarks.
"TCU founders Addison and Randolph Clark may have been strong men, but in the hands of sculptor Carol Thornton '48, they are mere putty."
That was the opening line of a story in June 1992 issue of The TCU Magazine a few months before Thornton's highly visible Clark Brothers statue was unveiled to the campus.
A longtime teacher, artist, gallery owner and author, Thornton passed away in October. She was 87.
Thornton was born in Fort Worth and, upon graduation from TCU, taught high school English and speech. She wrote plays and ferried students across the state to University Interscholastic League events.
After 11 years, she switched careers and began to sculpt. In the 1960s, she opened her own art gallery in Santa Fe, N.M., before moving it to Weatherford, where she made her home.
Her best-known work became the centerpiece of TCU's east campus – the Clark Brothers, depicting the university founders, shown as young men, in mid-stride with Randolph's hand on Addison's shoulder.
"They were 30, 31 years old when they established TCU," Thornton told The TCU Magazine in 1992. "The chancellor [William E. Tucker '56 MDiv] wants students to realize they can do great things without having beards and being 60 years old."
Thornton brought the brothers to life using aged, blurry photographs, first determining how their faces looked and then their frames. Then, graduate students Paul Lucke '93 MFA and Chip Armstrong '93 MFA constructed the armatures, or "bones," of the two men. They also added expanded metal as muscle and tissue.
After 60 hours of work, the piece was turned over to then-junior sculpture major Susan Marshall '93 and classmates to press hundreds of pounds of clay, or "skin," onto the figures.
Thornton finished the work pulling and adding clay for another five months. Start to finish, the work took just more than half a year.
"You start with a big hunk of clay, and you've got to find these human beings stirring down inside of it," she said in 1992. "I wait for them to emerge, and when they do, that's exciting."
When finished, the work was bronzed and mounted on a piece of the original cornerstone from the school the brothers founded in Thorp Spring.
In 1992, Thornton said she wanted onlookers to take note of the men's faces and hands.
"We want them bigger than life because they were. Students need to look up to them. Addison and Randolph weren't on their level," she told the magazine.
Later in life, Thornton spent time behind the keyboard. She wrote a fictional tale of a collection of dogs that come and go in the life of a young country girl. TCU Press published it earlier this year under the title Tails on the Hill: Stories about a Family and its Dogs.
Thornton is survived by her daughter Jamie.