75 years: A Neeley School of Business timeline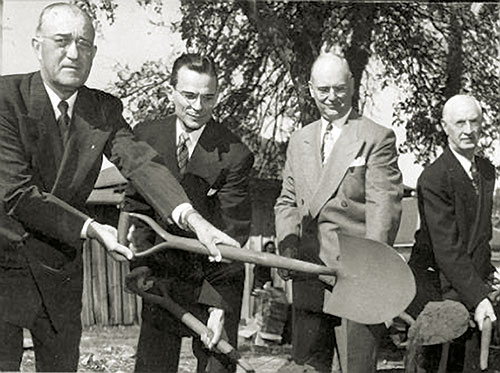 75 years: A Neeley School of Business timeline
1938: TCU's Department of Business Administration officially becomes the School of Business, offers the Bachelor of Science in Commerce degree and introduces the Master of Business Administration degree.
1944: The School of Business becomes the seventh major unit in TCU's academic structure.  E.M. Sowell is appointed first dean.
1949: School of Business graduates grow to 220. Trustees realize critical need for more space.
1954: Ike H. Harrison is appointed dean and leads until his death in 1971.
1957: Dan Rogers Hall is completed at the cost of $825,000 and dedicated in memory of Dan D. Rogers, a 1909 graduate and TCU trustee for 37 years. This is the first building to solely house the School of Business.
1963: School of Business undergraduate and graduate business programs are accredited by American Association of Collegiate Schools of
Business.
1964: Beta Gamma Sigma business honor society is founded.
1967: Named M.J. Neeley School of Business to honor the man who served as a TCU trustee for 25 years and left an indelible mark upon the business school and TCU.
1968: Master of Management Science degree begins.
1971:  Joseph Lee Steele is appointed dean.
1973:  Educational Investment Fund is founded with $600,000 gift of Alcon stock from Alcon co-founder William C. Conner.
1976:  Gilbert R. Whitaker is appointed dean.
1979: Edward A. Johnson is appointed dean.
1982: Earl E. Dyess Lectureship is established.
1986: Charles Tandy American Enterprise Center (now Tandy Center for Executive Leadership) is established with William Campbell as director.
1987: Dr. H. Kirk Downey is appointed dean.
Groundbreaking for Tandy Hall and renovation of Rogers Hall.
Center for Productive Communication (now Professional Development Center) opens with a $1.6 million endowment from M.J. Neeley. Ken
Crider is the first director.
1988:  National Board of Visitors (now International Board of Visitors) is inaugurated to review programs and goals of the Neeley School.
1989: Tandy Hall completed, which doubles the available space for business programs and activities. It is dedicated March 31 for Charles D. Tandy '40, a trustee who built a small enterprise into Tandy Corp./RadioShack.
1994: Accounting program is accredited by AACSB.
1997: Master of Accounting program begins.
1999: Neeley Entrepreneurship Center opens with David Minor as director.
2000: Robert F. Lusch is appointed dean.
Executive MBA and Accelerated MBA programs begin.
TCU Texas Youth Entrepreneur of the Year program begins.
2001: Supply and Value Chain Center is launched.
RadioShack computer lab is dedicated.
2002: Luther King Capital Management Center for Financial Studies is dedicated.
Global Supply Chain Conference begins.
MBA/Ed.D program begins.
2003: Smith Entrepreneurs Hall opens, made possible by a gift from TCU parents Sarah Smith, a former TCU trustee, and Steve Smith. This increases the capacity of the business school by 50 percent.
Investment Strategies Conference and High School Investor Challenge begins, produced by the LKCM Center for Financial Studies.
2004: Daniel G. Short is appointed dean.
2005: Entrepreneurial Intern Scholarship Program begins.
Summer business program for TCU nonbusiness majors begins.
University Career Services opens satellite center at Neeley (now the Alcon Career Center).
2006: Neeley Fellows honors program is founded.
BNSF Next Generation Leadership Program begins.
2008: O. Homer Erekson '74 is appointed dean.
MBA Marketing Case Competition begins.
2009: Charles D. Tandy statue is dedicated in front of Tandy Hall.
Neeley Premium Credentials program begins.
2010: Richards Barrentine Values and Ventures® Business Plan Competition is founded and presented by the Neeley Entrepreneurship Center.
2013: MBA for Energy Professionals and Master of Supply Chain Management programs begin.