Peace by piece . . . Jenny Everett '09
Creating economic opportunity in Uganda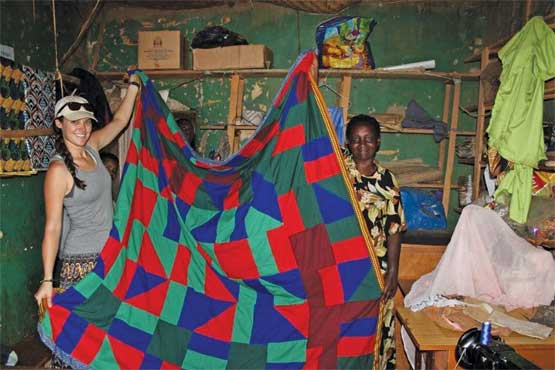 Peace by piece . . . Jenny Everett '09
Creating economic opportunity in Uganda
A certificate in ranch management could lead to a number of careers, but for one former Horned Frog, it led to building economic growth in a developing African nation.
Jenny Everett '09 RM, an economic development volunteer in the Peace Corps, is helping villagers in Uganda create economic prosperity through teaching quilt-making and business skills.
The project, known as Peace by Piece and sponsored by the Peace Corps, involves local villagers who hand-stitch quilts and then sell the blankets in multiple marketplaces.
The blankets caused an economic boom in Ugandan villages, selling at roughly the American equivalent of $40 to $60.
The tailors who participated in the project saw drastic improvements in income because of the program. One such tailor, Agnes, earned two million shillings, roughly equal to $800, in the course of one year. In Agnes' village, the average villager made a monthly income of 100,000 schillings, Everett says.
The program expanded this year, and two similar programs sponsored by the Peace Corps have been implemented in other regions of Uganda.
Twenty-five tailors joined the program and new marketplaces were opened for their work. The quilts were normally sold in post offices or in hotels to travelers, but markets in other local villages and national parks also had opened.
Everett, who is known as "Mbabazi" in the villages in which she works, began her work with Peace by Piece after seeing African fabrics being thrown into a garbage truck, she wrote. After seeing the beauty of the fabrics, Everett mobilized local tailors to create quilts out of the fabrics.
As interest in quilt-making grew in local communities, Everett helped design quilts and establish marketplaces for tailors to sell their new products.
LaShonda Walker, a Peace Corps public affairs specialist, said Everett's creativity impacted others beyond her Peace by Piece project.
While she originally went to Africa with the Peace Corps as an economic development volunteer, Everett took on a number of additional projects in Uganda, such as mentoring in schools and teaching adolescents to create jewelry, Walker said.
Teenagers used basic items, such as magazines, and transformed them into bracelets and necklaces. Some of the teenagers began to be entrepreneurial with their creations, selling their crafts at assorted marketplaces.
Everett says that whether she worked with farm management, economy-building or mentoring young adults, her education in ranch management was most vital to her work.