Lowe Hall opens as new home for TCU Dance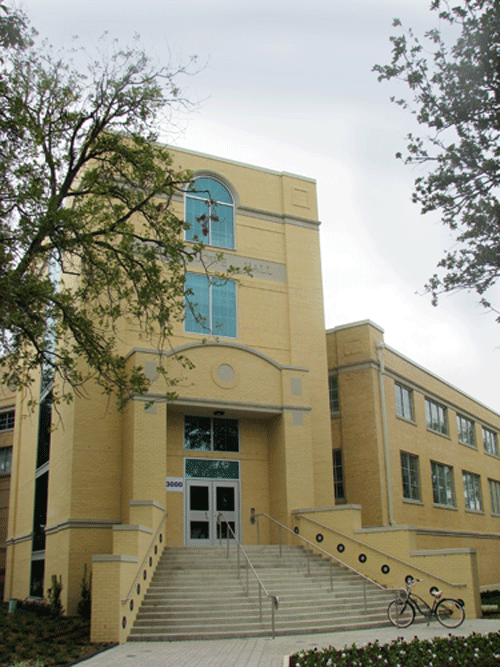 Lowe Hall opens as new home for TCU Dance
The School for Classical & Contemporary Dance moved into the renovated Erma Lowe Hall (formerly the Ballet Building) during the fall semester, ending a transition year in which it relocated to the University Recreation Center and GrandMarc at Westberry Place.
School faculty and students celebrated the official opening in October.
Built in 1921 as the campus gymnasium, the antiquated structure now features three studios, tiled locker rooms, a student lounge with kitchen, a 26-station Mac computer lab, a body/mind studio, costume and production shops, more office space and an elevator. It now provides handicap accessibility to all areas.
Dance studios and audience seating are larger and can be used as a theater space, said school director Ellen Shelton '70. Studio B also gets an audio/visual booth.
Although there is still access through the original doorways facing University Drive, the main entrance is now on the west side, adjoining a visitor parking lot. The interior was entirely gutted, taken down to the outside walls and original support columns inside. Architectural firm Gideon Toal devised a somewhat industrial "New York loft" look with open ceilings, exposed duct work and columns, and interior concrete and brick.
The campus relic, facing University Drive for almost nine decades, was officially renamed in September 2010 to Erma Lowe Hall, in honor of the late TCU trustee and philanthropist.
In February 2012, the building was awarded Gold-level Leadership in Energy and Envirnomental Design status by the U.S. Green Building Council. Lowe Hall is only the sixth building on campus to receive such distinction.
"This is a major accomplishment for this old building," said Harold Leeman, associate director of major projects for the TCU Physical Plant. "The team had to do a lot of work to get the mechanical systems into the building with its low ceiling height and "quiet" needs for dancing, but they were able to do it. I am proud of the whole team."
During construction, the School for Classical and Contemporary Dance moved to a series of rooms in the University Recreation Center and Cyrus K. and Ann C. Rickel Building for the Spring 2011 and Summer 2011 terms. A temporary dance studio on the first floor of the GrandMarc at Westberry Place was built and utilized as well.
The hall loses its original central stairs and old swimming pool. A new elevator tower on the north side and a smaller stair tower on the south side were added to the building.
Locker rooms, conditioning classroom, the costume shop and equipment storage are in the basement level.  The first level contains offices, the computer lab, a student lounge and conference room. The second and third levels hold the dance studios and rest rooms.
Related story:
History of the old gym