Fogelson Forum puts face with medical research
Panel debates the ethics of taking human tissue samples.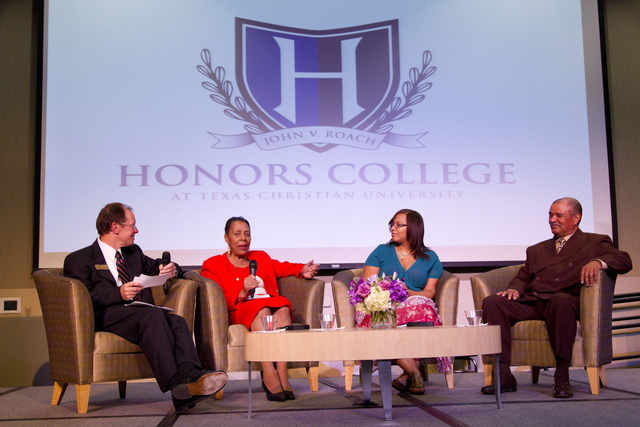 Fogelson Forum puts face with medical research
Panel debates the ethics of taking human tissue samples.
She was a low income African-American woman In Baltimore who died of cervical cancer in 1951.
But Henrietta Lacks left an immense legacy. Some of her Her cells lived on after her death, and, due to their amazing ability to quickly replicate, became the basis for medical research that would eventually lead to a cure for polo and development of the human papillomavirus (HPV) vaccine to prevent the same cancer that killed her.
But few people outside the scientific community knew her name until the book The Immortal Life of Henrietta Lacks by Rebecca Skloot became a best-selling sensation. It was selected as the common reading for this year's incoming freshmen.
Some family members of Henrietta Lacks, including her son, daughter-in-law and great-granddaughter, came to campus Wednesday night to speak about her legacy as part of the 2011 Fogelson Honors Forum.  They said that while Henrietta never knew her cells were taken from her, she would have been proud to know they led to so many medical breakthroughs.
"Our family is so giving," said Erika Johnson, her great-granddaughter. "We're generous people. I guess it's not a coincidence that her cells have contributed to science. But I would just like everyone to teach others about our story. If you know someone who hasn't read the book or learned about it, pass along your knowledge. It's important, not just to the science world, but to everyone."
Asked if she had benefitted from The Henrietta Lacks Foundation, a non-profit set up by Skloot to benefit Lacks' descendants, Johnson said her education had been partially funded by the foundation. She will soon begin work as a counseling intern for a program serving at-risk Baltimore youth while completing her master's in mental health counseling.
The family members told the capacity crowd gathered in the Brown-Lupton University Ballroom that they are glad Henrietta's identity was not kept confidential and now her role is known and celebrated.
"This is a great contribution to science and to the world," said Bobbette Lacks, Henrietta Lacks' daughter-in-law. "The world had a right to know, we had a right to know,"
Henrietta's son, David "Sonny" Lacks, said patients have much better rights today that when he mother checked into the hospital.
"For them to take a tissue and not to tell you what they're doing with it, I don't think it's fair, but they did," he said. "Now the laws have changed from the '50s to the 2000s, they've changed a whole lot."
Presented by the John V. Roach Honors College, the event also included an opening speech by Ruth Faden, (photo below, left) a professor of biomedical ethics at Johns Hopkins University. While Faden works for the same institution that took Lacks' cells and used them for research, Faden opened her speech by clarifying that she was not a spokesperson for the university.
"The institution has been working hard to play catch up in terms of what we didn't do properly — which was to acknowledge the extraordinary legacy of Henrietta Lacks, not only her scientific legacy, which is enormous, but also her human legacy, which I personally believe is even more enormous. It's a matter now of putting into place various awards, honors and scholarships, all intended to honor and acknowledge Mrs. Lacks contribution."
She noted that Johns Hopkins recently held the second annual Henrietta Lacks Research Day.
"Is it enough, what's enough? That's not for me to say," Faden added.
Faden's speech also highlighted the role of social justice in the bioethical
debate. For example, she noted that even though Lacks' cells had provided so many medical breakthroughs, some in her family and many in the low-income community where she lived couldn't even afford health care today.
Asked why anyone would participate in a research study by donating their tissue, Faden said most people agree because they believe it could lead to advances they or their loved ones could benefit from.
"Asking people to donate tissue only makes sense in a system where you are pretty confident that if something good happens, you're going to have access to it, and that's the problem. We don't have the compact complete. We can't say to people, 'If something good comes from this, a breakthrough a treatment, prevention or an intervention, for sure you're going to have access to it', unless we restrict who we take tissue samples from to people who have really good health insurance, who have no risk of losing their jobs and on and on, so that's our problem."
Biology professor Phil Hartman, who moderated the discussion, asked Faden how medical schools could recruit doctors with high moral ethics. Faden said character is key in all professions and in life generally. She said research into what makes people good doctors or nurses has found that the best combine both a "capacity for wonder and a capacity for healing."
"You want a young person who has certain character traits that make them want to ask questions, a due diligence and commitment to see the problem through, to envision a connection no one else has seen, that's the capacity for wonder," Faden said. "The capacity for healing includes empathy, natural respectfulness. In a physician scientist or nurse scientist we need people who combine both of these, then we have something."
On the Web:
TCU Honors Program
Video: