Home grown: Louis Lambert '81
Chef Louis Lambert '81 celebrates his ranching roots in new cookbook co-written with June Naylor '79.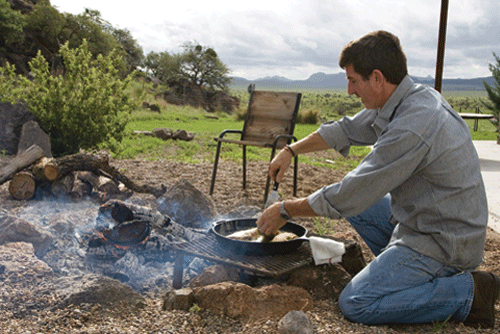 Home grown: Louis Lambert '81
Chef Louis Lambert '81 celebrates his ranching roots in new cookbook co-written with June Naylor '79.
Writer June Naylor '79 still laughs when she remembers the day she met Louis Lambert '81, some 15 years ago. She was in Marfa to report on Martha Stewart, who was there to showcase barbecue for an upcoming cookbook. Stewart's crew had set up a photo shoot with cowboy-turned-chef Grady Spears, whose Reata restaurant was winning rave reviews in nearby Alpine and expanding to a second location in Fort Worth.
Assisting Spears on the photo shoot was Lambert, Reata's executive chef. A seventh-generation Texan, Lambert had grown up working on his family's West Texas ranches and had recently returned to the Lone Star State after honing his cooking skills at the Culinary Institute of America and in top restaurants in New York and San Francisco.
Lambert was preparing the ingredients for the photo shoot when he had to leave the room briefly. As he returned, he noticed someone had already started boiling the potatoes.
"Who started these potatoes and did you start them in cold water?" he demanded, looking over his staff.
"I did and yes, I started them in cold water," replied a voice, instantly recognizable as Stewart herself.
"Good job," Lambert said and quickly returned to work.
Naylor admired his quick recovery from the faux pas with the famously detail-oriented domestic doyenne who, of course, knew starting potatoes in boiling water can make the outside part mushy by the time the inside gets fully cooked.
"I took to Lou right away," Naylor says. "He's so focused. He's much mellower now than he used to be, but he's still a stickler for details."
Lambert's hard work and focus have helped his star rise in the competitive restaurant world and now he's on the cusp of culinary stardom.
In September, Random House's Ten Speed Press published Lambert's first cookbook, Big Ranch, Big City, coauthored with Naylor. The book's title reflects Lambert's ability to recreate traditional Texas favorites with classical French techniques typical of white-tablecloth restaurants.
It's the latest career highlight for Lambert, who followed a family tradition of coming to TCU, where he was a business major working in restaurants on the side.
"TCU has been a part of my life and my parents' life from the moment I can remember," he says.
His grandfather, Ewell McKnight '15, and father, Hal Lambert '54, both played football for the Frogs. His dad was on the last team coached by the legendary Leo "Dutch" Meyer '22. His mom, Joann McKnight Magruder '55, is a Frog, too — in the book he fondly calls her the "casserole queen" and includes her recipe for Tamale Gratin.
Coming from Odessa after high school, Fort Worth was the big city, but Lambert says the town and TCU fit him perfectly.
"It felt like a small town that is a big city, and the school itself and it's environment. Even to this day, I love the environment at TCU," he says. "You can get a world-class education without being just one of thousands and thousands of people and getting lost. It's almost like a family and it helps hold you together in those formative years."
He admits he was struggling to find a professional path in life, but eventually recognized that those side jobs in restaurants brought him the most joy and satisfaction. Still, he had to convince his ranching family that he had a future as a chef.  After his junior year, he transferred to the University of North Texas, where he earned a degree in hotel and restaurant management.
After that, Lambert earned his cooking stripes at the Culinary Institute in New York, then went on to work at some of the nation's top restaurants, including Wolfgang Puck's Postrio in San Francisco.
He returned to Texas in the 1990s and, after a stint as Reata's executive chef, moved to Austin in 1999 where his sister, Liz Lambert, had opened the uber-hip Hotel San Jose on South Congress Street. The siblings noticed there wasn't a corner coffee shop in the neighborhood, so they partnered up to open Jo's, a casual hangout serving up fried pies, kolaches and pulled-pork sandwiches. Lambert then opened Lambert's, a neighborhood bistro in 2001 and Lambert's Downtown Barbecue in 2006.
A few years later, family and business opportunities brought him back to Fort Worth, where in 2007, he opened Dutch's, a burger joint just off campus on University Drive whose name pays homage to the gridiron great. The following year, he opened his version on a traditional Texas steak house — Lambert's Steaks, Seafood and Whiskey.
For years, Naylor, who has coauthored cookbooks with Spears and written multiple Texas travel guides, kept telling Lambert he should write a cookbook. But Lambert put her off, saying the timing wasn't right, that he didn't want to simply throw together a bunch of recipes.
Then a couple of years ago, he was ready.
"I felt like I had gotten to a point in my career that I had a viewpoint of the way I cook, a methodology and a philosophy of food," he said. "It was a culmination of more than just recipes; something clicked and I wanted to put something in writing."
The result is a hefty tome that's part coffee-table book, showcasing the vast horizons of West Texas as captured by Fort Worth photographer Ralph Lauer, and part autobiography, filled with eloquent anecdotes that trace Lambert's culinary heritage and his progression as a chef — from learning at the knee of his Cajun grandmother Norma, (Lambert says her gumbo was one of the reasons he became a chef), to learning the art of charcuterie, the French way of cooking meats, at Postrio.
The book also includes a primer of cooking techniques such as braising, brining, roasting and barbecuing, and helpful how-tos on preparing ingredients, like roasting chiles and buying fresh fish.
The book's 125 recipes include family favorites, such as his grandmother Norma's Oyster Stew and Port Arthur Seafood Gumbo, as well as Tex-Mex classics like Beef Chile Rellenos and Green Chile Queso. Favorites from his restaurants are also offered up, including Ancho-seared Chickpeas. The dessert chapter has recipes for Buttermilk Chocolate Cake and Gingered Pear Fried Pies and Mexican Flan. (Lambert is already at work on a second cookbook dedicated to desserts).
Now busy promoting the book and doing cooking demos across the state, Lambert says he hopes the book will help home cooks improve their culinary knowledge and rediscover the foods that have meaning to them.
"It really does pay to slow cook a pork roast or properly cook chicken," Lambert says. "Not only is it based on something, our culture and heritage, but in the end, the product is better, both in flavor and nourishment, and it feels better to eat it."
In his foreword for the book, food writer Robb Walsh describes Lambert's food as "aw-shucks cuisine" for its elegant simplicity.
"Like most West Texas cattle folks, he is uncomfortable with any kind of praise or aggrandizement," Walsh writes.
He's getting it anyway. Already critics are raving. The Fort Worth Star-Telegram's Christopher Kelly opined, "His pound cake with brandied peaches single-handedly transformed a miserable Monday into one of the best days I've had in years."
Lambert approached the book like other projects — by painstakingly sweating the details. Before they ever pitched the idea to a publisher, he and Naylor crafted what he calls "a business plan for the book," complete with a detailed sample chapter, professionally styled photos and a detailed marketing plan. They pitched to an agent first and had competing publishers vying to sign a deal. Lambert says the whole process took about two years.
"It's tough because you're so close to it for two years and it's hard to look at it with fresh eyes. For a first book, I'm thrilled," he says.
Lambert continues to have his fingers in multiple pies. He's working with his sister, who has opened Hotel Havana in San Antonio and is doing a cooking series at her company's El Cosmico, the laid-back campground of Airstreams, yurts and tee-pees in Marfa.
Also in the works is a new television series co-hosted with Spears, also titled Big Ranch, Big City with KLRU, Austin's PBS station. They have already shot a pilot episode for the series, available at bigranchbigcity.com, which showcases America's local cuisines and local producers in spots like the Texas Gulf Coast, San Antonio and the Rocky Mountains.
"The theme is to discover a place in America based on food, the culture, the heritage, through the eyes of the producers and the people who live in that area," he says.
But through all his endeavors, Lambert continues to focus on the details. He says it's not so much about being a perfectionist, but having high standards and not compromising those standards. It's a lesson he learned years ago on the ranch.
"It's very easy, especially when you're tired, to find yourself saying, 'That plate could be just a little bit better but it'll do.' If you catch yourself doing that, you need to check yourself and give yourself a reboot," he says.
"Every day you've got to come in and say these are your standards and this is what we are going to do."
Related stories:
A sample recipe from Big Ranch, Big City Cookbook
On the Web:
Naylor and Lambert frequently team up to offer special events and food-inspired adventures through Naylor's Texas Toast Culinary Tours.
Video: