Catching air at KTCU
Catching air at KTCU
An enlarged yearbook photo hung for many years in the studios of KTCU. The young man in the frame was Luther Adkins '49. The label under the portrait refers to him as the station's founder.
The funny thing about the man they dubbed the founder is that his voice never graced the KTCU airwaves — at least not in his student days. There was that time in 1981, at the grand opening of KTCU's new digs in the Moudy Building, when folks convinced Adkins to sit at the console and ham it up like a morning-show disc jockey.
But Adkins, who speaks even in casual conversation with the clarity and confidence of a broadcast professional, is not associated indelibly with TCU's campus radio station for something he did on the station. It's about what he did for the station. "I got them on the air," Adkins says. "That's why they call me that."
Adkins could not have known what the station he helped launch in the fall of 1948 would become. FCC-licensed since 1964, KTCU 88.7 FM "The Choice" has helped kick-start the careers of scores of aspiring media professionals. The format has changed many times over the decades but not the mission: KTCU remains an outlet for students to hone their broadcasting skills in a setting that closely mirrors a major-market commercial radio station.
"I was able to do exactly what I wanted to do career-wise because of KTCU," says Scott Blusiewicz '08 (MS), who is part of the radio broadcast team for the Houston Astros' Class A affiliate in Lancaster, Calif. "They have some really unique and creative on-air programs for college radio. It's created a lot of opportunities for students.Adkins is seated at a conference-room table in his Fort Worth Club office, thumbing through a thick file folder. "Now where did I put this?" the retired Carter Publications personnel manager asks himself. The "aha" moment comes soon enough and Adkins retrieves a 30-year-old newspaper clipping that references the founding of the station. He reads a sentence aloud about the role played by WBAP radio in KTCU's inception.
 "They got the station wrong," he says. "It was actually KCNC."
It's a forgivable mistake. Adkins spent much of his 50-year media career at WBAP-TV Channel 5 and its parent company, Carter Publications.  But KCNC is where it all began. Adkins, an announcer/DJ for the station, was one of just a handful of TCU students who had a paid radio gig.
The closest that members of the TCU Radio Club could get in the spring of 1948 to doing the real thing was practicing their craft over a public-address system that fed into a speaker in an adjoining room. Tired of simply playing radio, club members sought Adkins' help in starting up an actual broadcast.
Adkins, who had been an active member of the club his sophomore year, hatched a plan to end his classmates' frustration. He called in a favor from a KCNC engineer who liked to tinker with equipment in his spare time. Adkins recalls he was able to secure $500 from TCU to buy a turntable and pay for the supplies his engineer friend needed to construct a plywood console.
The equipment was ready by fall. Absent a transmitter, the engineer instead created a wired-wireless system that could be heard in most campus residence halls and academic buildings. The days of playing radio were over. KTCU was on the air.
It was something of a parting gift from Adkins, who graduated in the spring of 1949 as the first recipient of the newly created bachelor of fine arts in radio-television-film. Adkins returned to school briefly the following fall. He received a $50 stipend to teach a semester-long introduction-to-radio course. But he knew his path was as a practitioner, not a professor.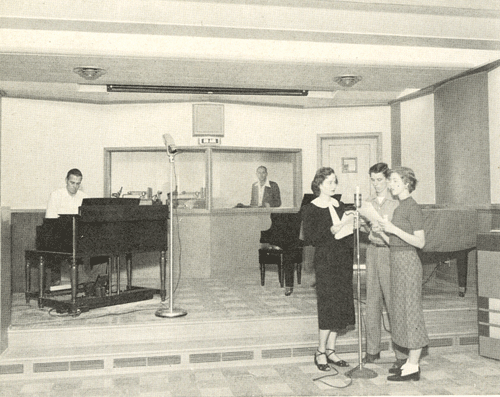 "It was a good time to be breaking in to radio," says Adkins, who became program director and then commercial manager at KCNC before leaving in 1951 for WBAP-TV, where he started out as director of religious, public and educational programming. He later became WBAP-TV's administrative manager.
As Adkins' career was taking shape, KTCU was slowly forming into a bona fide radio station. KTCU relocated in 1949 from Building Two of the Barracks to the Fine Arts Building. In the mid-1950s, the station converted to closed-circuit radio transmission. The station purchased seven specially built transmitters, allowing students to hear hi-fi music by tuning to 1025 KC's on any campus radio.
Eight months after the Beatles debuted on The Ed Sullivan Show, KTCU received an official FCC license. The station took the airwaves as 89.1 FM (It would be several years before it slid over to its more familiar spot on the dial). On Sept. 15, 1964, a TCU Daily Skiff story boasted that the station would have an "excellent signal" within a four-mile radius of campus and an "adequate signal" within a 15-mile area.
KTCU listeners in those early years would have tuned in to hear an opera, an orchestral arrangement, or a 30-minute news update. Sports programming included live play-by-play of varsity baseball and Wog (freshman-team) football games.
 Realizing that student DJs would rather spin Rolling Stones records than broadcast Beethoven sonatas, station manager Larry Lauer (today TCU's vice chancellor for government affairs) in 1967 changed the set list to a heavy dose of rock 'n' roll. But by the late 1970s, the station had once again shifted back to a jazz/classical music/public affairs format.
"We are primarily a training facility for students," station manager Constantine Bernardez told the Skiff in 1984. "Our formats don't have mass appeal, so obviously we're not interested in numbers (of listeners)."
Turned out, there were tons of potential listeners around town — if they could be enticed to tune in. Station manager Andy Haskett proved that in 1994 when he gave the station an edge. Patterned after popular Dallas station "The Edge," KTCU's commercial-free, alternative-rock format generated a buzz among local fans of The Smashing Pumpkins and Pearl Jam. In one year, the audience exploded from fewer than 4,000 listeners to more than 19,000.
These days, KTCU draws an impressive 25,000 unique listeners per week. Daytime music is geared toward reaching a wide cross-section of Fort Worth listeners, explains station manager Russell Scott. Scott has also beefed up coverage of TCU athletics to give would-be sports broadcasters more on-air opportunities than they had in the past. Scott's philosophy includes letting students run the show after dark.
"We purposely leave our nighttime music selection up to the students in order to foster their creativity and give them a better sense of ownership over their specialty shows," Scott says.
New technology is expanding the station's reach. Online listeners around the world stream KTCU. The station is especially popular in Denmark. KTCU even joined the iPhone revolution in April 2010 with a free app — in the first 11 months, more than 5,000 people had downloaded it.
"Our website has provided us a way to get news and information out to listeners, but what's a bigger story, I think, is our social media and our iPhone app," Scott says. "Both have been very successful."
KTCU is poised for many decades of continued success. And Adkins is glad to have played a role in laying its foundation.
"I'm lucky to have been a part of a lot of history," Adkins says. "When you get this old, you are history."