Worth Remembering
In March, Horned Frog Honors students were on national television, chanting "T-C-U" over NBC's "The Today Show." Students took to New York City on Spring Break to examine cultural memories — and make a few of their own.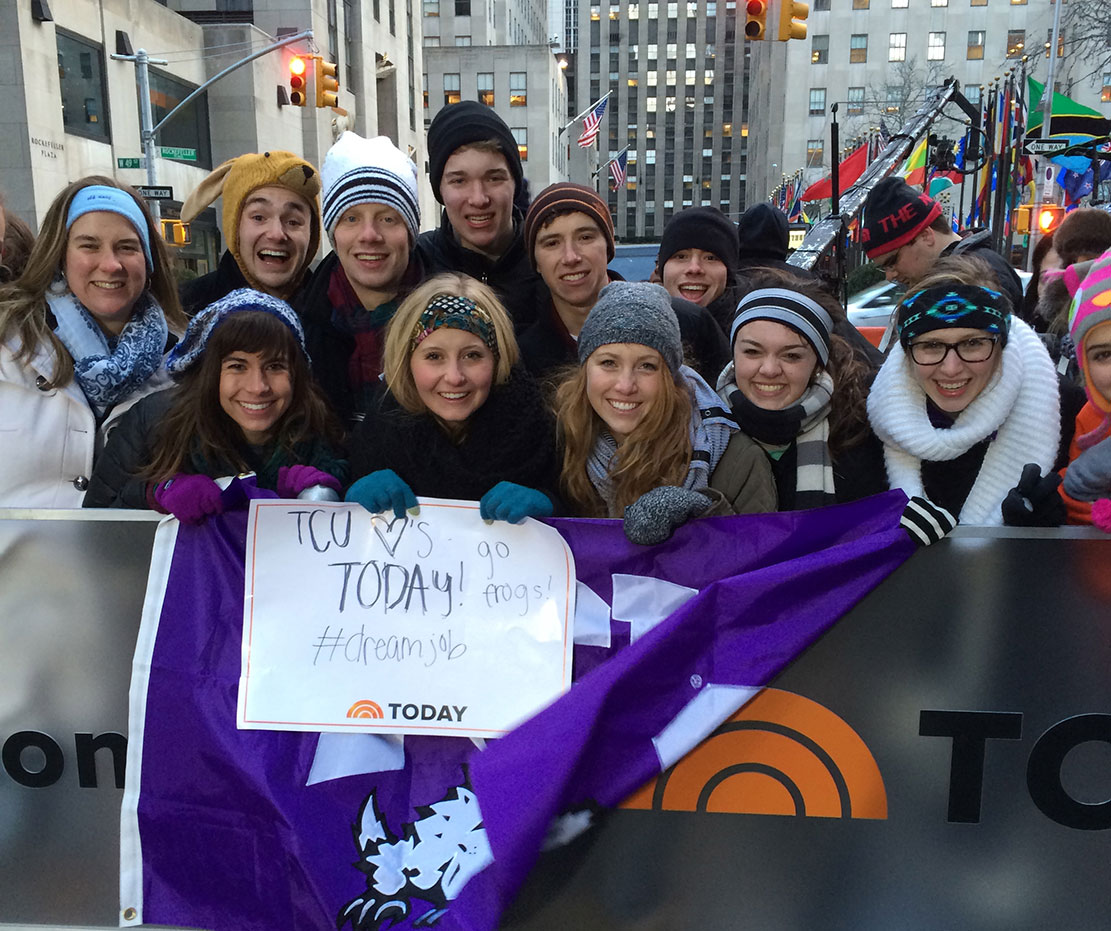 Worth Remembering
In March, Horned Frog Honors students were on national television, chanting "T-C-U" over NBC's "The Today Show." Students took to New York City on Spring Break to examine cultural memories — and make a few of their own.
It was 5 a.m., still dark and a biting 20 degrees. We were on the fifth day of a five-day trip, sleep-deprived, and as the temperature fell, even six layers deep, we could still feel the cold seeping through. We huddled together shivering in Rockefeller Plaza, strategically taking turns running into a small bakery across the street to eat something and to warm up.
Even though the conditions were nearly unbearable, we kept our place in the front of the line, tweeting and yelling to catch the attention of the production crew setting up for the day. I think our energy and excitement was refreshing to them. There we were at The Today Show, and one of the greatest moments of my life was drawing near.
I had been an avid viewer since kindergarten, and this moment was everything to me. Over a midnight dessert hours before, I had talked my classmates from Dr. Ron Pitcock's United States Cultural Memory class into sacrificing a few hours of sleep to rush over and get a spot in front.
We waited for what seemed like an eternity for the hosts to come out. They high-fived my friends and me and spent time chatting us up about where we were from and why we were there. The crew chose people from the crowd to make announcements before show segments, and I had the honor of representing our group. I was speaking for TCU on Today.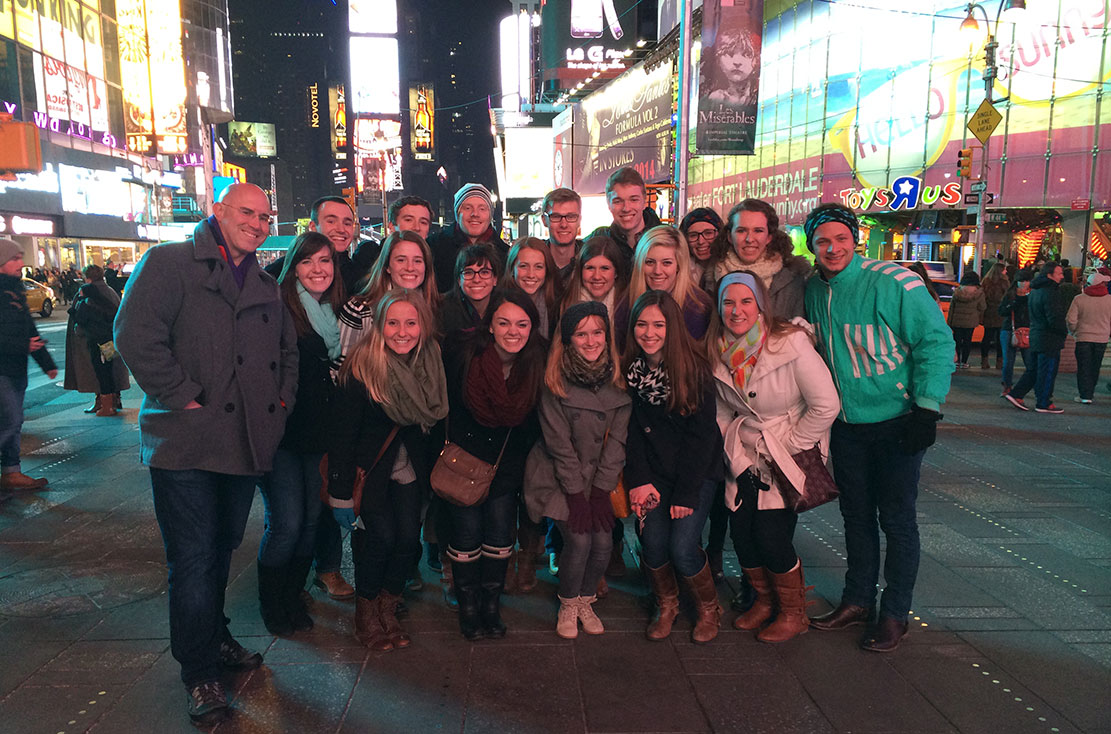 The video of me went viral, and I hope thousands of TCU students, faculty and alumni could sense the pride and excitement I felt in that moment. The cold, the line, and the layers… it was all worth it. Yes, I was "that girl," and yes, it was one of the most exciting moments in my life. But my time in New York and the influence this trip had on my life do not stop there.
The journey really started back in January on the first day of the semester. When I stepped into Dr. Pitcock's class, offered through the John V. Roach Honors College, we talked about going to New York right away. We all sensed that it would not be a "typical" class trip. Dr. P creates a fun and challenging mix of application and in-depth analysis in the classroom. Could a trip be anything less?
I was thrilled to find out. What makes New York the city that it is? How and why do we make memories? What is its impact? While other friends were heading to the beach, I would be packing my heaviest coat.
New York is a place of expectations, for it is home to iconic landmarks, historically significant monuments and storied memorials. We visited several of them: the Statue of Liberty, Ellis Island, Top of the Rock, Broadway and the Empire State Building. But we weren't tourists. We viewed these places to gather our own impressions, studied how others saw them, and discussed the impact memories play in society.
We thought about the history. We questioned what we already knew. On Ellis Island, we explored our family lineages and the connections between people and names. It was incredible to think how this singular place has shaped the memories and traditions and stories of families.
Travelling through that island was the destiny that still defines many families now.
But the moment when I realized the importance of examining memory was when we visited the 9/11 Memorial. Before arriving at Ground Zero, we visited the Tribute WTC Visitors Center that Lee Ielpi, president of the September 11 Families Association, co-founded after his son, a firefighter with Squad 288 in Queens, died at the towers savings others.
After his son Jonathan's death, Ielpi became a member of the Band of Dads and opened the center in memory of his son and others who lost their lives. This was a personal memory of 9/11. His memory. And through his sharing, it would become a small part of ours. As he shared Jonathan's story, we embraced the tragedy and emotions of that day.
Everyone should experience our nation's history this way. The further we move away from that day, the more we risk future generations of students losing its importance. I was in second grade when this tragic day occurred, and my class is among the last to have a personal memory of it.
At Ground Zero later, I felt the pressure of having to keep the memory of 9/11 alive and accurate and to uphold the sacred ground on which I stood. If the tragedy and horror of that day is lost, the memorial will lose its effect. And we will have forgotten "the day that changed everything" forever.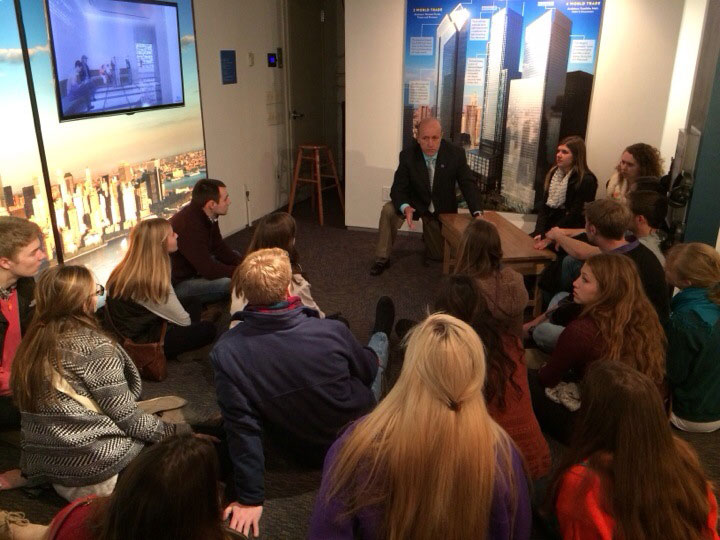 Debriefing in class after we returned, we read Extremely Loud and Incredibly Close and studied with new focus the trauma, anxiety and loss people felt. It can't stop with us. Younger students need to learn not only of the restoration but the horror as well.
Memories are made nearly every second of every single day, influenced by media, by others, even our own understanding. Society too has an endless supply of them, both historically and culturally. Whether we remember is another matter.
But we must. Memories are malleable and easily diluted, so it is our job to dig to find their core. We need them to relate and belong. To cherish and honor what shapes us. They define our past, inform the present and foretell the future. Without memories, we would have nothing to help us understand.
We can learn from memory, teach from memory and find life from memory. It is in our hands, so what will we do with it?
Abbie Maynard, 19, is a rising junior from Scottsdale, Ariz., studying Broadcast Journalism and Spanish.
Web Extra: How much does Dr. Ron Pitcock admire his students? He told prospective students at Experience TCU in April.
Video: