Scenes from a spelling bee
Could you spell Fahrenheit? How about misogynist? Euthanasia? Tchotchka? Ephemeral? These kids can.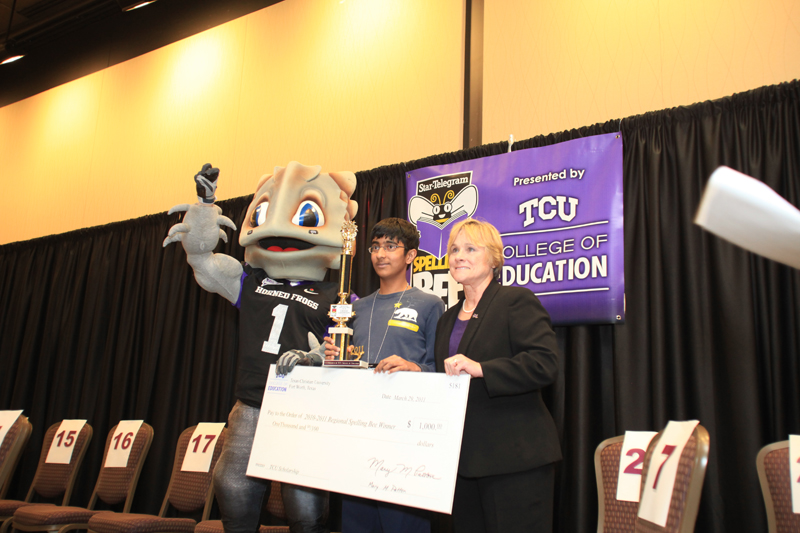 Scenes from a spelling bee
Could you spell Fahrenheit? How about misogynist? Euthanasia? Tchotchka? Ephemeral? These kids can.
At times, they looked glum, restless, even bored. Spelling bees are laborious animals, after all, with their word origins and multiple pronunciations.
Other moments, there were glimpses of confidence, relief and heartache.
Few events showcase the spectrum of human emotion and expression like a contest of words and letters.
TCU got a first-hand view in March. For the first time, the Star-Telegram Regional Spelling Bee took place on campus, featuring 25 spellers, aged 8 to 14, from five North Texas counties.
With cool precision, eighth-grade Euless charter school student Narahari Bharadwaj, 13, correctly spelled "dolorous" to end the 14th round, then called out the right letters for "enthalpy" to clinch the championship and an all-expenses-paid trip to Washington, D.C. for the Scripps National Spelling Bee June 1-2.
Bharadwaj, who attends Harmony Science Academy, also received a trophy and oversized check for a $1,000 scholarship from TCU. Runner-up Mark De Los Santos, 12, from Holy Rosary Catholic School in Arlington fudged on "osoberry" in the final round. He was the defending champion.
The four-hour competition produced some impressive spelling and colorful displays of expression:
– Nine-year-old Celia Nowlin of Fine Arts Academy in White Settlement spent much of the competition sitting pensively with her chin resting in her hands and elbows on her knees. When it was her turn, she hopped up and called out letters, often without asking for a word's definition or etymology.
– Participating in his first competition, 8-year-old Tyler Ellis of Emma Roberson Elementary in Granbury was the youngest competitor and, perhaps, the crowd favorite. With a closely cropped mohawk, he was the only competitor to bring a water bottle with him to the microphone every turn and appeared at ease under pressure. He survived until round 6 when he left off an "n" in "innocuous." By the time he had made it off the stage, he'd buried his head in his hands, sobbing woefully.
– Ansun Sujoe, 10, of Lone Star Elementary in Keller was listed as age 19 in the program, and he probably could have passed for it with his appearance and his adult-like manner of sitting. Wearing khaki dress slacks and a blue pinstripe dress shirt buttoned to the top, Sujoe sat casually with one leg crossed over his knee, watching as other competitors took their turns. He made it into the final foursome, missing on the word "salubrious" in the 13th round.
– Jordan Proffer, 11, of Smithfield Elementary School in North Richland Hills, was dressed sharply in a striped tie. He bowed out in the 12th round after asking for several pronunciations of "tacitly." He incorrectly included a "d" and was eliminated. His parents, who were videotaping on the front row, protested his ouster saying the pronunciation was confusing. The call stood.
– Several of the spellers, including 12-year-old Miranda De La Rea of Dawson Middle School in Southlake, used the back of their number tags to write out words with their finger before calling out letters. Effective strategy.
TCU's College of Education hosted the event for the first time, which dean Mary Patton said was a great opportunity to align the school with an high-profile academic pursuit.
"The College of Education at TCU is nationally recognized for its preparation of reading teachers," Patton said. "We were delighted to have these remarkable young spellers and their families on the TCU campus."
The College of Education is one of only six institutions ever to receive the International Reading Association's Certificate of Distinction, which is the highest honor given by the organization and recognizes outstanding preparation of future reading teachers.
On the Web:
Fort Worth Star-Telegram coverage
Gallery of spellers