Ties that bind
Senseless Acts of Comedy celebrates a dozen years of campus laughs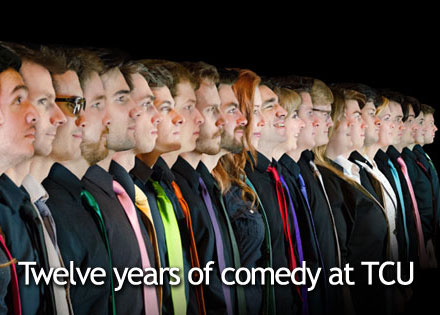 Ties that bind
Senseless Acts of Comedy celebrates a dozen years of campus laughs
A funny thing happened when Andrew Hamer came to campus in the fall of 2002.
The budding comedian from Fort Worth put the word out for others interested in expanding their improv skills and performing sketch routines.
Senseless Acts of Comedy was born. The TCU student improvisation comedy troupe has been going strong ever since.
"So much of it was just timing," Hamer '05 says. "It was the right combination of getting together at the right time with the right people."
In January, Hamer and 31 past and present SAC members came together for the first ever alumni show, performing in front of a standing-room only crown in the Brown Lupton University Union Auditorium. The show was also streamed live on the group's YouTube feed.
Hamer was inspired to start the troupe thanks to 4-Day weekend, a Fort Worth-based improvisational group that started in 1997. His initial blurb in TCU Announce seeking recruits got about a dozen members and they quickly went to work selecting just the right name.
He remembers the possibilities included: The Comedy Underground, Tom Cruise's Understudies, Funny Frogs and Frog Prov. Founding member Erica Hayes nominated the winning Senseless Acts of Comedy.
Through the years, the troupe's attire has evolved from beige shirts to white shirts to the current black dress shirt and black pants with different colors ties. They have also moved to larger venues for their weekly shows, shifting from a 75-seat classroom in Moudy Hall to their current space in the BLUU for Thursday night performances.
What hasn't changed is their wiliness to poke fun at campus traditions. This year the troupe offered up a new rap version of the fight song Riff Ram Bah Zoo in a video that featured a cameo performance by Chancellor Victor J. Boschini Jr.
Hamer currently has a fulltime gig at TCU where he's the music technology coordinator for the School of Music and still performs stand-up in Fort Worth area clubs, says it's been great to see SAC evolve.
"I love that it's still growing, still flourishing," he says. "I love that so many people have enjoyed something I created basically to make more friends."
On the Web:
Senseless Acts of Comedy YouTube page
Video: