Q&A with … Angie Ravaioli-Larkin, women's golf
Women's golf coach is the third-longest tenured coach at TCU and discussed what's kept her squads going back to the NCAAs year after year. 2013 is the 18th year in a row.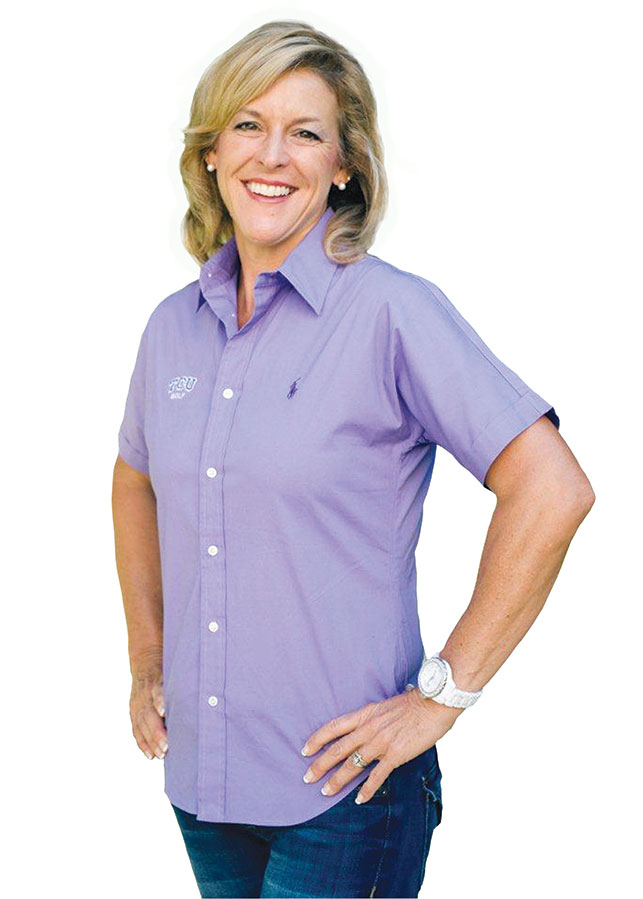 Q&A with … Angie Ravaioli-Larkin, women's golf
Women's golf coach is the third-longest tenured coach at TCU and discussed what's kept her squads going back to the NCAAs year after year. 2013 is the 18th year in a row.
How would you assess the season so far? It's been a little bit of a roller coaster. We've had some good tournaments and some not-so-good tournaments. It's been interesting. We have a really talented group of girls. We showed that at LSU and I was very pleased with the way we fought. Coming into the final part of our season, it's something we really needed to do. We needed that to start a strong finish to the season. They proved that they could do it.  [Editor's note: Women's golf made the NCAA Tournament field for the 18th straight time in May.]
What's the impact of joining the Big 12 for Women's Golf? Our schedule has really stayed the same, and we're still going to all the best tournaments in the country. We see Big 12 schools, we see SEC, we see Pac 12. So it doesn't impact us as far as scheduling goes, but it's had a great impact as far as our image, our advertising, our prestige.
Has it made it easier to recruit? I never think recruiting is easy.
Golf attracts a good number of international student-athletes. How do you get them to campus? TCU sells itself — to all kids, U.S. and international. TCU is really a hot school right now. It's in the South, with warm weather, great golf courses. Fort Worth is prestigious because of Ben Hogan, the Colonial. DFW is just a big golf community and that is a great selling point.
Women's Golf gets to play some fantastic courses in Fort Worth — Colonial, Shady Oaks, Mira Vista, Ridglea. How does that help the team? Yes, they're some of the best places to play in the world. To be able to practice on different styles of courses and types of greens gets us ready to play almost anywhere. Having connections with these golf clubs, too, is important for the girls, especially if they want to turn pro and base themselves out of Fort Worth. When Angela Stanford '00 graduated, Shady Oaks helped her. When Brooke Tull '04 graduated, Mira Vista helped her. But just on a day-to-day basis, to be able to work on different types of golf courses is a huge benefit. In recruiting, we talk about how much better they're going to be having played all these. I do wish we had our own practice facility on campus, and that's something [TCU Men's Golf] Coach [Bill] Montigel and I have been working on. But what we do have is all these clubs where we see TCU alums and boosters. For the girls to see that every day is big. We don't have a home tournament, so practice is their time to shine.
Women's Golf has an active streak of 17 consecutive appearances in the NCAAs. How do you handle that in your program? Do you talk about it? We set our goals at the beginning of the year. We talk about being No. 1 in the country, wanting to be a Top-10 program. Our goal is to win the national championship, win regionals. We really talk about the process and we accomplish our goals along the way. It's just become a product of the hard work.
Is there something that connects all these years of success? You've had a lot of players during 17 seasons who have kept the streak alive. I think I've just based my program on good hard work. One of our core values is passion for winning, for grinding out hard work together. That's just something that has grown deeper and deeper. I want the program to take on the core values that TCU has of family, winning with good character, respect for ourselves, for TCU, for our teammates. We talk a lot about what TCU has done for us, so in a sense, it's a little bit about giving back, making the most of the opportunities afforded us. It's our responsibility to act in a way that reflects positively on TCU, and we do that through hard work.
You have had six professionals in your tenure here. Do you keep tabs on how they're doing week to week, tournament to tournament? Yes, definitely, but I keep in touch with a lot of our former players. In the recruiting process I talk about how this is your one chance to pick your family. That's how I look at our process, and I want them to do it too. This isn't a one-year commitment. It's not a four-year commitment. It's a lifetime commitment. That's a role that I take on as their coach and mentor, and beyond that, hopefully their friend, hopefully still their mentor. It's not, 'Thanks for your four years. See ya later.' They become a part of my family.
Angela Stanford '00 gave the team a van. What did that gift mean to you and the program? It helps in our recruiting and our travel, but what it says about someone giving back just reinforces what we talk about when they're players here. They continue to give back to TCU even after their college playing days are over. It's a symbol of what TCU meant to Angela.
You were a pro for five years, here and in Asia. What did you enjoy about that time? I loved the competition. Loved the travel. One of my most memorable years was when I played in Asia. I'll always remember getting to see different parts of the world. We were in Thailand, in Phuket, a really small town. We were walking to the golf course and I noticed these two little kids playing. As soon as we walked by, one of them said, 'Good morning, ma'am.' It caught me so off guard. I'm in their country and they're speaking English. It just speaks to how big the U.S. is in the world. I just thought that I should be speaking their language. They felt like they needed to know the English language. People around the world really hold up America. I thought about how blessed we are to live here, and how many people wish they had what we have. That was a powerful moment for me. It was such a little thing, but I still remember it.
What got you into coaching? My coaches. What they gave to me. My one coach [Earl Stewart] … he's passed away. Being able to give a little bit of him back.
That was at SMU, your alma mater, where you were a two-time All-Southwest Conference performer. Have we fully turned you into a Horned Frog now? [Laughing] I always say that red and blue make purple. In my first couple of years, some gave me a hard time. But now TCU has been such a big part of my life. TCU is where my heart is.
It's is your 19th season in purple. What's changed the most at TCU? Well, the core values haven't changed. That's what's kept me here so long — the family and the community. The commitment to winning and being the best we can. The facilities and the level of excitement have grown, especially in the last five years. It seems like every year that we get a little bit better. I preach to the girls the process and focus on the process — one step at a time, one day at a time. You have your end goal, but you have to live in the moment. TCU is a great example of that process. It was always a gem and we're seeing it become this beautiful diamond that the world knows about now. The commitment to excellence in everything, whether it's athletics, in fine arts, in academics, in engineering, shines through. If TCU is going to do something, they're going to do it right.
Of all the golf courses you've played around the world, what's your favorite? There was a course in Malaysia that's beautiful. It was set in an old, old, old volcanic crater. The volcano was still active but you could see it. It had erupted and formed a crater and they built a golf course in it.
What club do you hit with the best? My putter.
Your short game is the strength of your game? Yeah.
Back then and now? Well, I hardly even play now. But I'd still say my putting.
How did you develop that part of your game? I never hit the ball real long. I had to rely on my short game a lot. My dad always said, "Drive for show. Putt for dough." That's something I bring into my coaching. The fastest way to improve is to improve your short game. There's all kinds of stats: 66 percent of your score comes from your short game. You only have 18 drives but you might have one or two or more putts per hole. That's where you can make up the most shots. I grew up in Texas and it was so hot. I hated going to the range. I loved going to the putting green and putt for hours. That was part of grinding it out.