In the news
Student reporters recognized in inaugural Milner Awards.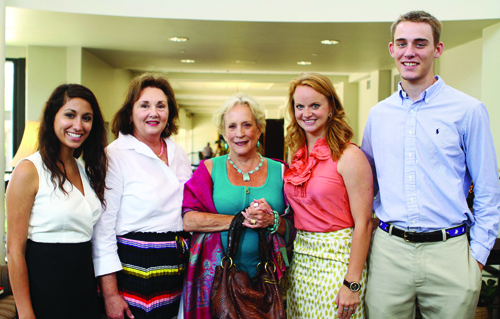 In the news
Student reporters recognized in inaugural Milner Awards.
Three TCU student journalists were honored as the first recipients of the Jay Milner Distinguished Student Journalism awards presented by the Schieffer School of Journalism for work published in 2011-2012.
Lexy Cruz '12, editor-in-chief of the TCU 360 news website during the Spring 2012 semester, was selected editor of the year. Junior Bailey McGowan was honored as reporter of the year, and junior Ryan Osborne was recognized for producing the story of the year.
Osborne was honored for his feature profile of Horned Frogs quarterback Casey Pachall, "Creating a Quarterback: The High School History of Casey Pachall," that appeared in the fall 2011 issue of Image magazine.
The awards were established earlier this year through a gift from Gail Milner, the widow of Jay Milner, a former TCU journalism professor who died in December 2011 at age 88.
Milner gained prominence as a reporter in Mississippi who covered the Civil Rights movement as it emerged in the 1950s. Following the publication of his novel, Incident at Ashton in 1961, he returned to Texas after a stint at the editorial desk of the New York Herald Tribune and joined the circle of Texas writers that included Larry L. King, Larry McMurtry, Billy Lee Brammer, Edwin "Bud" Shrake '54, Dan Jenkins '53 and Gary Cartwright '57 (the latter three are members of the Schieffer School's Hall of Excellence). Milner was influential in promoting the outlaw music scene of the 1970s that flourished in Austin through the iconic, but short lived Texas Music magazine, which he established.
"Jay was a famous 'arthur,' as some of  the Texas bunch called each other. Larry L. King even used it as part of his email address in recent times," said Lufkin Daily News publisher Joe Murray, for whom Milner later wrote newspaper columns.
"But Jay was the famous 'arthur' who was mostly unknown to the reading public during much of his life. A newspaper friend of mine said in awe after several of us spent an evening together, 'He's a national treasure.' Of course, it's too bad more people didn't know him. But he was beloved by most everybody who did. It's hard to imagine a finer legacy than that."
Gail Milner said it was a natural fit to establish the student awards in her late husband's honor.
"TCU and Jay have made a lot of good impressions on a lot of kids," she said. "I think Jay would be thrilled and amazed at what we're doing."