Endeavors
Research and creative scholarship at TCU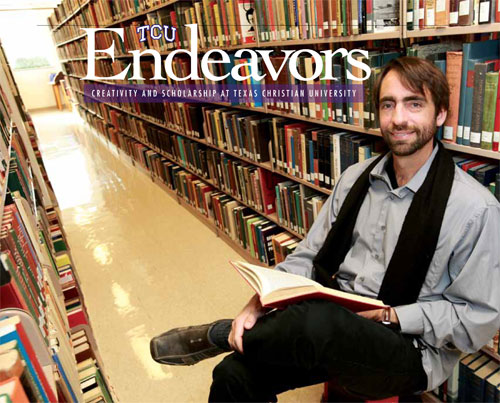 Endeavors
Research and creative scholarship at TCU
Endeavors is an online magazine featuring faculty and student research. The stories were selected by the Associate Provost of Academic Affairs and represent a cross section of the research and creative activities conducted at TCU. They were chosen to represent the depth and breadth of inquiry in the eight colleges and schools.
Go to www.endeavors.tcu.edu for the full text of the stories and additional information regarding research and creative scholarship at TCU.
The faculty featured this issue are:
Steve Sloan, associate professor of Spanish and Hispanic studies.
Jennifer Engler, professor of theatre
Mauricio "Mo" Rodiguez, chair of the department of finance
Mike Slattery, director of the Institute of Environmental Studies
Meena Shah, associate professor of nutrition studies
Jeffrey C. Geider, director of the Institute of Ranch Management
Todd M. Kerstetter, associate professor of history
Molly Weinburgh, director of the Andrews Institute of Mathematics & Science Education, and Cecelia Silva, education professor
Students featured this issue are: