Mr. Approachable
Neeley's Bill Moncrief has an easy way with students, a passion to connect as a teacher and it shows.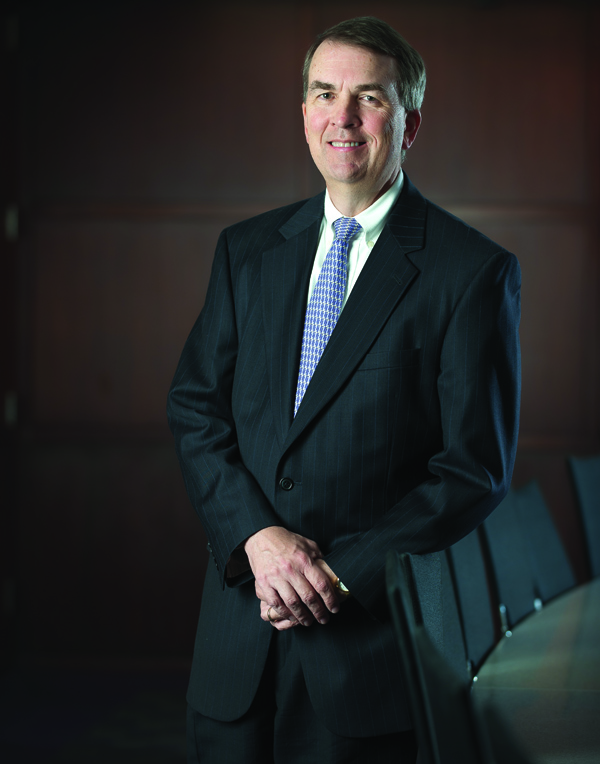 Mr. Approachable
Neeley's Bill Moncrief has an easy way with students, a passion to connect as a teacher and it shows.
The undergraduate was just dying to see the senior associate dean.
Bill Moncrief's well-known open-door policy was borderline famous within the Neeley School of Business. Career guidance, relationship advice, what-do-I-do-with-my-life concerns – over the semesters, Moncrief's third-floor office in Tandy Hall has been a must-stop sanctuary for students seeking counsel or sometimes an old-fashioned kick in the pants.
This time, however, the student was about to show Moncrief something no one had in his 28 years at TCU – a full-carat diamond ring.
"She had just gotten engaged and was very excited," Moncrief recalled. "I think she showed it to me before her mom got to see it."
That's the advantage of TCU, Moncrief boasts. He and other Horned Frog faculty can get to know students individually, and they can connect with the people trained to teach and mentor them. It also lines up with the college's credo – "It's not business. It's personal."
"For her to share that with me, that's the ultimate affirmation for my job," Moncrief said. "It's a snapshot of what it means to engage your students, know them and care about their education."
At Fall Convocation in September, Moncrief was honored for that approach with the 2010 Chancellor's Award for Distinguished Achievement as a Creative Teacher and Scholar. After being nominated for the award five times dating back to 1990, this was his year.
Six months earlier, he received the Honors Professor of the Year Award, the first time it had been given to a faculty member in the Neeley School of Business.
Originally from Mississippi, Moncrief received a Bachelor of Science in Political Science and an MBA from the University of Mississippi, followed by a Ph.D. from Louisiana State University. He began teaching Communication and Promotion, Sales Management, Marketing Research, Marketing Principles at TCU in 1982 and has never left. In 2000, he was named Senior Associate Dean for Undergraduate Programs and Charles F and Alann P. Bedford Professor of International Business.
Colleagues credit his leadership in developing the Neeley Fellows program, which integrates 30 of the business school's brightest into the John V. Roach Honors College each year.
"In the past, Neeley students who have wanted to be involved with Honors couldn't. It was just too difficult to do both," said Lynn Cole, assistant dean of Undergraduate Programs and Moncrief's right hand. "Neeley Fellows gives them the chance to have a business-centered honors experience."
Fellows also are invited to lunches with area executives and alumni, professional development activities, personal coaching and exclusive trips to New York to explore Madison Avenue and Wall Street.
Moncrief also helped plan out the school's BNSF Next Generation Leadership Program, which began in 2006 to provide intensive leadership training for juniors and seniors through specialty courses and community service projects.
Bill Cron, assistant dean for graduate programs in Neeley, admires Moncrief's talents as an administrator.
"I've always been impressed by his ability to see around the corner on things we need to anticipate," Cron said.
Listening to market feedback, Moncrief suggested that Neeley beef up students' softer skills for the workplace, such as problem-solving, communication and teamwork. The result was Neeley Premium Credentials, a three-part co-curricular offering through the school's Center for Professional Communication. The first step is required of all business majors and helps them assess their personality and relationship styles to improve interpersonal abilities and line it up with possible career tracks. Steps two and three focus on presentation skills and professional image.
"Students that come out of it are surprised at how much stronger they are than their peers, including elite schools in the Northeast," Moncrief said.
Then there's Undergraduate Interview Day, a face-to-face series of mock interviews between Neeley alumni, business professionals and 140 or so suited-up sophomores with resumes, cover letters and talking points at the ready.
The program is now so recognized that it was accredited as a best practice by the Association to Advance Collegiate Schools of Business, and Tulane and Wake Forest have visited and are interested in replicating it.
"It's part of the Neeley culture now, thanks to Bill," says Paula Hancock, who runs the program. "It's a huge brag for us and one of the reasons responsible for the BusinessWeek No. 30 ranking. People are blown away at how well students prepare for it."
Moncrief likes another ranking better. BusinessWeek also listed TCU fourth in student satisfaction.
"That one matters the most to me," he said. "Students believe in what we're doing and how they're being taught in the Neeley School. That's what makes me proud."