Worthy investment . . . TCU MBA students help startup companies
MBA students help investor group Cowtown Angels perform due diligence on start-up companies.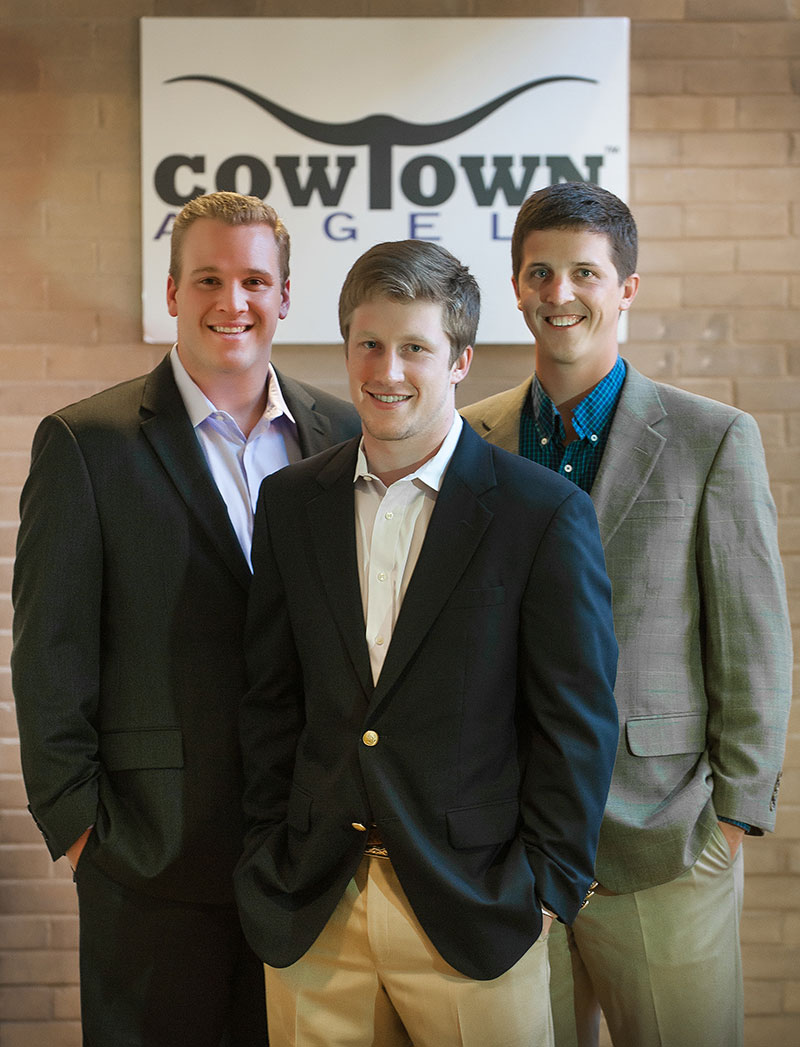 Worthy investment . . . TCU MBA students help startup companies
MBA students help investor group Cowtown Angels perform due diligence on start-up companies.
John Fucci '13 had done his homework and was ready to offer his informed perspective.
He was on a conference call with potential investors for a startup medical-supply company and chimed in with concerns about the strong competition facing the company. He also doubted its profit potential.
His recommendation: Don't spend a cent.
"They all invested in it anyway," Fucci says.
Although they ultimately didn't take his advice, this group of accredited investors, known as the Cowtown Angels, appreciated Fucci's due diligence. The angels took the time to explain how they reached their decision despite sharing some of Fucci's reservations.
"It was really eye opening to see that," Luke Wittenbraker '08 (MBA '13) says. "They gave us some of the 'here's why we still did that.'"
Fucci, Wittenbraker and Brent Pulliam, who will graduate in 2014, are receiving real-life lessons in investor-entrepreneur and investor-investor relations as the first-ever members of the TCU Cowtown Angels Scholars program.
"Just being able to be a fly on the wall in the room with these incredible people who are risking their own personal wealth has just been amazing," Wittenbraker says. "To see how they evaluate the product or the person behind the product and just seeing how they look at risk and invest in certain opportunities — where we may not see the opportunity but they do — has been amazing."
Cowtown Angels, founded in late 2012 by business incubator TECH Fort Worth, introduces entrepreneurs to angel investors and lets them pitch startup plans. Even if the investors decide they don't want to put up money, the feedback from the angels and the support provided by TECH Fort Worth often helps the entrepreneurs find funding elsewhere.
The angels program has developed more quickly than TECH Fort Worth officials expected. The number of angel investors began with a couple and ballooned to 20. Angels have so far invested in six business ideas, putting up a total of $1.8 million. Add in the investments provided by syndicating angel networks, and $13 million has been raised.
The angels have been so active that by the first of the year they saw a need for help researching the prospective companies and their potential markets. So Bekah McCarley '12, Cowtown Angels program manager for TECH Fort Worth, and Michael Sherrod '10 MBA, William J. Dickey Entrepreneur-in-Residence of TCU's Neeley Entrepreneurship Center, selected Wittenbraker and Fucci to become the first angel scholars in the spring semester. Pulliam interviewed in the spring and was brought onboard in the summer.
"The angels said, 'Why aren't you involving TCU?'" McCarley says. "There's a lot of really smart students there who will be able to help with this due diligence process."
The trio of scholars will continue with the program at least through the fall semester, and Fucci and Pulliam expect to remain in the scholars program through the spring. McCarley is already looking for another TCU MBA student for the program to replace Wittenbraker, and an additional undergrad student will be brought onboard soon, too.
Whoever joins next can thank the founding members for helping determine the role future scholars will play. As the angels have grown increasingly comfortable with the students, they've given the students a bigger role in vetting candidates. The scholars say they have benefited from dealing with investors from a variety of backgrounds – construction, medical equipment sales and fund management, to name a few.
"They've come to trust us and our strengths and given us work that's consistent with what they think we can do," Fucci says. "They've challenged us and given us more tasks, and on the last deal they asked us for our opinion on the investment, which is kind of cool."