Undergraduate enrollment up almost 3 percent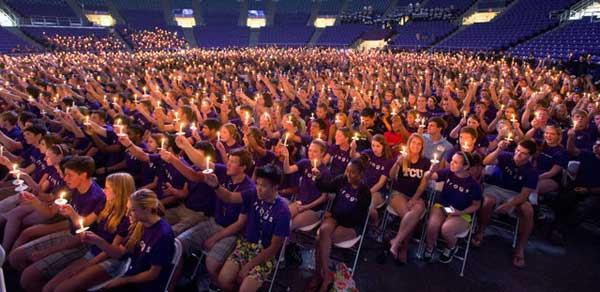 Undergraduate enrollment up almost 3 percent
TCU welcomed the second-largest class of freshmen in university history at the Chancellor's Assembly in August.
With 1,853 members, the Class of 2016 was chosen from a university record 19,400 applicants. Forty-eight percent of them are from Texas. Forty-one percent of them are men and 59 percent are women. Most were born in 1994.
Not only is TCU welcoming more undergraduate students and freshmen for the 2012-13 school year, it is retaining more first-time students, according to university enrollment statistics.
Total enrollment is up 2.2 percent to 9,725, while undergraduate enrollment has increased 2.8 percent to 8,456. TCU also welcomed 460 transfer students for 2012-13. Graduate enrollment is down 1.6 percent to 1,269.
TCU also saw 89.7 percent of Fall 2011 first-time, full-time students return to the university, an increase of almost 3 percent.
"We are quite aware that they were larger than optimal size," Chancellor Victor J. Boschini Jr. said. "The campus community has made adjustments to warmly welcome all incoming students."
University Provost Nowell Donovan asked a simple question, but the Class of 2016 sat still, unsure if he wanted an "out loud" answer.
"Yes or no?" Donovan inquired. "Well, will you? Will you make this pledge? Come on, let's hear you."
Finally, most of the 1,835 new Horned Frogs managed a sleepy "Yes."
They'd accepted the TCU Promise.
"Each of you is a special talent," Donovan said moments earlier. "But there is a symbiosis between students and faculty. Each works to make the other better. Faculty promise to make sure class time is spent well, to help you rise to your full potential, to make a TCU education personal. In return, students vow to be proud of the work they have done, to be able to look in the mirror and say, 'I did my best.' Are you ready to accept this challenge?"
In a tradition that dates back to 2004, the incoming class of freshmen and transfer students packed into Daniel-Meyer Coliseum for Chancellor's Assembly, celebrating the beginning of the academic year. The gathering now is the capstone on the 2-year-old tradition of Frogs First, a series of orientation events the weekend before classes begin. Since Friday, the class has learned TCU traditions at pep rallies, reveled in the fun of games on the lawn, canoed on the Trinity River, watched a movie in the Campus Commons and seen the sights in Fort Worth.
The Class of 2016 arrives at TCU from 47 of the 50 states and from 23 countries. They were chosen from a university record 19,400 applicants. Forty-eight percent of them are from Texas. Forty-one percent of them are men. Fifty-nine percent are women. Most were born in 1993 or 1994.
"You're joining a wonderfully unique place," Chancellor Victor J. Boschini, Jr. told them. "It started with one building and 13 students and has grown into a world-class, values-centered institution."
TCU is a community in which each of them, as diverse as they are, can find their own place, Boschini said. The university is inclusive and its people here are invested in one another. As newcomers, their job is to take initiative, he urged.
"Meet people not like you. Ask questions. Join the conversation," Boschini said. "Be curious about their stories. Celebrate our collective differences. Meet professors in and outside of the classroom. In doing so, you will broaden your experience. Reach higher. Push the limits."
The class also received encouragement from Student Government Association President Brent Folan, who implored them to get involved, study hard and have fun.
"Being a TCU student is both a privlege and responsibility," he said.
Folan also shared the new TCU Student Creed and asked his new fellow Frogs to recite the 18-word mantra with him: "As TCU students, we commit to excellence by service with respect, learning with passion and leading with integrity."
The Class of 2016 also heard from scholar Nicholas Carr, author of which the group is reading for its common reading.
There's good news and bad news with the brain, he said. On the plus side, the human brain has enormous capacity to think new thoughts and is impossible to fill up. However, the pathways to the brain are narrow, and human beings can flood its capacity, a condition known as cognitive overload.
The average 18-year-old sends 3,500 text messages per month, Carr shared. That's one every 12 minutes, and it doesn't include Tweets and Facebook Posts and Instagram images.
"We really are existing in a perpetual state of distraction, an endless supply of information," he said. "It hard to learn, hard to think deep thoughts, hard to be creative. And it can take over your life if you're not careful."
It may be hard for college students to imagine, but life will get busier. Add in spouses and offspring and mortgages, and distractions will "explode."
"College offers you time to think," he said. "Pay attention. That's the secret to a good education. Listen. Listen to what your professors are saying, what the textbook is saying, what your classmates are saying."
Carr urged them to set aside time to disconnect from technology and give their minds a chance to rest. "That's your responsibility. Use your mind socially and intellectually."
The ceremony ended with the tradition of passing the Light of Knowledge, which lit up the darken coliseum as the group sang the alma mater.
"I already feel at home. This is an amazing campus," said Nicole Luongo of Saugus, Mass. "I can't wait to get started."
"It's pretty special to get the whole class together one time before the year starts," said Paul Alon of Stafford, Va. "We might not do this again until we graduate."
Video: