Banding Frogs together: Andrew Kline '12
Entrepreneurial Management graduate Andrew Kline '12 started FROGbands to solve a problem.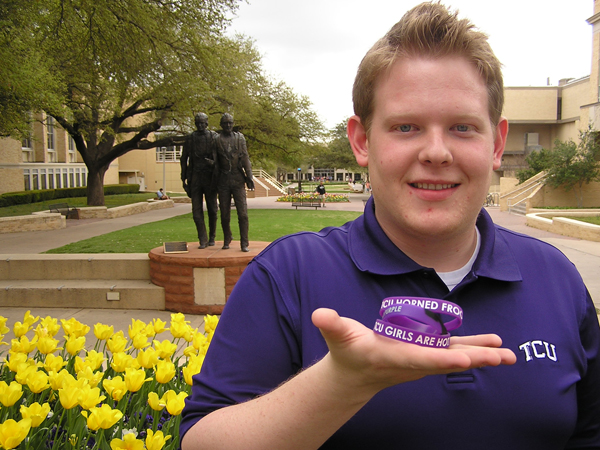 Banding Frogs together: Andrew Kline '12
Entrepreneurial Management graduate Andrew Kline '12 started FROGbands to solve a problem.
IIt started with a wild goose chase.
Entrepreneurial Management major Andrew Kline '12 had been looking online for a TCU-centric silicone wristband for himself and maybe to give away as a gift, but he couldn't find any anywhere.
He asked friends, classmates, friends of friends and strangers, and they all agreed on two things: No one had seen any either, and if Kline found some, would he let them know where to get them.
"I was just trying to solve a problem. But I discovered a need that wasn't being met," Kline said.
Suddenly, he had a business opportunity. He tracked down a manufacturer, which could mass-produce the bands for 42 cents each. So with a $252 investment, Kline bought 600 bands on the spot and started FROGbands in April 2011.
They sell for $2 and come in three varieties: a regular purple one with TCU HORNED FROGS, which is the biggest seller; a two-toned version inscribed BLACK AND PURPLE with a horned frog icon; and a "sassy" model proclaiming TCU GIRLS ARE HOT!
A year later, Kline has nearly sold out his initial supply, peddling them around campus in his backpack and online through eBay. He's got a Facebook page and spends a few bucks a day marketing the bands with online ads. He's also roamed parking lots during football games to find customers while they're tailgating.
Kline graduated last week and said that his side business is an example of his degree working in real life.
"I'm already doing what I'm supposed to be doing — finding a need and meeting it," he said.
Kline already has lined up a new U.S. manufacturer to make them cheaper and do away with the plastic packaging. He also plans for new varieties. He also has a poll on his page to get customer feedback.
The entrepreneurial spirit is not new to Kline, either. As a youngster, he ran a small business buying, breeding, and selling guinea pigs, hamsters and puppies. He also watched his mother Kathy start a year-round, highly personalized swim school swim school in 1995 called AquaKids, where Kline began working at age 15. He saw the vision for the project and realized that there will always be a need for swim lessons as long as there is water in the hot Texas summers. So he set out to begin a career with the company.?"I was interested in a way to make money after school, and my mom said, 'That's fine, but you'll have to start at the bottom.' "??Kline pulled lifeguard duty for a while, but he eventually worked up to the company's receptionist and then manager of its Keller location.  Today, he helps perform all of the functions of the company, including teaching lessons, receptionist work, new receptionist training, manager-on-duty (Deck Managing), website development and all of the marketing for the company.
AquaKids currently has 70 employees, who work with up to 3,400 in the peak summer season. While selling the FROGbands, Kline is eyeing expansion for AquaKids around a number of locations in North Texas. Eventually, he'd like to see locations in the Houston, Austin, and San Antonio areas.
"It's a lifestyle business, but I'm interested in pursuing it."
On the Web:
To purchase FROGbands, contact Andrew Kline at Andrew@AquaKids.com.
FROGbands on Facebook and eBay
AquaKids.com