The original Facebook
While some college yearbooks are becoming history, TCU's is still preserving it.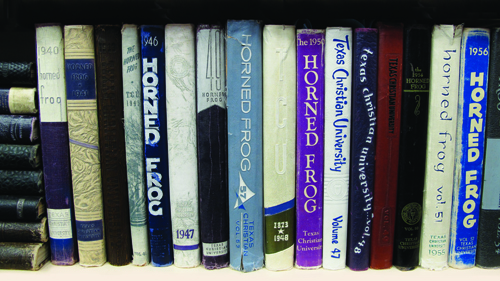 The original Facebook
While some college yearbooks are becoming history, TCU's is still preserving it.
Chances are you've got a Horned Frog yearbook on your bookshelves. You may not have opened it for decades, but you'd never consider tossing it out, would you? After all, yearbooks aren't for today, says yearbook adviser Kathy Hamer.
"They are like time capsules; they get more valuable the older you get. It's the only official, ongoing, pictorial and written history of TCU that dates all the way back to 1897."
Which makes the news that many college annuals are going the way of the Dodo quite distressing. Purdue University, the University of Virginia, Mississippi State University and the University of Texas at Arlington followed the national trend and recently stopped publishing annuals. Some estimate that only about 1,000 colleges still print a yearbook.
Thankfully, TCU's commitment to the Horned Frog hasn't waned, says Hamer, publications coordinator for Student Affairs. "The administration is fully behind the yearbook, even though sales have been down in recent years," she says. "Still, we sell more, proportionately, than a lot of other schools — 2,300 a year. A school like UNT might only sell 900."
Like its feisty namesake, the Horned Frog is enduring, despite 21st century challenges, like getting students, staff and faculty to show for photos. To stay relevant, the 2005 edition included a 90-minute movie-style depiction of the year — which means for the past six years, yearbook staffers armed with video cameras has been found filming all the major events of the year. The 2011 edition features a two-hour DVD and an eight-page fold out from the Rose Bowl game.
Also new: TCU was selected by Balfour|Taylor Publishing as a beta tester for a Quick Response (QR) code program that they are debuting this year. TCU will get 11 QR codes to use in the yearbook, each will take readers to web pages that Balfour|Taylor will host on its site for 75 years.
"We were delighted to be asked to among the first ever to use this technology for a yearbook," Hamer says. It's no surprise the publisher asked TCU to participate: The Horned Frog is consistently ranked among the nation's top yearbooks, and wins yearly design awards. Oh, and Balfour|Taylor's regional vice president, David Dixon '73, played football at TCU.
To promote the program, the yearbook staff is sporting T-shirts with a big QR code that takes viewers to videos about each of the staffers.
"Some say Facebook is why yearbooks are dying out," Hamer notes. "But Facebook is fluid. Stories are there, then gone the next day.
"We're not. Our books will still be there in 50 or 75 or 100 years, when everything happening today is mostly forgotten, even by the people on the pages."
One more chance
Some old yearbooks can be acquired through the Horned Frog yearbook offices, in rooms 50-54 of the Campus Recreation center basement. Email yearbook@tcu.edu, or call 817-257-7606. Currently there are copies from 1979 ($70), 1986 ($70), 1988-1992 ($70), 1994-2004 ($65), 2006-2007 ($62). There are also archived copies back to the early 1900s, but those are not available for purchase. Visit the office to look through them.
Help the magazine
If you have a Horned Frog you'd like to donate, the magazine would love to have it. Call 817-257-5059 or email r.waters@tcu.edu.