School spirit 2.0
A new wave of spirit and traditions have taken campus support at TCU football games to a new level. All Frogs are hyper now as they are amping-up Amon G. Carter Stadium.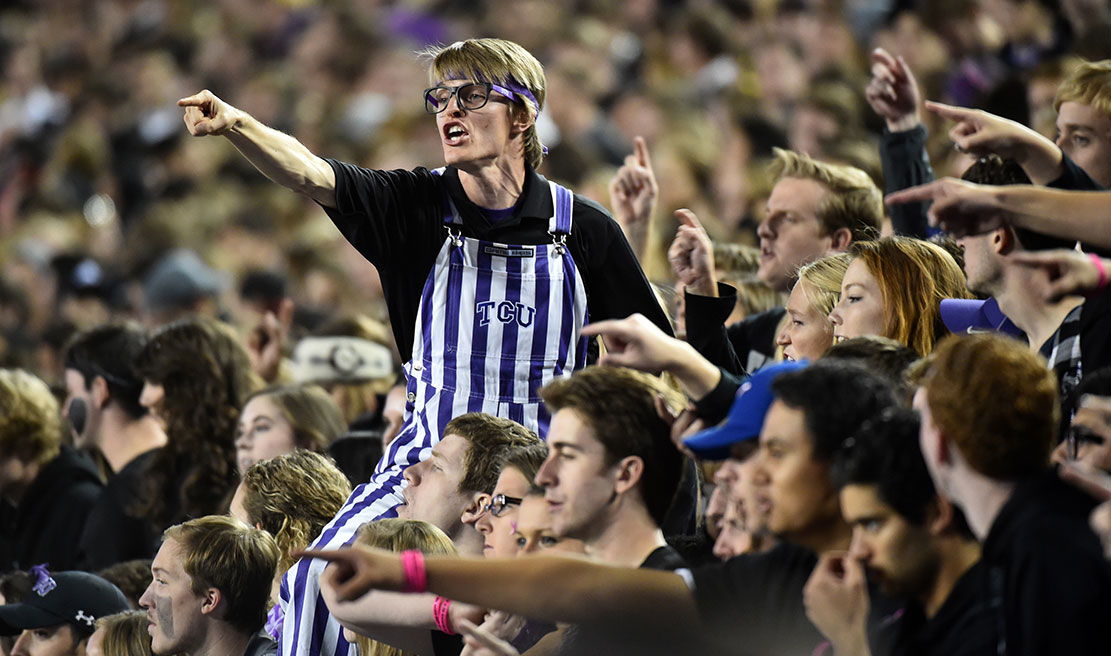 School spirit 2.0
A new wave of spirit and traditions have taken campus support at TCU football games to a new level. All Frogs are hyper now as they are amping-up Amon G. Carter Stadium.
"Riff, ram, bah zoo!"
One of the oldest cheers in collegiate sports fills the Amon G. Carter Stadium. Arms pump up and down while the crowd sways from side to side. Above the masses, leading the chant, stand two fans with purple foam fingers and backwards hats.
For the first time in TCU's history, two students stand on elevated pedestals to lead the student-section crowd in the 1920's Riff Ram chant and other cheers during home football games. As part of an effort to revitalize the home-game experience for TCU fans, senior Evan Anglin and sophomore Isuru Perera were selected as "Amp It Up'ers" for the season.
"At the end of the 2013 season, we realized that we needed to revamp and change our in-game atmosphere," said Jackie Torda, assistant director of athletic marketing.
Last February, TCU hired a strategic communications consultant to help with changes in the game-day experience, such as more diverse music, less on-field presentations and quicker responses to the mood of the game. But one area of the stadium environment's untapped potential to keep the fans' energy and enthusiasm flowing was the student section.
Last spring, Torda met with numerous student groups to discuss the situation and get ideas to enhance the game-day experience. Student Body President Cody Westphal wrote a Facebook post asking for volunteers to help lead fans. Anglin and Perera were among the responders and made their debut at the first home game in August.
"We didn't know exactly what it was that we were signing up for, but I was going to be at the games anyway, so I figured, 'Why not?'," said Anglin, a film, television and digital media major. "We started something that we didn't even know about."
Students did not know what to make of Anglin and Perera on the elevated platform, but by the second game, the "Amp It Up" hats and purple T-shirts had earned them their new name.
"Every time we showed up for each of the games, people recognized us, and sooner or later we found that we were having a small fan group," said Perera, a mathematics major. "Next thing you know, people were recognizing [Anglin] and I by our uniforms and by the way we were charismatic, enthusiastic and hyped up on those ladders."
By the Oklahoma game in early October, a "new" tradition had set in, and the student section embraced not only the Amp It Up'ers but the entire game-day experience.
"It was a white out, and we were doing the card stock. Everyone was there early with their rally towels, and when the card stock hit and read 'beat OU,' the crowd went crazy," Anglin said. "That's when things really started to kick off, because the crowd was a powerhouse."
From that moment, Anglin and Perera embraced their game-day identities both on and off the field by creating promotional videos for Facebook to get students excited about the games.
"We started the 'Go Frogs' cheer in the middle of the library, and students loved it," Anglin said.
But Anglin and Perera are not the only students striving to bring excitement and liveliness to Horned Frog fans.
Sophomores Justin Coats, Reed Richards, Chad Duncan and Robbie Burns decided to wear purple and white striped overalls to the first game. The fashion statement spread throughout the student section and has become something of a trend.
"We want it to be something that encourages people to be creative and show their school spirit," Burns said. "It's given me so much more pride in being a Horned Frog, and even though it's something as simple as clothing, it winds up totally adjusting your mindset and brings together a group of people to rally behind a singular cause, which is TCU."
Anglin said he and Perera found the Stripes during the OU game. "After the game, I immediately texted Jackie [Torda] and just said, 'Can we get these overalls?'" Anglin said.
Now, the two Amp It Up'ers, numerous other students and even Super Frog sport the overalls with TCU embroidered across the stripes.
Amp It Up'ers and the Stripes are just a few people in the sea of purple and white at football games, but these changes have helped bring new school spirit to Amon G. Carter.
"I've been going to the football games for four years now, and without fail, people would leave at half-time every single game," said Caroline King, senior fashion merchandising major. "But now, you can't find a seat in the student section an hour before game time, and it stays full until the end."
Senior finance major Derek Dedeker agreed with King. "It's been incredible to see the change in spirit this year," he said. "It's so evident, and it makes you proud to be a part of it."
With changes to the game-day experience and the efforts of TCU fans, Torda hopes to continue the revitalized school spirit in the future. "We would love to move it into other sports, expand it and utilize [the leaders'] energy and enthusiasm in every way we can," she said.
For the 2014 football season, the bar was raised and the standard set for just how loud TCU fans could be on game day, but there is always room to amp it up.
On the Web:
A pre-Heisman season? — QB Boykin may be 2015 frontrunner
Hall of Fame worthy — LaDainian Tomlinson '00 with historic honor
One heartbeat — The surprising, amazing 2014 season started from dispair
Patterson's humbling hunch — Coach of the Year retooled the program