The Rise of the Chancellor's Scholars
Record growth in the scholarship program attracts the best and brightest, elevates TCU's national profile.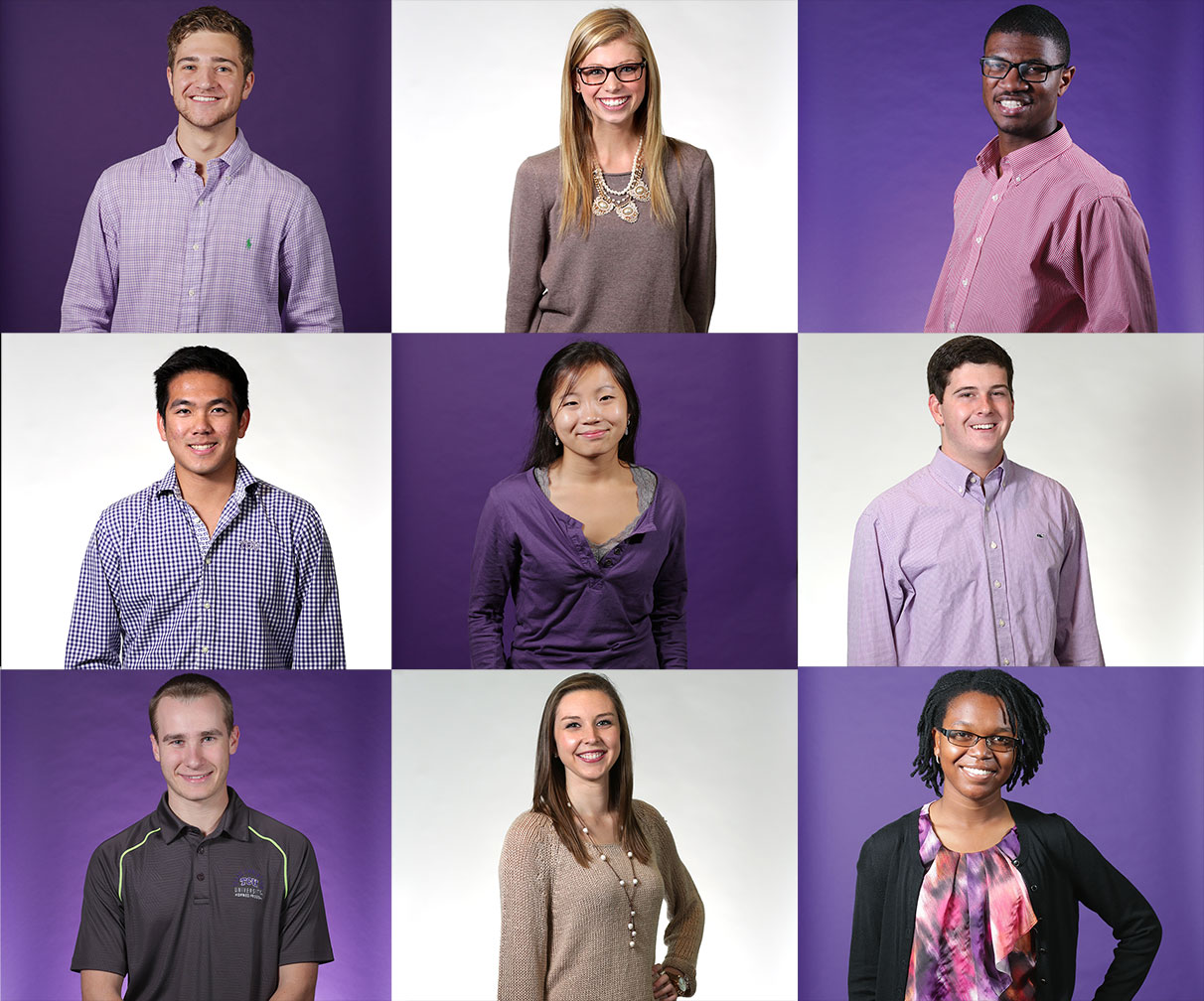 The Rise of the Chancellor's Scholars
Record growth in the scholarship program attracts the best and brightest, elevates TCU's national profile.
In 1973, a group of TCU students, faculty and administrators gathered at the Lake Murray Lodge in Oklahoma to discuss the university's academic reputation in between rounds of Frisbee.
At the Ardmore retreat, the group decided a rising intellectual tide would benefit everyone and vowed to recruit more high-achieving students. The following year, former chancellor J.M. Moudy expanded TCU's most prestigious merit-based scholarship.
Forty years ago, the four-year value of a full tuition Chancellor's Scholarship was $8,400. Today, the award is valued at more than $150,000 over four years and comes with a slew of program activities.
"Our predecessors had the foresight," said Michael Marshall, program director of the Chancellor's Scholars. "And we still firmly believe [those scholarships] raise the academic profile and reputation of the institution."
During Fall Convocation in 2005, Chancellor Victor J. Boschini, Jr. set a goal to increase the number of scholars from 49 recipients to 160 by 2020.
"One of the features of our strategic plan … is an ever-increasing emphasis on improving the profile of our student body," said Boschini.
In the 2014-15 academic year—five years ahead of schedule—TCU has surpassed Boschini's goal for the scholarship. There are 188 recipients. The freshman class has 65 Chancellor's Scholars, which is the largest in the university's history.
"I can honestly say that in the 12 years I have observed our student population, it has increased in stature in just about every measure I can imagine—especially academic profile," said Boschini.

* * *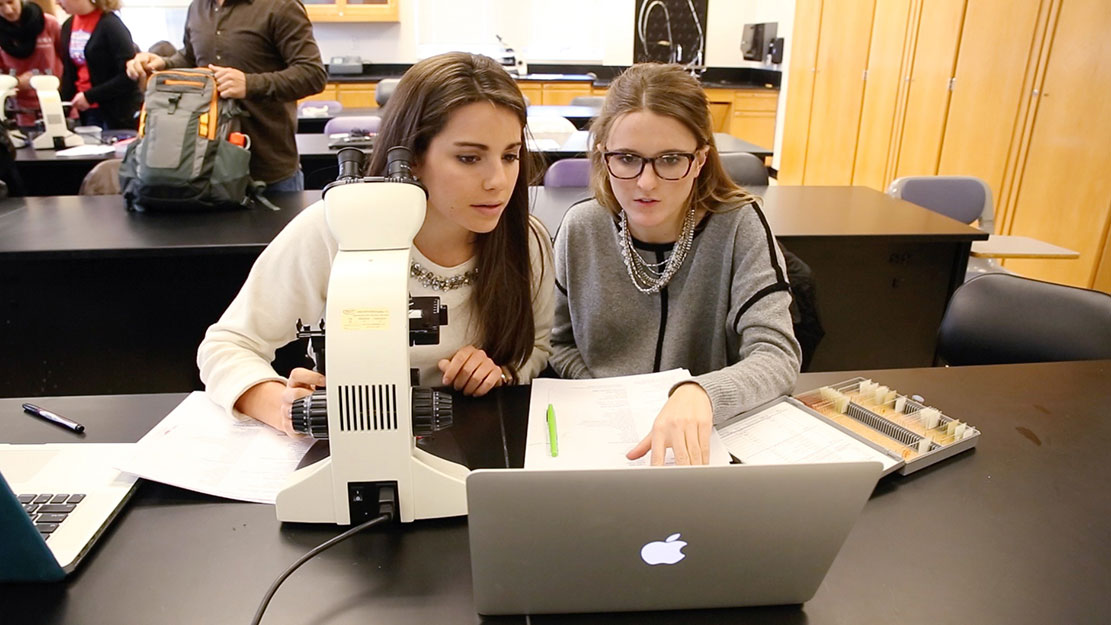 Ten years ago, only 33 percent of the offered students accepted the scholarship and enrolled at TCU, Marshall said. Some of the prospective students chose regional competitors, such as SMU and Baylor.
TCU's reputation is now flourishing in the national spotlight, though.
Since 2008, TCU has jumped 37 spots in the U.S. News and World Report's college rankings to No. 76 among national universities. The news publication also lists TCU as one of the nation's top 20 "up-and-coming universities."
The university's class of 2018 entered TCU with the highest SAT and ACT scores in school history.
TCU is the third-most selective national university in Texas, behind only Rice University and the University of Texas at Austin, according to U.S. News & World Report. TCU admits a smaller percentage of applicants than Baylor, Southwestern, SMU, Texas A&M and Trinity universities.
Marshall said more than three-quarters of the high school students offered a TCU Chancellor's Scholarship accept. Those who decline typically enroll at an Ivy League school or their home state's elite public institution.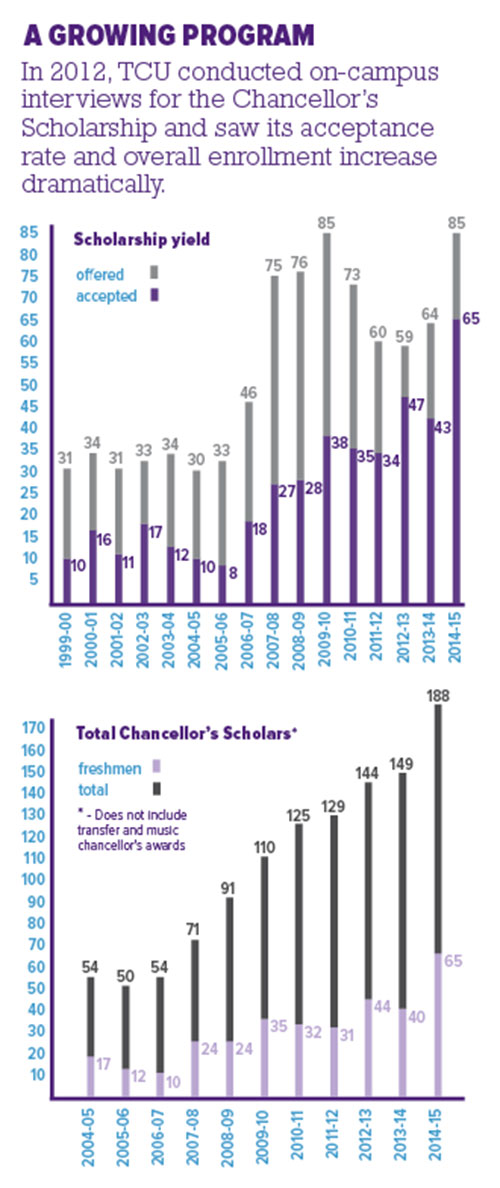 Today, potential Chancellor's Scholars are expected to visit the TCU campus on a designated weekend in February and interview before a panel. Boschini and Marshall said the reasoning for the condition is that when prospective students meet faculty members, enrolled students and tour campus, they are sold on the TCU experience.
"That's really just about all it takes," said Boschini.
More than half of the current scholars hail from a state other than Texas. Unlike TCU's overall student body, which remains at 60 percent female, the Chancellor's Scholars are split almost equally along gender lines.

* * *

For each incoming group of Chancellor's Scholars, the admission and scholarship committee looks at more than 400 high school students and invites about a quarter of them to participate in the interview process.
Every invitee arrives with a long list of achievements, including service and extracurricular activities. Committee members are looking for students who can demonstrate an understanding of the meaning of those accomplishments.
"They're engaged, motivated, they want to learn," Marshall said. "It's not just about consuming the information. They also want to contribute."
The scholars now have a program advisor to help them maximize the collegiate learning experience. "We're trying to create some cognitive dissonance for the students to push them outside of their comfort zone," said Marshall, who is pursuing a doctorate in Higher Educational Leadership at TCU.
Another of the new offerings for the scholarship recipients is a retreat weekend for incoming scholars.
Last September, the students discussed success via the framework of author Parker Palmer's Five Habits of the Heart, a book chosen for its articulation of interdependence and a shared sense of purpose, Marshall said. In the afternoon, the group cut loose by kicking field goals in the Sam Baugh Indoor Practice Facility.
The past four years have included Chancellor's Scholars themes: philanthropy, service, leadership and legacy. Marshall said those are part of an effort to motivate the students to think about the long-term benefits of their education and personal development.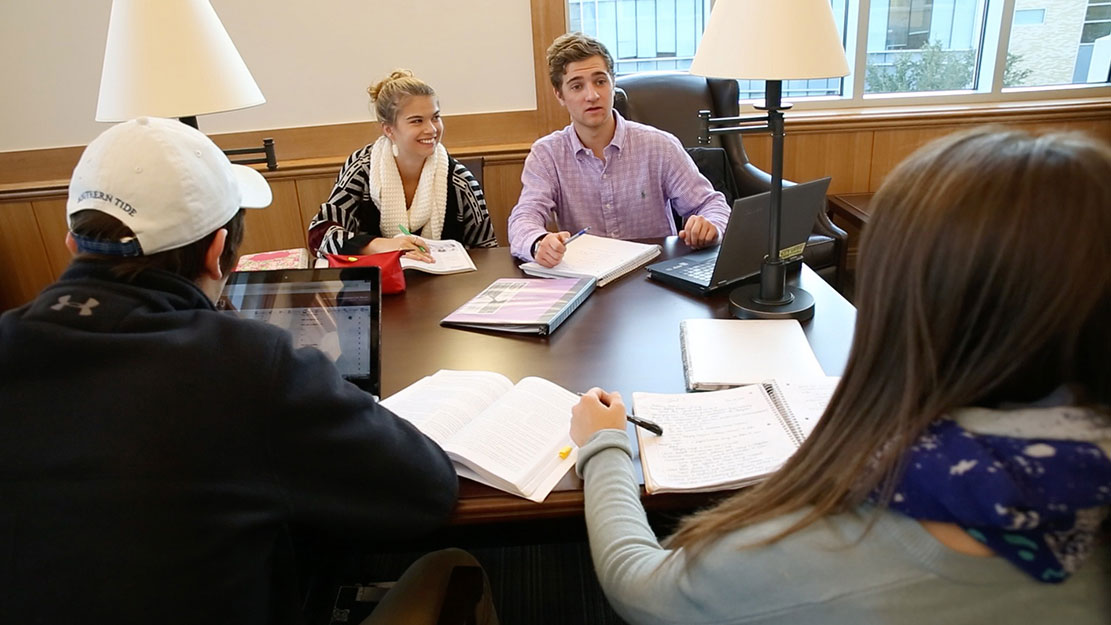 In summer 2015, some Chancellor's Scholars will participate in an inaugural international trip. Sociology instructor Keith Whitworth will lead students on an exploration of Scandinavia. They will examine the collaborative community models of Denmark, Norway and Sweden. A goal of the trip is to inspire students to consider global leadership long term.
"We try to get the students to think about not just four years, but 40 or 50 years from now," Marshall said. "What their life could be like, and what they want it to look like. Not necessarily what others are telling them what they should be."
Were you a Chancellor's Scholar? TCU wants to hear from you.
Email Mike Marshall: m.marshall@tcu.edu
Share your Chancellor's Scholar story with the magazine:
tcumagazine@tcu.edu
Related story:
Elizabeth Orr '15 essay — A chance to change
Video: