TCU buries time capsule inside stadium column
Athletics and Austin Construction filled stainless steel container with university mementos, admission materials and athletics artifacts.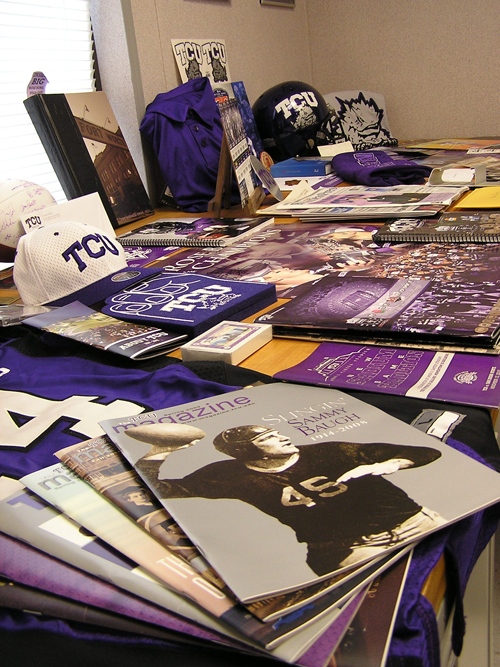 TCU buries time capsule inside stadium column
Athletics and Austin Construction filled stainless steel container with university mementos, admission materials and athletics artifacts.
TCU Athletics and Austin Construction buried a time capsule filled with university mementos, admission materials and athletics artifacts this afternoon inside a column on the west side of Amon G. Carter Stadium.
With the chancellor, provost, athletics director and a crowd of about 20 watching and snapping photos, Austin crewmen hoisted a 300-pound, 36-inch stainless steel capsule with the TCU Athletics and university "climbing frog" logos etched on its side and ends and placed it within a cavity of a stadium support arch. The arch will be walled off behind bricks and concrete, and then marked with a plaque when the $164 million renovation project is finished, said Ross Bailey, associate athletics director for operations.
There is no timetable for when the capsule will be opened, Bailey said.
"In all we've done with the renovation to Amon G. Carter Stadium, we've tried to recognize and honor our history and heritage, and this is just another way of doing that," Bailey said. "We're excited to share a little of 2011 with a future generation of Horned Frogs."
Bailey assumed that the capsule will be unearthed the next time the stadium is renovated. That should be around the year 2093, if the stadium goes another 81 years before a makeover.
Also etched on the side of the capsule is 09-17-11, the date of the first home football game amid the renovation.
"This is a monumental day and such a great day to be a Horned Frog," said Chancellor Victor J. Boshini, Jr., who signed the capsule along with other university officials. "I hope the individuals who open this time capsule will gain an appreciation for this exciting time in the university's history."
Inside, the capsule contains relics from TCU's recent past: a football helmet, a jersey worn by former quarterback Andy Dalton '11, a baseball cap from the 2010 College World Series, ticket stubs from the Rose and Fiesta Bowls, a block of tickets 2011 home football schedule, media guides from several sports, size 10 purple Nike shoes, a section of original bleachers from the stadium before implosion.
There are also two letters — one from Chancellor Boschini that offers greetings to future fellow Frogs and another from Austin Commercial Senior Superintendent Jeff Horn detailing the construction and renovation timeline.
Contributions came from all parts of campus and off-campus. Admission created an admit packet for SuperFrog with congratulations letter from the dean. The yearbook office offered a 2010-11 annual fresh off the press. Marketing and Communication added university fact brochures, recent newspapers and several copies of The TCU Magazine, plus some fun items like a foam finger and deck of TCU-themed playing cards. HKS Architects put in a football signed by all the employees who worked on the project.
A few items may not even work when the capsule is opened. Athletics donated a Blackberry phone, and there are two DVDs of the 2011 Rose Bowl Game and the Boise State and Colorado State regular season games of this year.
"I'd love to know if they'll even be able to play those discs," said Bailey. "We almost put a DVD player in there."
All the contents will be protected in plastic bags.
Bailey and Horn thought of the idea for the time capsule after they were disappointed that they didn't find many treasures from previous generations.
"As we were getting ready for the demolition of the west side a year ago, we looked for items from the Dutch Meyer and Abe Martin era. There wasn't any," he said. "Wouldn't it have been an incredible find if there had been?
"So we took it upon ourselves to make sure the next time the stadium is redone, that TCU folks find this capsule and learn about this time period."
The old Texas legend of Old Rip, a horned lizard that was buried inside a a time capsule in the cornerstone of the Eastland County Courthouse in 1897, was also behind the inspiration, he said.
"When you think about the story of Old Rip, we pretty much felt we had to do one," Bailey said.
Thirty-one years after being sealed in a marble box within the cornerstone, the edifice was demolished and the box was opened. According to published reports in 1928, more than 3,000 people came to see what was in the box. Much to everyone's surprise, Old Rip (sometimes listed as "Ol' Rip" and named after Rip Van Winkle) was still alive and became an instant celebrity.
Despite skeptics questioning how the critter could have survived, town folks took him on a tour of the nation that included a stop in Washington D.C. to meet President Calvin Coolidge, according to local news reports.
At TCU, there are no live horned lizards. But no one debates the contents will be prized, perused and maybe even worn.
On the Web:
Gallery of images
Video: