Making the cut
Senior film-television-digital media major edits Frogs for the Cure halftime video for Honors thesis.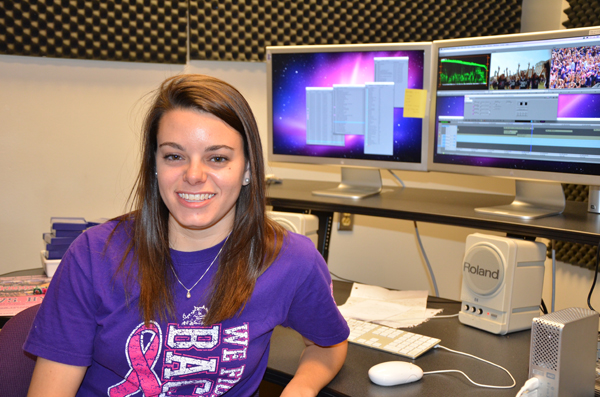 Making the cut
Senior film-television-digital media major edits Frogs for the Cure halftime video for Honors thesis.
When Katie Norry's Film Television and Digital Media (FTDM) professor asked in the summer of 2010 if she'd be interested in editing a tribute video for breast cancer survivors and their families that would air during halftime of a TCU football game, she jumped at the chance. Soon, she was brainstorming with the chair of Frogs for the Cure Ann Louden '84 (MLA).
"Our ideas on the project were very similar; we just clicked," says Norry, a senior who is also in the John V. Roach Honors College.
"From the moment I met Katie, I knew how lucky I was to be working with her," Louden says.  "She's brilliant, determined and creative. But even better, she shares my dream to create a powerful message of encouragement for survivors, and she literally will not rest until that's accomplished."
The 2010 video was filmed over five weeks and involved more then 1,500 people from the TCU community who danced and tossed pink and purple beach balls to the anthem "We Fight Back," which was penned for the cause by Tim Halperin '10 and produced by Brian Kieta '95.
This year's video is even bigger, bringing together 1,500 people from the greater Dallas-Fort Worth community, including country music star Pat Green and Dallas Mavericks owner Mark Cuban — all dancing in unison to Halperin's hit. Seventeen videographers captured the August 25 event, producing more than 64 hours of footage.
Again, it was Norry's task to put it all together. She said the hardest part was including the diverse array of people and groups who donated their time for the special project.
"It was really incredible to see all these people coming together for the cause," she says. "I just wanted to make sure everybody gets their time on camera. It's so important to me that they were there and gave their time to do this for us."
Already Norry's efforts have received rave reviews and brought personal and professional rewards. Her work on last year's video helped her land multiple internship offers in Hollywood and she spent last summer working for the feature post-production department at 20th Century Fox.
Norry also expanded the video project into being her senior thesis for the Honors college.
"This will be a thesis based on Frogs for the Cure, its growth in the last two years, how these videos have impacted the program, as well as well as how the program has impacted me as an editor, and how I've grown as an editor through my experience with this project," says Norry who is a double major in FTDM and Spanish.
This year's video could get even more attention. Frogs for the Cure is working to get 100,000-plus views on YouTube and to spread the word on national media outlets such as The Today Show and The Ellen Show.
While it's thrilling to see her work showcased on the Dallas Cowboys Stadium big screen and beyond, Norry says the best part of this project is seeing how the video has inspired and united others.
"I've learned a lot and I've grown a lot professionally, but also personally through my experience with the breast cancer survivors and being part of Tim Halperin's career and seeing how it's been really affected the TCU campus," she says. "This campus is incredibly special because it's such a community. It's so different than all the other campuses in the nation because we really rally around each other and support each other and working on Frogs for the Cure has shown me that about TCU."
Louden says what touches her most is the videos' impact on survivors.
"We hear over and over from those in far-flung places who know nothing about TCU that they were moved by watching our We Fight Back videos," she says. "Survivors comment about finding hope and inspiration in our message and in feeling encouragement that they are not alone from the lyrics of Tim's song and the joy of those who dance to it."
Related stories:
Frogs for the Cure – www.frogsforthecure.tcu.edu
Taping of the Frogs for the Cure group dance video
See the full-length Frogs for the Cure video
Video: