Doubly gifted
Fostering connections in his native China, double bass professor Yuan Xiong Lu has not just paved the way for world-class faculty concerts and recruited highly sought students. He's become TCU's ambassador of music.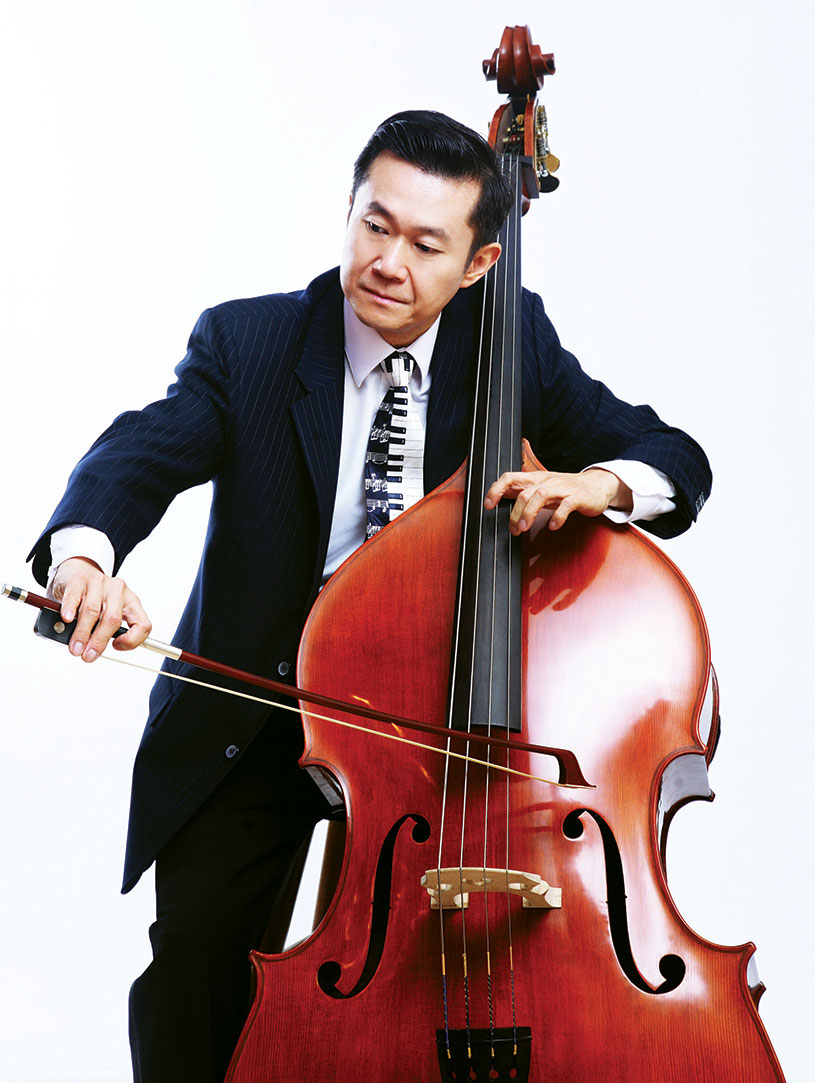 Doubly gifted
Fostering connections in his native China, double bass professor Yuan Xiong Lu has not just paved the way for world-class faculty concerts and recruited highly sought students. He's become TCU's ambassador of music.
Modesty prevents TCU music professor Yuan Xiong Lu from affixing "hero" to his status as world-renowned double bass maestro.
But that's what his name literally means.
In Mandarin, Xiong translates to "hero" and Yuan stands for "first."
It's a lofty title that Lu's Horned Frog colleagues don't hesitate to support.
"He is not only tremendous at what he does, but he is a total joy to have here," says Támas Ungar, longtime professor of music and executive director of Piano Texas International Academy & Festival.
Since his arrival six years ago, Lu has helped TCU on a number of fronts, primarily tapping into his connections in the talent-rich Chinese classical music community.
As a result, the TCU School of Music has tripled the number of double bass majors and witnessed an "exponential" increase in the quality of young musicians interested in studying in Fort Worth, says Richard Gipson, the school's director.
Lu's reputation, Gipson believes, is a major influence. In his native China, Lu is still considered one of the best double bassists the Far East has ever produced. "It's as if an American student was thinking about enrolling in a Chinese conservatory, and there was a world-renowned American professor teaching there," says Gipson. "That would certainly inject a level of comfort that I would have a great education at that particular school. Ever since professor Lu arrived here, he has taken us down a different road toward an even greater profile there, and it has been a very fun ride."
Born in Shanghai to a well-educated family, Lu watched his father build a career in the import-export trade, while his mother taught math and science at a local university. Neither played an instrument. Yet, Lu's two sisters are accomplished pianists.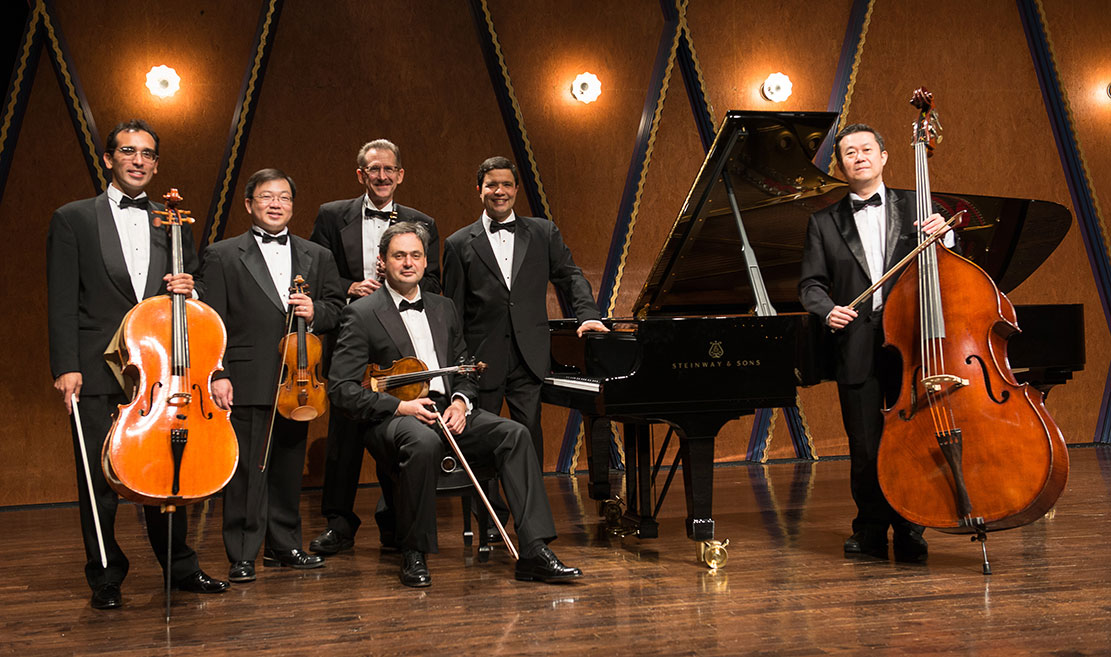 By age 6, Lu was playing piano and cello, but it wasn't until he turned 12 that he was tall enough to tackle the double bass.
When young Lu could handle the rigor of the instrument, Lu's parents introduced him to the principal double bassist of the Shanghai Symphony Orchestra.
"That man taught me that the double bass's low tone is so much like a human being's voice," Lu recalls. "He really opened my ears to the double bass's ability to sing and dance and talk and speak—to all its beauty."
Lu became so accomplished that he was admitted to the highly regarded Shanghai Conservatory of Music's middle school, and at age 20, graduated from the conservatory. In 1984, he made his mark as first Chinese double bass artist to give a recital in China.
After playing with the Shanghai Symphony Orchestra for only three months, he grew restless and left the cushy position for adventures in the United States.
During the next two decades, he earned a master's at the University of Texas at Austin, won a national string competition in California and played part time with the San Antonio Symphony Orchestra, while teaching at Bowling Green State University and Baylor University. He also offered master classes in China.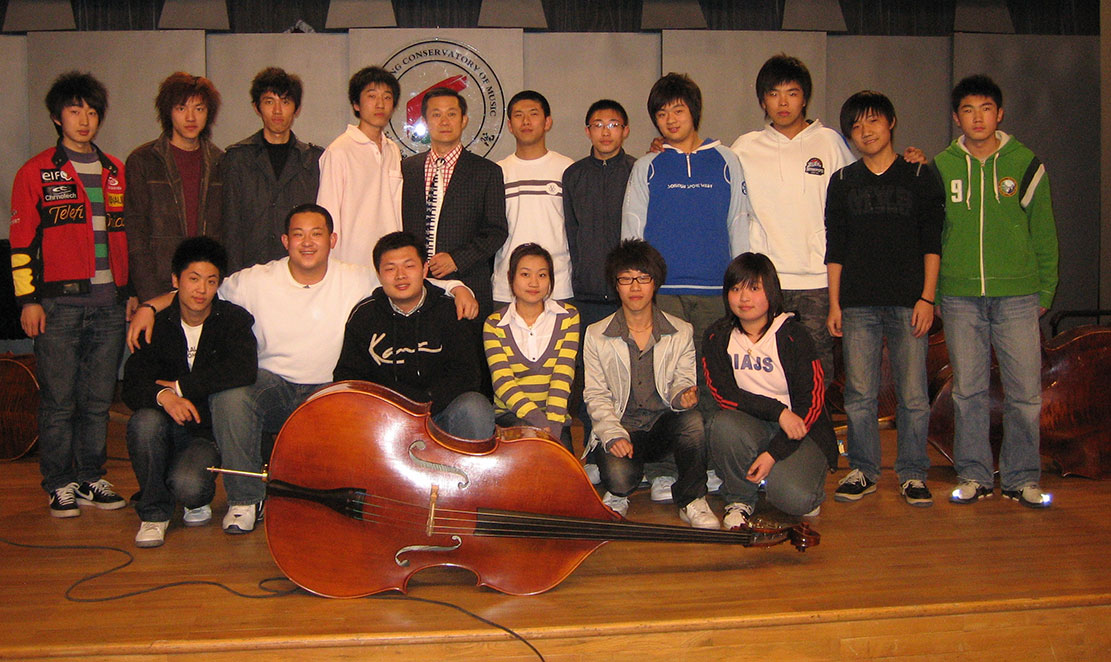 In 2008, he signed on as TCU's first full-time professor of double bass after the position had been vacant or filled with part-time and adjunct faculty and harbored one emphatic goal: to build a serious double bass music program.
"I had a very positive first impression of the cultural scene in Fort Worth," says Lu. "There is already a wonderful piano faculty, often connected to the Cliburn piano competition. I wanted to do the same for double bass."
So, not long after landing on campus, he began to orchestrate, from scratch, what has become one of the country's most unique events built around the often-overlooked double bass. He's dubbed it the TCU International Double Bass Festival, and March's edition was the third biennial installment.
The two-day event of solo recitals, clinics, lectures, orchestra competitions and master classes has evolved into one of the largest festivals for the instrument in the nation. It has become so prestigious that 20 top double bass professors, plus as many as 25 guest artists—from composer Frank Proto to double bass virtuoso Gary Karr (and players from Brazil to Israel)—gladly accept Lu's invitation.
"I really want the double bass program to be viewed as one of the best in the country," says Lu. "We are getting there with the festival really influencing many. For the last one, we had 200 double basses on stage. What the festival has done is help distinguish TCU as a place to come for great double bass study – and that's fun to do."
Lu also has led top TCU faculty to China for high-profile musical tours and teaching, which have become opportunities to proselytize about the quality of study in Fort Worth.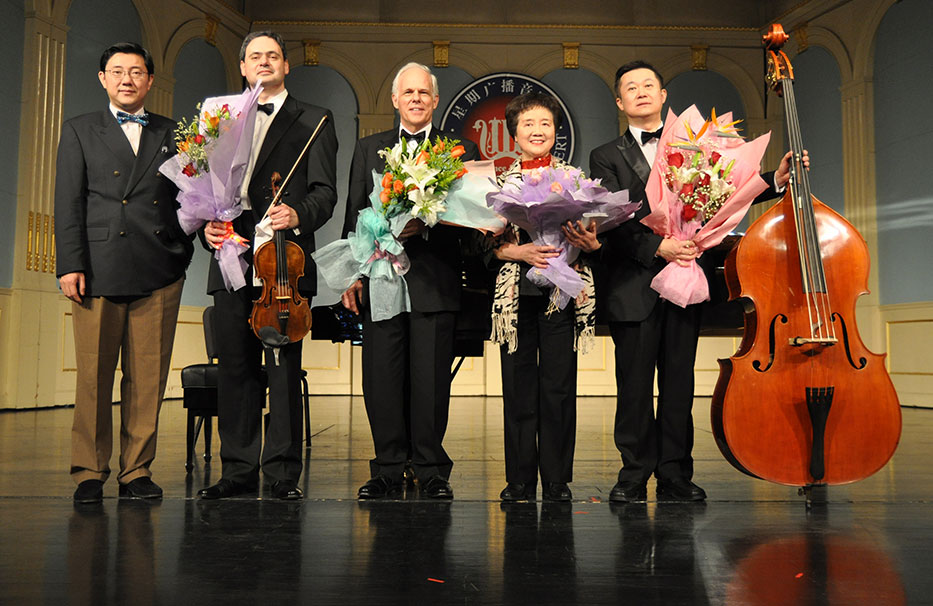 In 2009 on Lu's first sojourn as a Horned Frog ambassador, he took Germán Gutíerrez, director of orchestras, who conducted the Shanghai Symphony with Lu accompanying as a soloist.
"That concert was completely sold out," Lu recalls. "For the first time, someone like Germán saw the kind of mass appeal that classical music has in China."
Later that year, Lu brought along a nine-member, all-star chamber music ensemble, including José Feghali, artist-in-residence and 1985 Van Cliburn Piano Competition gold medalist; director Gipson; and John Owings, chair of the school's piano division.
During the 10-day visit, they toured Shanghai, Beijing and Shenyang, playing chamber recitals, conducting master classes and forging formal ties with Shanghai Normal University and the Shenyang Conservatory of Music.
Last December, Lu returned again with seven faculty members, including associate professor of viola and strings division chair Misha Galaganov.
"Clearly, he is very well known, especially in Shanghai," says Feghali, who has made four China trips. "But it was amazing how he generated so much interest for us in a Chinese market where so many people are trying to get into. Still, Lu was always able to get so much press coverage for our TCU group. He's just that well-connected."
Adds Lu, who became an American citizen in 1998: "These recent trips are a great advertisement for TCU in China. I make sure we get a lot of attention in the Chinese newspapers, magazines, television and radio. One of our TCU chamber concerts was broadcast nationally and reportedly heard by tens of millions of listeners—numbers usually reserved for concerts by the Berlin Philharmonic."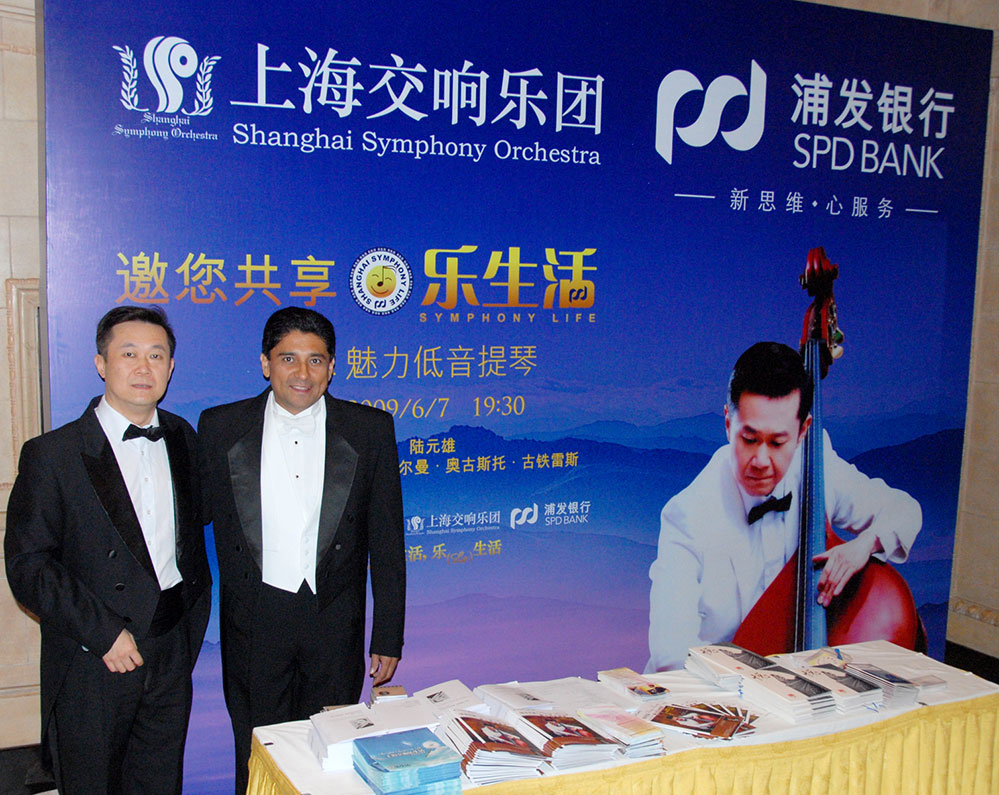 Lu's jovial demeanor and irresistible goodwill has charmed Chinese hosts and media.
"He knows the subtleties of humor of his own country," Gipson says. "People over there just respect him and support him, and on his behalf, extend us all kinds of courtesies."
Feghali feels that while there are "lots of musicians who have plenty of musical qualities, few can do what Lu can do: Target a market and create tremendous interest in what you're about. On the business side of music, he's absolutely brilliant."
TCU's profile can still become broader, says Lu, who regularly distributes brochures about the school, while talking up Fort Worth as being the host city of the Van Cliburn International Piano Competition.
"I know that TCU has a lot of potential," he says, adding that Fort Worth and Dallas symphonies act as magnets for major classical artists. "What I'm saying seems to be working as we currently have 20 students from China studying various instruments in our music program.
"These Chinese students undoubtedly have friends and family who are hopefully hearing from them about TCU being a good place to come to for music. I do love TCU, and I firmly believe it has the potential to be recognized internationally as a first-class music school."