Dance revolution . . . Suki John chronicles Cuban dance
Professor Suki John's new book chronicles lifelong fascination with Cuban dance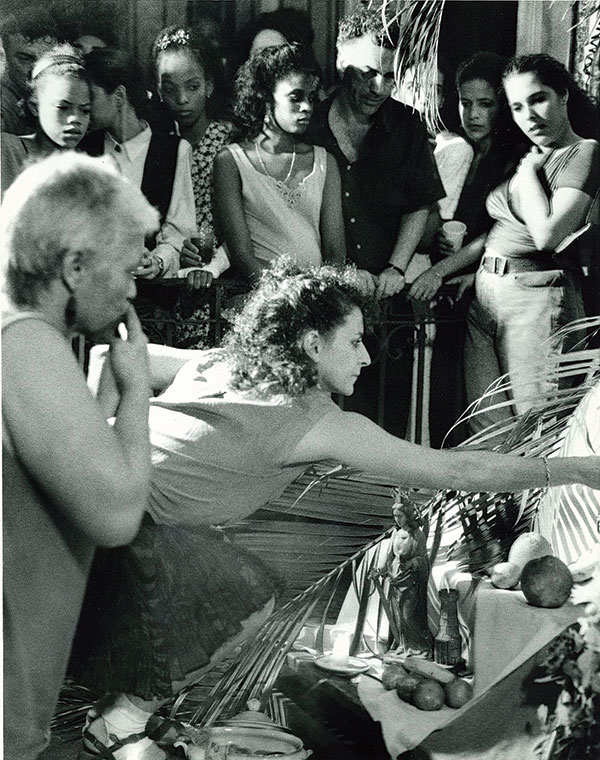 Dance revolution . . . Suki John chronicles Cuban dance
Professor Suki John's new book chronicles lifelong fascination with Cuban dance
In the summer of her 14th year, Suki John's family vacation turned into a lifelong journey with Cuban dance.
While the United States government had cut off relations with the island nation after Communist Fidel Castro came to power in 1959, the family was able to travel there because her father was a neurophysiologist and worked with a lab in Cuba that did brain research.
The plan was for John, assistant professor of contemporary dance, to spend time observing the Cuban National Ballet and its founder Alicia Alonso, but government officials had other plans for John and her brother.
"We got there and the two of us ended up on this brigade that was building a school," she says. "It was like this mind-blowing experience for me to be with all these people, living in a huge dorm, and I was barely speaking Spanish. But it was really fun and they were so welcoming. They called me Niña, little girl, and they pampered me."
At the end of the trip they returned to Havana and John went to the Cuban National Ballet and watched Alicia Alonso teach a class.
"I had this life-changing experience," she says. "It was like going to a kibbutz, or doing missionary work."
Through the years, John has traveled to Cuba again and again, forging new connections with fellow dancers and learning about their varied dance forms, including the home-grown modern dance known as técnica cubana.
In her new book Contemporary Dance in Cuba: Técnica Cubana as Revolutionary Movement, provides the first English-language examination of the island's unique modern dance movement. It also weaves in personal experiences and insights into Cuba's complex history and culture rich with music and movement.
In the book, John writes: "Técnica cubana is a highly evolved hybrid of ballet, modern dance, Afro-Cuban traditional dances, flamenco and Cuban nightclub cabaret. Unlike most dance forms, técnica was created intentionally with government backing. For Cuba, a dancing country, it was natural — and highly effective — for the revolutionary regime to link national image with the visceral power of dance."
John traveled and worked in Cuba from the 1970s to the present, so the book also provides an inside look at daily life in Cuba under Castro and how his regime nurtured dance and dancers to build a national identity. From watching and getting to work with Alonso, to describing the economic trials of the 1990s, John uses history, humor, personal experience, rich description and extensive interviews to reveal contemporary life and dance in Cuba.
"I wrote the book not just for dancers but anyone interested in Latin American studies, Cuba, the arts and even armchair travelers," she says. "People who are just interested in different cultures would be able to read it. It's not really technical. I tried to make it really accessible."
John is using the book as a case study in her International Dance Forms class this semester in how a dance movement forged in another culture can inspire your own creativity.
"When I went to Cuba I had no idea I'd ever end up writing a book. I just wanted to dance like they did," she says.
Last spring, John debuted her work, titled "Wall of Babel," with music composed by Till Meyn, associate professor of music theory/composition, at the DanceTCU concert. In May, she will be traveling to Cuba to teach the dance to artists who will perform it on the island.
"It's really about being on two sides of a divide," she says of the dance. "It suggests the Berlin Wall, the Wall of Gaza or the divide between Havana and Miami — the way Cuban families are divided by politics.
"It's very topical for Cuba," she adds. "In fact it might be a little suggestive for Cuba. It may open some conversation. I hope it makes people talk a little bit about the divide they have been living with."
On the Web:
Suki John's book is available at the TCU Barnes & Noble and as an e-book at amazon.com.