Ticket to ride: TCU students tour civil rights landmarks
Civil rights tour brings the past into the present for students.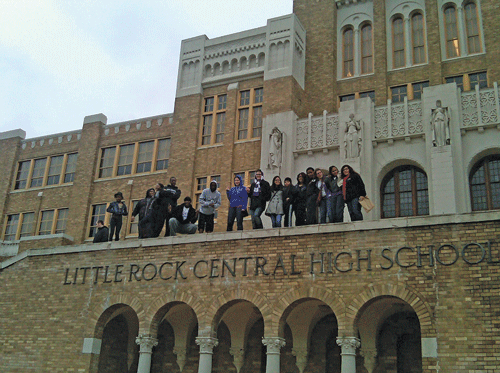 Ticket to ride: TCU students tour civil rights landmarks
Civil rights tour brings the past into the present for students.
They are names found in history books — Martin Luther King Jr., Medgar Evers and Emmett Till. But a group of TCU students relived the sacrifices these leaders and many others made during a bus tour of historic sites of the civil rights movement.
Students made the eight-day trek in January, with stops at Little Rock Central High School, where nine African-American students braved mobs to integrate the school in 1957, and Birmingham's Sixteenth Street Baptist Church, the site of a 1963 Ku Klux Klan bomb blast that killed four girls. They also travelled to Atlanta to see the birthplace of Martin Luther King Jr. and the King Center for Nonviolent Social Change that celebrates his legacy.
The trip was organized through TCU's Center for Community Involvement and Service Learning and sponsored by TCU Inclusiveness & Intercultural Services, TCU Leadership Center and the Department of History and Geography.
Max Krochmal, assistant professor of history, said the objectives for the trip went beyond simply seeing historical sites.
On the bus, students and faculty passed the time reading articles about the movement, including stories of the ordinary people who were swept up in the struggle. They also sang the occasional freedom song such as "Ain't Gonna Let Nobody Turn Me Around," popular with civil rights era activists.
"We were really interested in pushing our students to think about the civil rights movement much more deeply than is commonly portrayed in popular memory," Krochmal said. "We wanted students to think about the role of ordinary people, normal men and women across the South who put themselves on the line and took great risks in the struggle. And to think about those people, not just as foot soldiers and participants, but as leaders."
Students also examined how everyday people can be transformed by struggles for social change and activate others in their community. Students were challenged to think of themselves as leaders and examine ways they could be more involved.
"Leadership, instead of being top down, can be collaborative, coming from the bottom up," Krochmal added.
Students also examined the roots of racism and looked at how the struggle for equal rights continues today. The group met with Parents, Families and Friends of Lesbians and Gays in Atlanta (PFLAG) and organizers of an immigrant-rights group in Mississippi. They performed a service project at the Sunflower County Freedom Project, a school in the Mississippi delta.
For many students the highlight was getting to meet and talk with those who participated in the civil rights movement. Liz Schmitt, a junior from Merriam, Kan., said she was moved by the visit to the Medgar Evers Museum in Jackson, Miss. Evers, a field secretary for the NAACP, bought the home with his wife Myrlie in 1955. In 1963, he was assassinated in his driveway and the home was later donated to historically black Tougaloo College. It is now a museum.
"While we were there Mrs. Evers and her daughter happened to show up for a meeting," Schmitt said. "They didn't know we were going to be there, but it was an awesome experience to get to hear about Medgar Evers' assassination from their point of view. They were there. They were in the house when he was shot. It was very emotional and it really hit home how many people had made great personal sacrifices."
Alex Turner, a senior from Dallas, was moved by the visit to the Emmett Till Museum, which chronicles the life of the 14-year-old African-American boy who was murdered after reportedly flirting with a white woman.
"There was a lot of anger in me after visiting the museum," Turner said. But it caused me to sit back and think about things — to understand what nonviolent protest really entails."
Nancy Acevedo, junior from Acworth, Ga., was inspired by meeting civil rights activist Hollis Watkins, who was the first Mississippi student to become involved in 1961 in the Mississippi Voting Rights Project of the Student Nonviolent Coordinating Committee. He remains active in the movement and currently serves on the Board of Directors of Highlander Research and Education Center, the Southeast Regional Economic Justice Network, and the Southern Sustainable Agricultural Working Group.
"What was amazing about him is that he is still constantly educating himself and others about the message of the movement and how to start movements," Acevedo said. "Of all the people who we met, I was most amazed by those who had continued to be activists throughout their life."
Melissa Gruver, TCU's community engagement coordinator, hopes to offer another bus tour in the future. In a column in The Daily Skiff, Turner argued it should be mandatory for all students.
"The tour is something everyone should experience to fully understand the importance of the civil rights movement and how it changed society for everyone today," Turner wrote.
Video:
on-campus Civil Rights march