Q&A with … O. Homer Erekson '74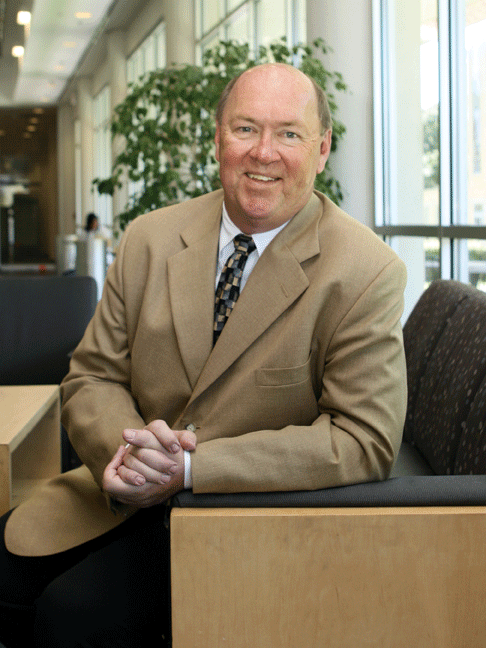 Q&A with … O. Homer Erekson '74
TCU offered courses in accounting, business administration, finance, insurance, secretarial sciences and transportation utilities as early as 1884, but it wasn't until 1938 that the university boasted of a school of business. In August 2013, TCU's Neeley School of Business will turn 75, but that hasn't stopped dean O. Homer Erekson '74 from touting the approaching anniversary a little early. In fact, the school is in the middle of celebrating 75 events in honor of the milestone. It also has a new book, Major Moments, penned by Erekson and biographer Rix Quinn '71, capturing the success stories of the people who made the school possible.
Why write a book as a part of the 75th anniversary?
The 75th anniversary of the Neeley School provides an opportunity to celebrate the many achievements of our alumni, faculty, staff and students. But it also provides an opportunity to look to the future. Major Moments both serves to recognize our distinguished alumni and friends, but also to gain advice and insights from them for our students and others on building a successful career. We also were able to include tributes to M.J. Neeley, Charles Tandy and Dan Rogers. The Neeley School would not be the success it is today without the foresight and financial commitment of these extraordinary men.
You're a TCU and Neeley alumnus. What did you learn about the Neeley School as a part of this process?
We often say at the Neeley School, that "It's more than business. It's personal." If one reads through the selections in the book on our alumni, it is apparent that the commitment to making a difference for our students one-by-one is real. It is so gratifying to learn about the faculty our alumni identify as significant mentors and friends in their lives, and in turn, to see how our alumni then assume the responsibility of being mentors for those with whom they work.
As you say in the book, there are hundreds of Neeley graduates that are ethical leaders that are shaping the global environment. How did you come to select the alums and leaders in the book?
Indeed, we had hundreds of alumni who were most deserving of being featured inMajor Moments. We intentionally selected alumni who represent different industries and different age groups, and those who are making a difference in very different locales, from Fort Worth to throughout the world. But one unifying feature is that they are all extraordinarily successful and represent the very best of what the Neeley School hopes to see in our alumni.
What do you want readers to take from Major Moments?
Hopefully, readers will have fun reading the book. There are some great stories about why the alumni chose to attend TCU, anecdotes that capture the academic challenges they faced at TCU and their path to success. Major Moments celebrates the thoughts of some remarkable people. How many times does one have the opportunity to visit with over 75 of the leading business executives in the world? Well, Rix Quinn '71 and I did, and the readers will share in that experience.
The Neeley School started celebrating its 75th anniversary beginning in 2011 with a series of events, continuing this year, and leading up to the anniversary year in 2013. Why take that approach and what's coming up?
We wanted to have 75 events leading up to the 75th anniversary celebration. That's a lot to have in one year … so why not "spread the love" as Chancellor Boschini says, and provide opportunities for celebration over this two-year period? We are having a variety of activities, including bringing leading speakers to campus, sponsoring Neeley days and nights at sporting events, and holding our national Values and Ventures International New Enterprise competition. And we are holding those events throughout the country, as we want our alumni and friends to have at least 75 reasons to celebrate the success of the Neeley School, no matter where they live. And hopefully, we will have many Neeley alumni and friends who will attend the final Neeley 75th Anniversary Gala in 2013.
Some of the profits of the book go to the Neeley Heritage Scholarship. Describe how that helps the Neeley School.
The Neeley Heritage Scholarship will support one or more undergraduate business students at TCU each year in preparing the next generation of business leaders. It's important that we are able to provide an opportunity for the very best students to attend the Neeley School, regardless of their financial capability, and for us to be able to attract top student leaders as we compete with the very best business schools in the country.
What's your vision for the near-term future of the school? What's on the horizon for the Neeley School?
Our vision both near-term and beyond is to build one of the premier business school programs in the country, both at the undergraduate and graduate levels. I like to say that all it takes to build a great business school is great faculty and staff, great students, great programs, great facilities, and resources to fuel the vision. We already are nationally competitive in each of these areas. But there is so much more we can do as we emphasize leadership, innovation, and globalization in learning opportunities for our students, top tier research by our faculty, and increasing engagement by the Neeley School in supporting economic development in the North Texas region and well beyond.