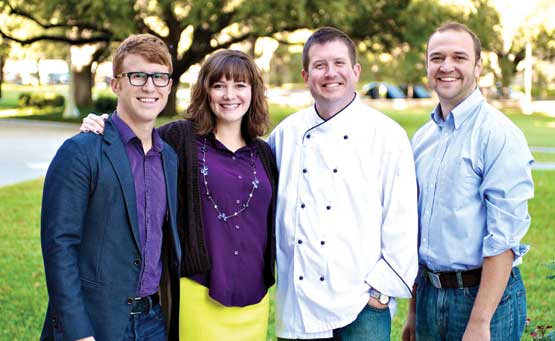 It started over Bibles and beer. A group of young Fort Worth professionals who attended Arlington Heights United Methodist Church had been meeting regularly for a sort of casual Sunday school held in a local bar.
They called themselves the Franklin Fellowship.
The name came from a quote by Benjamin Franklin who reportedly quipped; "Beer is proof that God loves us and wants us to be happy."
While they would often talk about what God had done for their lives, one day the group's leader, Jason Valendy '09 Div, had another question: What good could they do for others?
After stewing on it for a month, they decided to embrace the idea of the Sunday Soup Network (www.sundaysoup.org) a nationwide movement of hosting simple soup dinners that also provided micofinancing for worthy community causes.
The idea of grassroots giving, combined with hearty fare, appealed to the group, which includes Jenny Robertson Sanders '07, TCU's assistant director of communications, and her husband, filmmaker Justin "Red" Sanders '04.
In late 2010, the group began hosting simple suppers for $20 per person and inviting three local groups to discuss their fledgling projects. Guests listened to the pitches, then voted for the one they wanted to fund. The winning organization would get 60 percent of the evening's proceeds and the other two would divide the remaining 40 percent.
With some seed money, they set about booking a venue.
"Fort Worth Dish Out just kind of happened," says Valendy. "It's about helping local philanthropy and revitalizing Fort Worth."
The group has been mentioned on NPR's "All Things Considered" and profiled in 360 West. Fort Worth Dish Out regularly draws more than 100 diners at its quarterly events.
Allen Lutes '97, chef-owner of Blue Tower Café, donates his time and talents and also provides food at cost for the quarterly events so the charitable proceeds can be maximized.
As founding members, Jenny and Red Sanders say it's not just about the funds raised for the worthy local causes, but also a way to recruit volunteers.
"It's a way for organizations to get their name and what they are doing out into the community, it provides a stage for them to connect with others who also feel passionately about a certain cause," adds Jenny. "It's a win-win for everyone."
On the Web:
fortworthdishout.org