AED at TCU
Health pre-health profession honor society moves its headquarters to campus.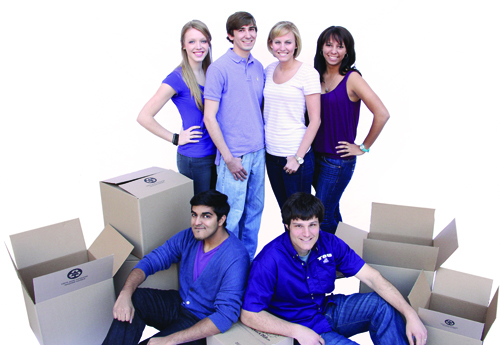 AED at TCU
Health pre-health profession honor society moves its headquarters to campus.
Since 1905, more than 2,500 Horned Frog physicians, dentists and veterinarians have graduated from TCU's distinguished pre-health professions program. An integral feature of the highly successful program is the pre-health profession's honor society, known as Alpha Epsilon Delta (AED). The TCU chapter of AED, Texas Zeta Chapter, is the social and educational heart of the Horned Frog program.
Now all 169,000 AED students and alumni in 210 chapters around the country will turn to TCU for leadership after the program's national office moved last October into Winton-Scott Hall, just around the corner from the Texas Zeta Chapter office.
Biology professor Phil Hartman, chair of TCU's PreHealth Professions Advisory Committee, serves as AED project director at the national headquarters. He says AED's move to Fort Worth will raise TCU's profile with medical schools and within the profession.
"It's a feather in TCU's cap and the honor pays tribute to our chapter, which was named Top Chapter in the Nation at the Biennial Convention in March," he says. "AED provides significant service to the national preprofessional health community, and TCU will benefit from the organization's move to Fort Worth."
Having AED on campus affords TCU national recognition in an area not duplicated by other universities,  notes Dr. John Lynn, AED president in a letter to the university.
"Having the headquarters of a national honor society on campus will serve as a recruiting tool for attracting the highest caliber students," Lynn adds. "AED will attract activities and events to the university — group meetings, seminars, etc. — and will involve highly visible participants, i.e., physicians, educators, industry representatives and others.
Top chapter
TCU's Texas Zeta Chapter of AED is exceptionally active, with 100 underclassmen associate members and nearly 70 upperclassmen members each year. It won all four first-place awards it was eligible for at the last two biennial national conventions for activities and events including:
• Bimonthly meetings featuring physicians, dentists, medical and dental school admissions representatives.
• A comprehensive hospital observations programs in 15 different clinical venues that allows students to enhance their exposure to medicine, dentistry and veterinary medicine.
• A volunteer program at Cook Children's Medical Center where members interact with children in the hematology/oncology unit.
• A "Big-Little" program, pairing incoming students with an upper-level "premed" student.
• Three annual events in the chapter adviser's home.
On the Web:
www.aed.tcu.edu