First Person: author Dan Jenkins '53
Our resident sports nut and historian Dan Jenkins '53 remembers 1938 better than last week's fried chicken. That title year – and a lot more – is all in his new TCU Football Vault, which he essentially wrote for free.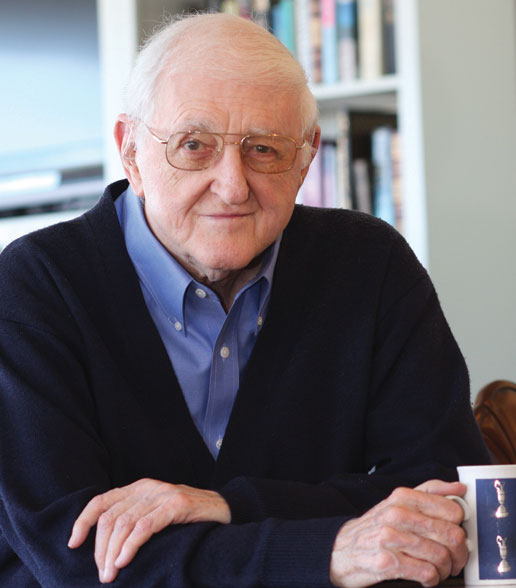 First Person: author Dan Jenkins '53
Our resident sports nut and historian Dan Jenkins '53 remembers 1938 better than last week's fried chicken. That title year – and a lot more – is all in his new TCU Football Vault, which he essentially wrote for free.
How did the TCU Football Vault book happen? I heard that when you spoke with Whitman Publishing, you campaigned for a TCU book, too.
I hadn't heard of the vault project at Whitman until a good friend who wrote the Georgia vault told me about it, and sent me a copy. Being a college football junkie, I was overwhelmed. I called Whitman in Atlanta and found out the company had also done Alabama and Tennessee. They sent them to me and I was triple overwhelmed. That's when I called the editor of the project and asked how many people I had to bribe or kill to get them to do TCU. He said they were going to do 40 vaults, but TCU wasn't on the list. I begged and babbled about Sam Baugh and Davey O'Brien and LT and Jim Swink and Bob Lilly, and he finally said they would do TCU if I would write it. That's basically all that happened, except when we finally got in line for the layout designer and printer, I was suddenly told I had only three months to write it. This was in the late fall and early spring of last year. It was urgent because the book had to appear during the 2008 football season.
I checked and found that TCU and BYU are the only Mountain West schools with vaults. Eight of the dozen Big 12 teams do not have vaults, including Texas A&M, Texas Tech and Baylor. Heck, even USC doesn't have one. Seems like a big deal to have one.
The vault series has been very successful for Whitman. I hear the Alabama and Georgia books have both sold something like 60,000, and they're still selling, but that's what you would expect from the SEC. Those people have nothing else in life. I think Whitman will eventually do a vault for every major school. I have about 26 of them sitting on my shelf right now. They are great for research, not to mention nostalgia. None of them, incidentally, are any better looking than TCU's (he said modestly.)
What's your favorite part of the book?
I suppose my favorite parts of the book were the old games I never saw and the old immortals I never knew. It was fun to learn such things as Milton Daniel was the guy who started recruiting in West Texas, and the first Frog stadium was "the TCU Athletic Field" – capacity 4,000 – that stood where the library and other buildings are now on University Drive. Frankly, it was a labor of love, but it is the most financially irresponsible thing I've ever done. I insisted that any royalties I might make should go to the TCU Athletic Department.
While there is no Billy Clyde Puckett in the Vault, you did manage to inject plenty of humor and wit in the book. How much did you purposely do that?  
If there's humor in there, it just seemed to come naturally and the best way to describe certain individuals and situations and events of the eras.
Is there anything Whitman cut out that you wanted left in?
Whitman had me somehow compress seven chapters into six chapters. It was painful. But I'm not sure we lost anything vitally important. It wasn't easy to squeeze 100 years of football history into 35,000 words, which was the constraint. I feel bad about having to leave out so much, and for not policing the layouts closely enough to see that such heroes as Bruce Alford, Derrell Palmer and Don Floyd and some others got their photos included. Going over the final set of proofs, I noticed that Jeff Ballard's photo was missing. I leaped to the phone and threatened to nuke the plant if they didn't include him. Happily, they did.
There were long lines for your autograph at the book signing. What kind of feedback have you gotten from the community?
The feedback has been wonderful. Nobody has rushed up to me to say, "You idiot, how could you leave out…?" Most readers have told me how they've learned so much they didn't know about the teams, the school, and even our city. That's very rewarding.
Coach Gary Patterson wrote the forward for the book. Would he make a good subject for a book or might you write one with him?
Coach Patterson would be very hard to get down on paper, and even if you did, nobody would believe it. Part of his charm, I think.
Patterson is one victory behind Abe Martin and 36 behind Dutch Meyer. You've known all three. How is Patterson like them? Or are they all different?
Patterson is nothing like Abe or Dutch. It's a different world today with the media. He may be a little too touchy and cautious with them, and maybe they deserve it at times, but as long as he wins, so what? Abe and Dutch were like all the other coaches in their day, which was my day. It was easier for them to make friends with the press and trust them. I was part of that. We weren't scandal mongers and we knew what not to write, and they appreciated that. We earned their trust, and therefore we came upon a lot of good information that we could eventually use when the time and atmosphere was right. If I'd ever written all the things I knew about coaches or athletes, I wouldn't have won any Pulitzers. I'd have just lost some friends.
In January, Patterson got a contract extension. Do you think he stays in Fort Worth to pass Dutch? I get the impression he's going to be here a long while.
Gary and Kelsey are quite happy here. But, you know, if he keeps winning, he's going to get an offer from somewhere that he can't refuse, and I wouldn't blame him for taking it. Like if the Oklahoma or Nebraska jobs opened up – that kind of thing. But he can win a national championship here. At least the Associated Press version and it only takes one to print bumper stickers.
They're worlds apart and the game has changed drastically, but how does this recent era of football success compare to the success of the great teams of 1930s?
The Patterson Era (plus Fran) has been terrific. Glad I didn't miss it. Some of the games TCU has won over the past 11 years belong in the list of our all-time Top 10. I'm talking about the Sun Bowl, the BYU overtime thriller, this past Poinsettia Bowl over Boise State. But I can't put those ahead of the Thirties yet. Those two national championships with Sam and Davey, to me at least, grow larger all the time. Maybe it's because as a little kid in a sports nut family I was taken to every TCU home game in those seasons. And also because I remember 1938 better than last week's chicken fried steak.
Who's your favorite player of all time?
My favorite players are Davey and Sam in a dead heat. They could do it all and played both ways and were great leaders. The favorite player that I covered was Jim Swink. I saw all 32 games he played. When Jim got his hands on the ball, you went to the edge of your seat. James Thurber once wrote of his favorite Ohio State player, the great Chic Harley, "his running style was a combination of music and cannon fire." That was Swink, too. He made your heart come up to your throat.
Who's TCU's most underappreciated player of all time?
TCU's most underappreciated player of all time was Jimmy Lawrence, who was an all-conference halfback in 1933-34-35. With Baugh, he was the co-star on the '35 national champions. Slashing runner, great receiver, also a passer, fierce defender and blocker. On any other team, when he wouldn't be overshadowed by Baugh, he would have been All-America.
Does any modern player remind you of a player of yesteryear?
It's impossible to compare today's players with the guys who went both ways, but I think LT could have played some defense if he had to.
In the not-too-distant future, Amon Carter Stadium will be remodeled, we hope. Is there anything you would like to see done to it or preserved?
Lowering and expanding and modernizing the press box is my only wish for any stadium changes.
Do you have a writing routine? Perhaps a favorite time of day to write?
As for writing, my best time is the mornings. I used to write 16 hours a day, but one day sometime back, I realized that I got tired without knowing it, and everything I wrote in the late afternoon looked like a stranger sneaked in and did it, and it would have to be re-done.
Who are some favorite writers or authors who inspired you?
The humorists always impressed and inspired me the most – John Lardner, S. J. Perelman, Raymond Chandler, Thurber, Twain, Noel Coward. I think Herman Wouk's The Winds of War and War and Remembrance is our War and Peace. I fondly recall spending a vacation reading them back to back and lapsing into that mode where you rage at interruptions. As for non-fiction, one of my bibles is The Killer Angels. If you only read one book about the Civil War, that must be it.
You wrote for the Fort Worth Press as a schoolboy. What's your reaction to the struggle of the newspaper industry?
It's a sad day. It's sad that a lot of locally owned papers sold out to chains. Result: politically, too many of them lean too far left now. There used to be balance. As for the future, I'm glad I'll be dead before I'm forced to read a paper on a gizmo in the palm of my hand. That's about it. Dan Jenkins has spoken.