Worth Hills halls open with plentiful common space
Spacious living rooms, study lounges and community areas combined with single bedrooms will make suite-style units the best of both worlds.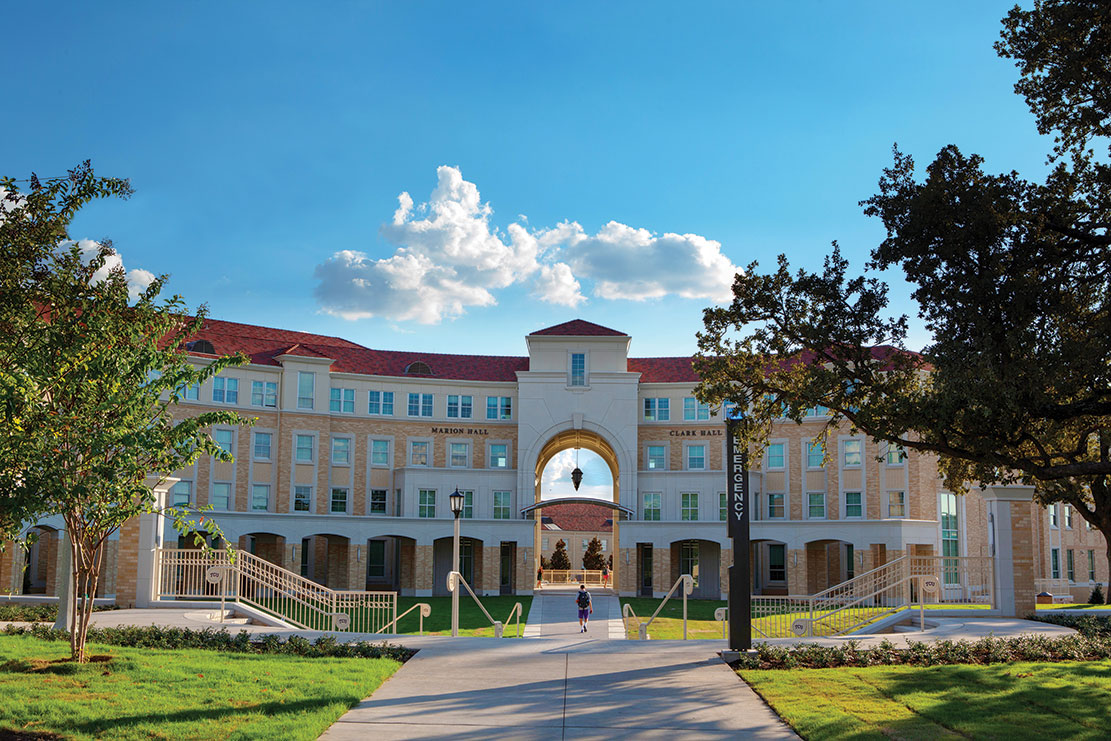 Worth Hills halls open with plentiful common space
Spacious living rooms, study lounges and community areas combined with single bedrooms will make suite-style units the best of both worlds.
Craig Allen still jokingly calls them the "VIP suites," but with Marion Hall and Pamela and Edward Clark Hall officially open in August, they're no longer a secret.
There are four of them — one on each level of the four-story hall — which contain a cluster of four single rooms on the building's eastern edge and offer scenic views of Stadium and Bellaire drives. They feature multiple bathrooms, 9-foot-or-greater ceilings and an extra hallway closet.
But that's not what impresses Allen, director of TCU Housing & Residence Life.
"Large common spaces and community places are the theme for these buildings," he said while giving tours in August.
Anchoring Marion Hall's northeastern-most point, the living room in these suites is a whopping 434 square feet and boasts views of the colonnaded walk in front of the building's signature curved facade and of Stadium Drive. Living rooms in other suites range from about 230 to 310 square feet. The bedrooms in all the halls are between 105 and 120 square feet.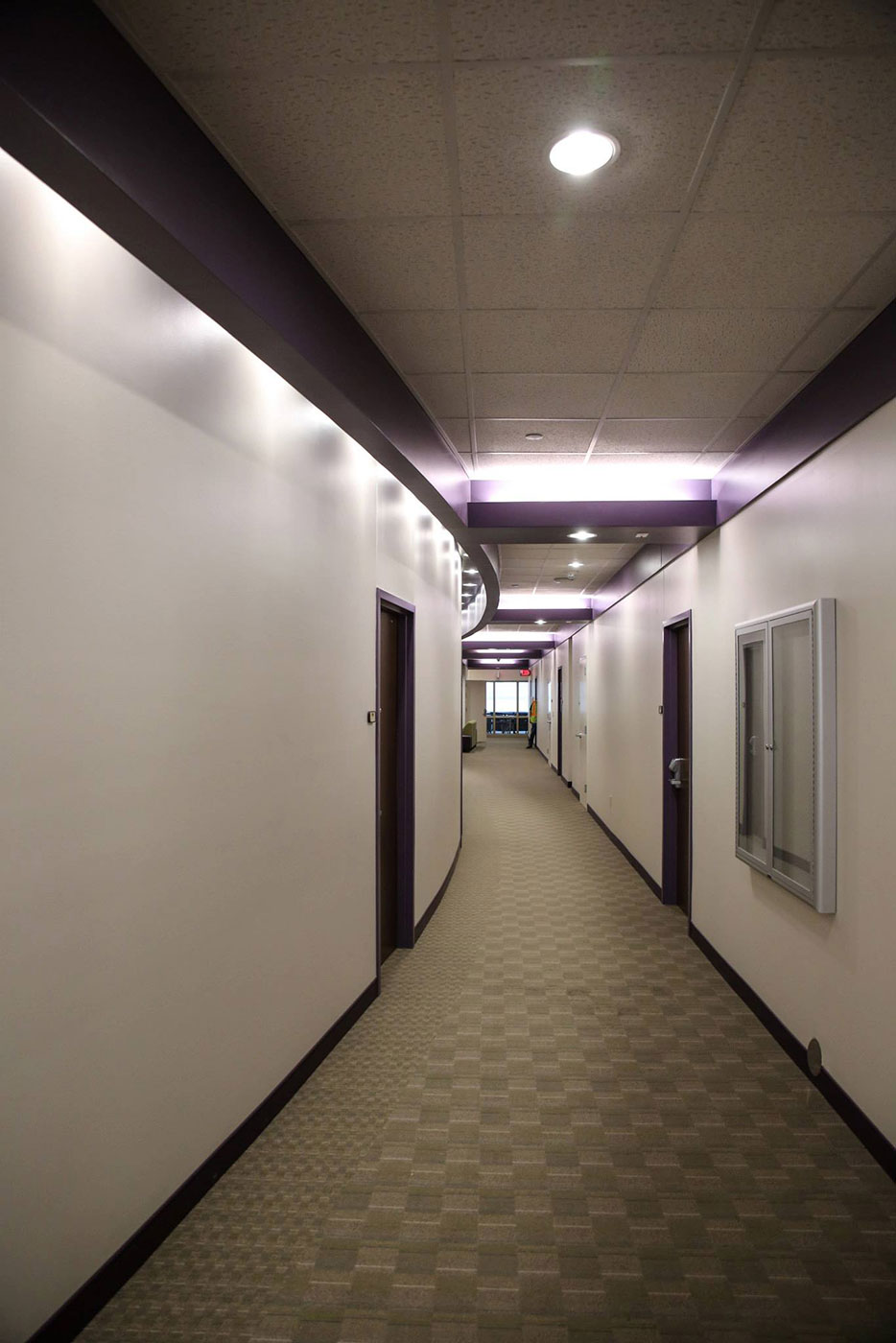 "One thing we learned from doing the halls in the [Campus] Commons is that students are placing a high value on these common living spaces and shared study spaces," he said. "They love the quality furniture. They study rooms white boards. After 8 p.m., that's the place to be."
The two halls will house 396 bed spaces for mostly sophomores and upperclassmen. Approximately 30 freshmen will call Pamela and Edward Clark Hall home. Suites will have two or four bedrooms and a living room space, plus two bathrooms.
"They're a little bigger than the units in the [Campus] Commons," Allen said.
Study lounges and spacious nooks with soft seating dot the hallways. There are no kitchens in the units, but each hall has a baking kitchen with conventional and microwave ovens.
The marble-tiled lobbies of both halls have a two-story feature, creating a loft on upper floors, similar to the renovated Milton Daniel Hall. There are print stations at the entry desk for resident use.
"It's the unique feature for these halls," Allen said. "The curvature of the building is going to make the hallways different and much larger."
Like TCU's other residence halls, they'll have wireless access, cable television and energy-efficient systems, but no telephone wiring in the rooms, Allen said. More than 90 percent of students have mobile phones. There is a community phone along every hallway.
In Marion, laundry facilities with three washers and six dryers are on the second and fourth floors. In Pamela and Edward Clark Hall, they are on the first and third levels.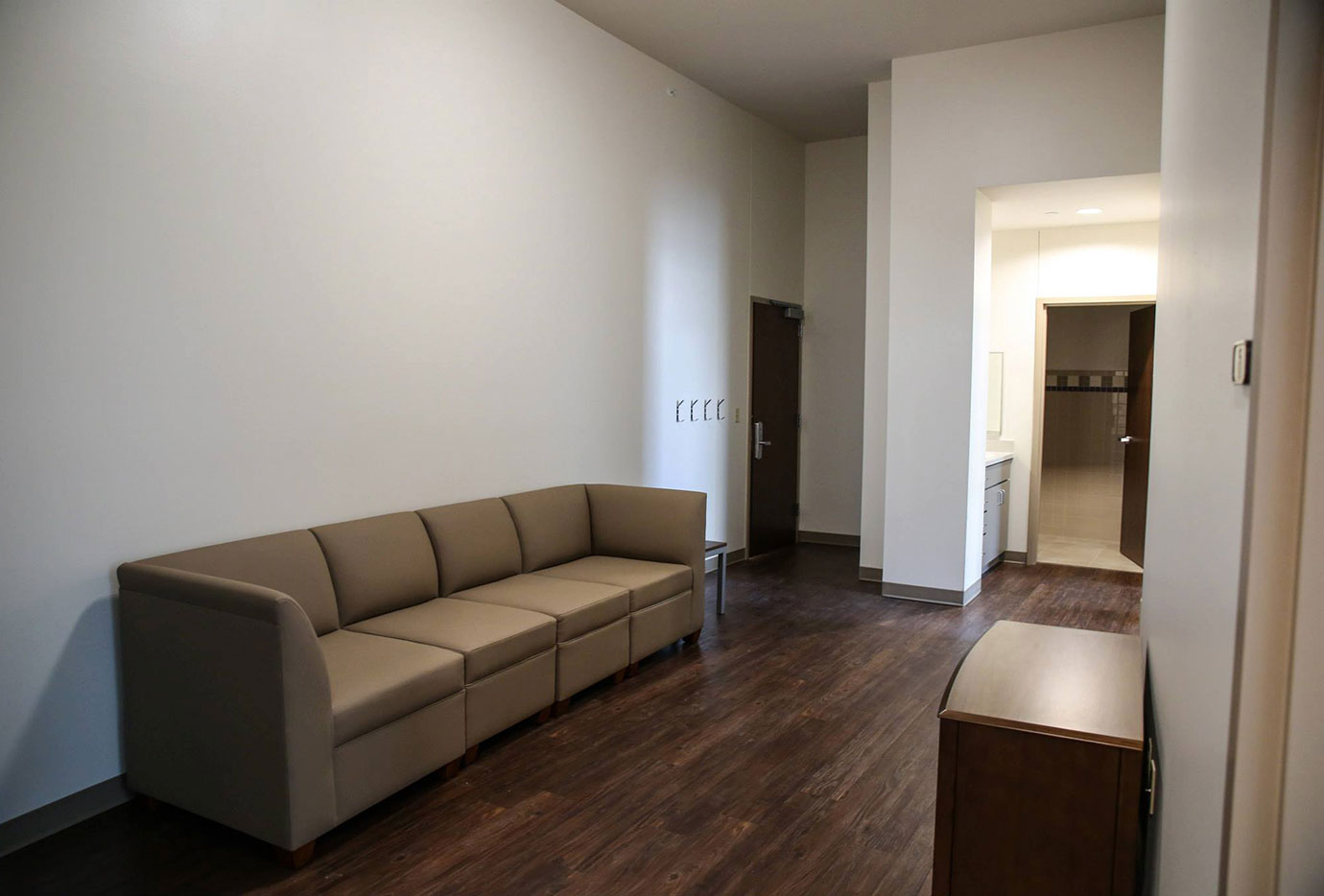 The halls are separate structures and not connected, though an archway similar to the one at the Brown-Lupton University Union appears to bridge them. The design is meant to mimic the BLUU's and create a grand entry into Worth Hills. Both are on track for gold-level Leadership in Energy and Environmental Design (LEED) certification, Allen said.
In front of the halls, a curved colonnade provides cover and will eventually connect to a planned multipurpose building that offers dining and meeting space. A sidewalk with a distinctive circle with stairs will be the primary walkway to the corner of Stadium and Bellaire drives.
The new structures represent the first of a multi-phase plan to overhaul the Worth Hills section of campus, including new housing for fraternity and sororities, plentiful green space and a dining facility.
In essence, TCU hopes the planned makeover will do for Worth Hills what the Campus Commons has done for main campus.
"The Campus Commons created a downtown for TCU, and by most accounts, did so very successfully: Students hang out there. They eat there. Groups meet there. Events happen there. And it all used to be a parking lot," he said. "In the same way, the center of Worth Hills currently is a parking lot. We're going to follow the model we used for the Commons and move parking to the perimeter, so that the center has a series of small quads and lawns. Think of it as a TCU student neighborhood.
"My hope is Worth Hills will have a similar feel as the Commons. People will walk through the archway and instead of parking, there will be trees and big lawns and will feel like a neighborhood."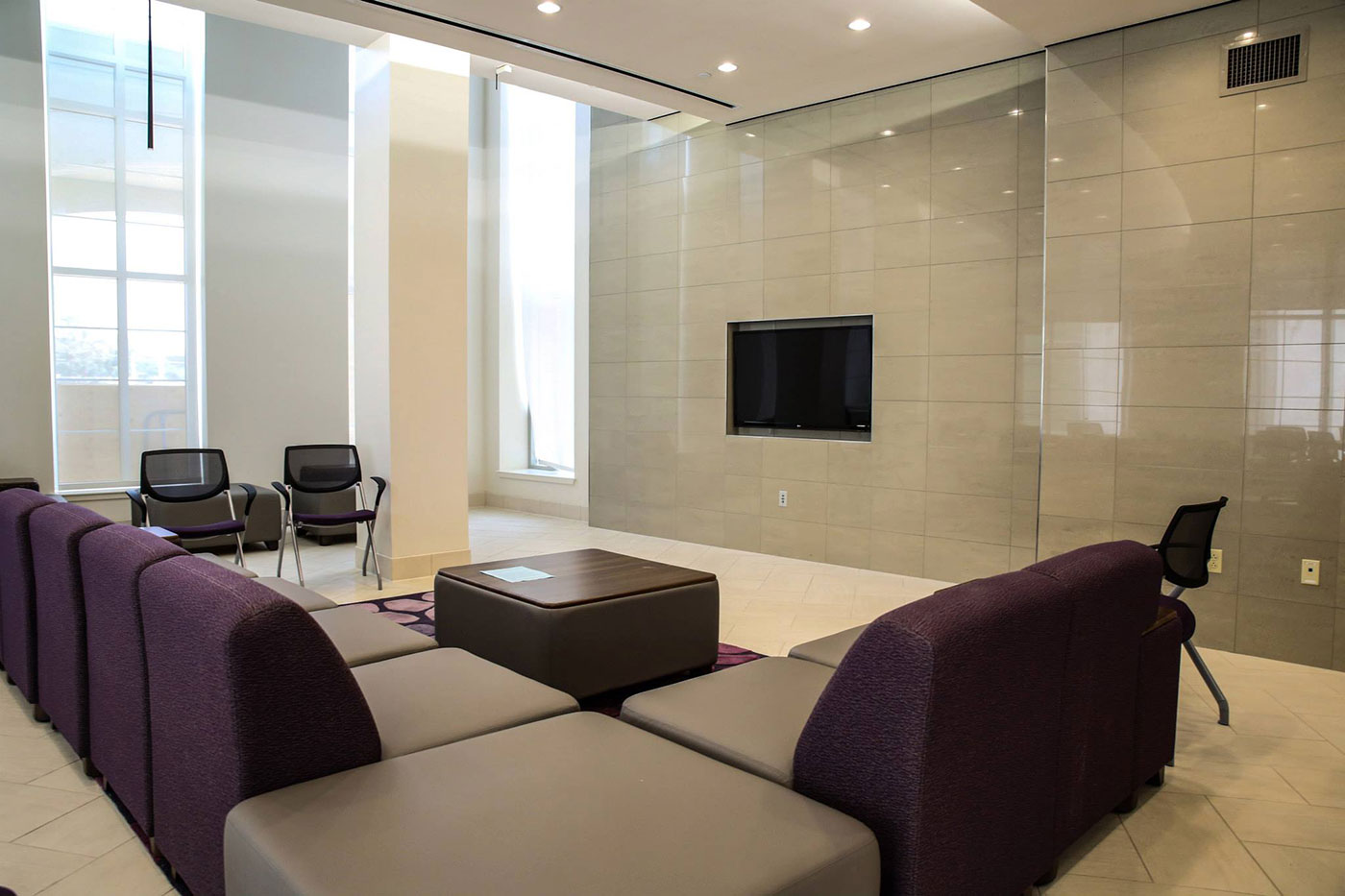 Construction crews have already started a third hall in Worth Hills that will accommodate 160 students. The TCU Board of Trustees approved the approved the project in May. It is expected to open in August 2014.
When completed, it will be four stories tall and about 61,000 square feet. Rooms will be designed as suite-style units with a combination of two to four beds.
Additionally, a 1,200-space parking garage and the multi-purpose building are planned beyond 2014, pending Board approval.
Under the university's Vision in Action: Academy of Tomorrow goals, TCU aims to increase the percentage of students living on campus. With the planned additions, Worth Hills would increase from about 780 beds to about 1,800 and push the total campus bed count to more than 5,300, which would account for two-thirds of undergraduates.
Marion Hall was named in July to recognize Honorary Trustee Anne Marion, her husband John and The Burnett Foundation for a recent gift, as well as long-standing and extraordinary philanthropic support.
On the Web:
More photos of Marion Hall
See renderings of Worth Hills Village