Cheers through the years
TCU fans have found unusual ways to show school spirit.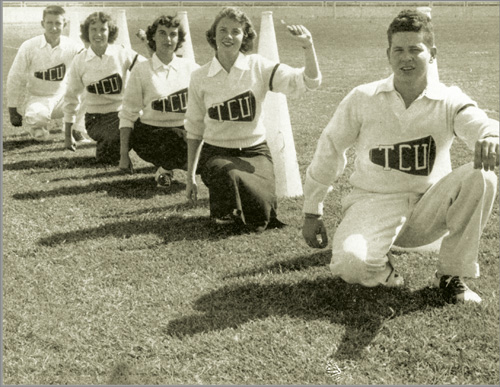 Cheers through the years
TCU fans have found unusual ways to show school spirit.
It swells up from the voices of generations of Frogs gathered in Amon G. Carter Stadium, united in locomotion-induced fervor.
Riff, Ram, Bah, Zoo
Lickety, Lickety, Zoo, Zoo
Who, Wah, Wah, Who
Give 'em Hell, TCU!
Riff Ram is one of the oldest and most unique cheers in collegiate sports, but it's just one of the many cheers and chants TCU fans have embraced through the years. From the "Fight Song Chant" to "Yeah Purple, Yeah White, Yeah Frogs! Fight, Fight! Fight!" the Frog faithful have found fun ways to show their spirit.
While it is hard to pinpoint the exact origins of "Riff Ram," a version of the cheer does appear in the 1905 Horned Frog yearbook, with slightly different words:
Rip! Ram! Bayoo!
Lickety, Lickety! Zoo, Zoo, Zoo!
Who, woh, Woh, who!
Let her go! T.C.U.
But that isn't all. The cheer has a  second verse:
Rackety, yackety, yackety, yack!
Rackety, yackety, yackety yack!
Hollo baloo! Hollo baloo!
Varsity! Varsity! T.C.U!
A couple of years later, the 1907 yearbook includes this baseball cheer:
T.C.U. at the bat
Will stand pat,
Count on that –
Why we'll eat 'em
'Stead of beat 'em
Honk! Honk!
Baylor, Baylor,
Nonk! Nonk!
Riff Ram could have faded away had it not been for the efforts of alumni cheerleaders to revive the yell, says Dale Young '66 (MA '68), director of student teaching and career services for the College of Education.
"For awhile, cheerleaders didn't even do it, they thought it was beneath their dignity," says Young, who cheered for TCU in the 1960s and later served as the squad adviser. "But back in 1975, they let alumni cheerleaders come back and we kept it alive. When we started Frog Camp, it was a way to introduce new freshmen to TCU traditions and we did it there too, which really helped."
Frog Camp also helped bring new life to the "Fight Song Chant." (Young says the difference between a cheer and a chant is that chants are done to music.)
The chant replaces the original lyrics to the TCU Fight Song composed in 1926 by band director Claude Sammis.
F-R, O-G-S, F-I, G-H-T
Purple, White
Fight, Fight, Fight!
Victory, victory,
Right, right, right!
Rah, Rah TCU, Rah Rah TCU!
F-R, O-G-S, F-I, G-H-T
"That's what everybody learned in the '50s," Young says. "It would go with the fight song and everybody would do it — the west side as well as the east side. It died in the '70s, but picked up again in the '80s, in part due to Frog Camp, and it's back now."
Another cheer revived at Frog Camps in the 1990s was "Icky Dicky
Doo-Wah."
Icky, dicky doo-wah (repeat)
What'll we talk about
The mighty mighty Horned Frogs
Gonna beat the (insert rival team here)
Umm kick one,
Umm kick two,
Umm kick three,
Umm kick four.
Young says the cheer was first used at a 1965 pep rally when the squad invited Fort Worth's I.M. Terrell High School to do a cheer. While it was never used at games, the cheer was popular at pep rallies and Frog Camps, when Young would lead the cheer with a microphone.
"It's so silly that it really works," Young says. "To this day, people who graduated 20 years ago come up to me and say 'There's that Icky Dicky Doo Wah man.' "
From time to time, TCU administrators have intervened to edit cheers. For example, Young remembered back in the 1960s when a "mike man" did the cheer "Kill 'em Frogs," the administration was not amused and sent word to kill the cheer.
It wasn't until the 1970s that cheerleaders were allowed to say the line "Give 'em Hell" in "Riff Ram." Up to then, the line was "Let her go."
Sometimes fans created their own cheers. Longtime Frog fans who suffered through the losing seasons in the 1970s might remember this one:
"2-4-6-8,
Score before we graduate!"
Young remembers a group of Brachman Hall residents in the 1970s that had a special cheer when the Frogs made a first down.
"They yelled, 'Roll those chains, roll those chains,' " he says. "That lasted about 10 years. Every now and then you can hear somebody on the west side of the stadium yell, 'Roll those chains.' "
Another cheer Young remembers from that era was yelled by a few fans when the other team had an injured player.
"Blood makes the grass grow!" he says. "Now HyperFrogs are carrying that one on."
Former cheerleader Pat Timbes Vinsant '49 recently dug through her cheerleader notes, remembering a bonfire when Dutch Meyer gave his famous "Fight 'em 'til hell freezes over, then fight 'em on ice," quote.
She said the cheerleaders then led the crowd in the TCU Clap:
T, (clap, clap, clap) C, (clap, clap, clap) U, (clap, clap, clap)
T (clap), C (clap), U (clap), Fight;
T (clap), C (clap), U (clap), Fight;
T (clap), C (clap), U (clap), Fight, Fight;
Hey, Hey, Hey
"At another pep rally, the cheerleaders started out with clapping and clickers," Vinsant says. "An alum gave us the money to order hundreds of clickers to use at the football games. It was surprising how much noise they could make. They did, 'Go, go, go. Frogs go! Go Frogs Go!' Just chanting it over and over several times."
Vinsant also remembers a cheer done at baseball games.
"When we said "T…C…U…" we threw each letter like we were throwing a baseball," she says. "Then it went 'Purple and white; Fight, Frogs, fight!' "
What are some of your favorite TCU cheers? E-mail us at tcumagazine@tcu.edu.