Admission unveils online-only viewbook
New site offers animated links to tweets, videos, stories and photo galleries from other TCU sites, not just admission material.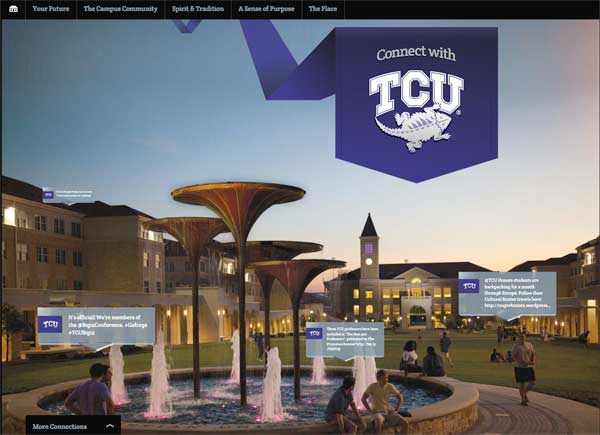 Admission unveils online-only viewbook
New site offers animated links to tweets, videos, stories and photo galleries from other TCU sites, not just admission material.
This fall, TCU's Office of Admission is doing something it's never done before. Actually, what's new is what it's not doing.
It's not going to print a viewbook.
Instead, the university's signature student recruitment tool will be found exclusively online. Unlike the last three years, when TCU had both print and digital versions, there are no hard copies in 2012.
"This is more culturally relevant to high schoolers, whose lives are flooded with texts, tweets and instant messages," said Liz Rainwater Baggs '00, director of admission marketing. "We needed something more interactive than a printed piece. A paper book with one photo on a page and a block of text isn't going to cut it any more. This is an effort to be more appealing and relevant."
Admission unveiled the new www.viewbook.tcu.edu this week with updated content and photography and a fresh theme — Connect with TCU.
The website merges five primary sections onto one long home page, embedded with animated links to tweets, videos, stories and photo galleries from other TCU sites, not just admission material.
"Jump-to" navigation across the top speeds users to any section in the site. A "More Connections" tab anchored at the bottom features "action links" to frequently used content, such as completing an application form, planning a campus visit, exploring areas of study, and breaking down tuition costs.
Each section also has links to two subsections for a more in-depth view of TCU.
"It's all well-researched and documented," said Rainwater Baggs, who began working on the project in April with Minnesota-based The Lawlor Group. "It's thoroughly strategized, not just the content itself but the order in which it is presented."
The first section, called "Your Future," covers what is most important to families, Rainwater Baggs said.
"They want to know what a TCU education will get the student, and here, they get both — intellectual growth and preparation for career," she said.
Other sections describe the campus community, school spirit, finding purpose and state-of-the-art resources, including things to do in Fort Worth.
There are lots of faces. Prior viewbooks have been criticized for showing numerous photos of just one person. The new online-only version almost exclusively shows groups of students learning, playing and volunteering together.
"A single person in a photo represents solitude, and prospective students want imagery of community. They also like to discover things for themselves, so as they get into the site, they're going to find out things about TCU without us explicitly telling them," Rainwater Baggs said.
For example, a link in a subsection of Campus Community connects users to Alumni Relations' Flickr account, where they can browse images of TCU alumni chapters all over the country. Horned Frogs aren't just found in Texas; they're in prospective students' own town or home state.
Admission also hopes the digital viewbook helps the university get more information to "stealth applicants," prospects who avoid mailing lists and prefer to investigate colleges on their own.
In the past, TCU couldn't mail information to this group without addresses. But because the viewbook is online, these students, who account for 30 percent of TCU's 19,350-member applicant pool, can find it on their own.
It's also cheaper. With the number of applicants continuing to rise and the cost of printing and mailing surging past $200,000, TCU Marketing & Communication decided that the time for a digital-only approach had come. The TCU Board of Trustees agreed.
Last year, TCU printed 180,000 viewbooks, most of which are mailed to prospects, taken on the road by admission counselors and used by faculty and staff in their own departments. About 40,000 alone were picked up in the lobby of the Mary Wright Admission Center.
The digital version also will allow for quick edits, without waste. Last fall, Rainwater Baggs pulled about 65,000 remaining viewbooks that referenced the Big East Conference after TCU announced it would join the Big 12. The new site's animated links are designed to update at regular intervals.
While other universities have viewbooks online — Admission put its version up in 2009, plus a virtual tour — TCU's will be unique, said Rainwater Baggs.
"This is not a PDF. This is not page-turning technology," she said. "Those things are still the same as a printed viewbook. You're still turning pages. No one has exactly what we have."
The TCU version uses responsive design technology that detects whether the site is being viewed on a mobile device or on a desktop and adjusts the shape and format accordingly. That's key because research shows that 25 percent of TCU prospects are interacting with Admission's homepage on tablets and smartphones.
Now that the site is live, it's time to get the word out. Admission will celebrate the launch in coming weeks with a Twitter party. Prospective Horned Frogs will be invited to use the hashtag code #tcuviewbook and tweet the university with their thoughts on the viewbook.
Admission will also host a scavenger hunt week with daily prizes. Prospects on Twitter, Facebook and Instagram will be asked to track down facts about TCU within the site. Correct responders win prizes, such as waived application fees.
Related stories:
Admission puts first viewbook online
Admission puts virtual tour online